STORY HIGHLIGHTS
NEW: A Texas insurance firm could seek as much as $12 million back from Armstrong
French Cycling Federation wants cyclist to return nearly $4 million from Tour de France wins
International Cycling Union's president rejects suggestion group looked the other way
Armstrong has long maintained his innocence
Editor's note: Share your Lance Armstrong stories, videos and photos with the world on CNN iReport.
(CNN) -- His reputation is in tatters, the cycling victories that made him a legend are wiped away, and the sponsors that gave him enormous wealth have fled faster than a downhill race to a finish line. But that's only the beginning.
Lance Armstrong is also being asked to pay back millions of dollars. And the term "Armstrong era" is now apparently a moniker for widespread cheating.
The epic downfall of cycling's star, once an idolized icon of millions around the globe, stands out in the history of professional sports.
His latest and biggest plunge came Monday when the International Cycling Union stripped the 41-year-old of his seven Tour de France titles.
Livestrong bracelet: To wear or not to wear?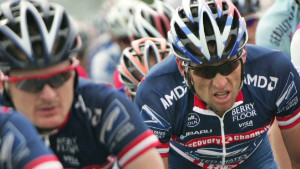 Piers: Armstrong a 'disgraceful fraud'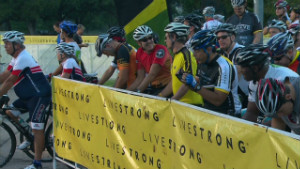 Livestrong goes on without founder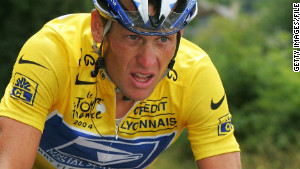 Armstrong: 'I've been better'
"Lance Armstrong has no place in cycling," said the union's president, Pat McQuaid, announcing that Armstrong is also banned from the sport.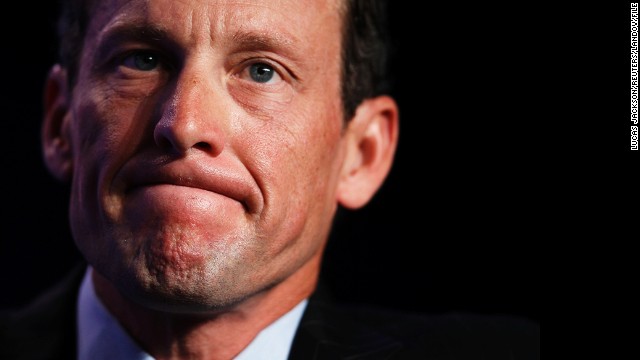 After denying the allegations for years, cyclist Lance Armstrong admitted to using performance-enhancing drugs. As a result, he was stripped of his seven Tour de France titles and an Olympic bronze medal. Click through the gallery for a look at his life and career.
Armstrong, 17, competes in the Jeep Triathlon Grand Prix in 1988. He became a professional triathlete at age 16 and joined the U.S. National Cycling Team two years later.
Armstrong wins the 18th stage of the Tour de France in 1995. He finished the race for the first time that year, ending in 36th place.
Armstrong rides at the Ikon Ride for the Roses to benefit the Lance Armstrong Foundation in May 1998. He established the foundation to benefit cancer research after he was diagnosed with testicular cancer in 1996. After treatment, he was declared cancer-free in February 1997.
Armstrong leads his teammates during the final stage of the 1999 Tour de France.
Armstrong takes his honor lap on the Champs-Élysées in Paris after winning the Tour de France for the first time in 1999.
After winning the 2000 Tour de France, Armstrong holds his son Luke on his shoulders.
Armstrong rides during the 18th stage of the 2001 Tour de France. He won the tour that year for the third consecutive time.
Armstrong celebrates winning the 10th stage of the Tour de France in 2001.
After winning the 2001 Tour de France, Armstrong presents President George W. Bush with a U.S. Postal Service yellow jersey and a replica of the bike he used to win the race.
Armstrong celebrates on the podium after winning the Tour de France by 61 seconds in 2003.
Jay Leno interviews Armstrong on "The Tonight Show" in 2003.
After his sixth consecutive Tour de France win, Armstrong attends a celebration in his honor in front of the Texas State Capitol in Austin.
Armstrong arrives at the 2005 American Music Awards in Los Angeles with then-fiancee Sheryl Crow. The couple never made it down the aisle, splitting up the following year.
Armstrong holds up a paper displaying the number seven at the start of the Tour de France in 2005. He went on to win his seventh consecutive Tour de France.
Armstrong testifies during a Senate hearing in 2008 on Capitol Hill. The hearing focused on finding a cure for cancer in the 21st century.
In 2009, Armstrong suffered a broken collarbone after falling during a race in Spain.
Young Armstrong fans write messages on the ground ahead of the 2009 Tour de France. He came in third place that year.
Armstrong launches the three-day Livestrong Global Cancer Summit in 2009 in Dublin, Ireland. The event was organized by his foundation.
In May 2010, Armstrong crashes during the Amgen Tour of California. That same day, he denied allegations of doping made by former teammate Floyd Landis.
Armstrong looks back as he rides during the 2010 Tour de France.
Armstrong's son Luke; his twin daughters, Isabelle and Grace; and his 1-year-old son, Max, stand outside the Radio Shack team bus on a rest day during the 2010 Tour de France.
Armstrong finished 23rd in the 2010 Tour de France. He announced his retirement from the world of professional cycling in February 2011. He said he wanted to devote more time to his family and the fight against cancer.
The frame of Armstrong's bike is engraved with the names of his four children at the time and the Spanish word for five, "cinco." His fifth child, Olivia, was born in October 2010.
Armstrong competes in the 70.3 Ironman Triathlon in Panama City, Florida, in February 2012. He went on to claim two Half Ironman triathlon titles by June of that year.
Armstrong addresses participants at the Livestrong Challenge Ride on October 21, 2012, days after he stepped down as chairman of his Livestrong cancer charity.
International Cycling Union President Pat McQuaid announces the decision to strip Armstrong of his seven Tour de France wins and ban him from the tournament for life on October 22, 2012. "Lance Armstrong has no place in cycling," he said.
In January 2013, Armstrong speaks with Oprah Winfrey about the controversy surrounding his cycling career. He admitted, unequivocally and for the first time, that he used performance-enhancing drugs while competing.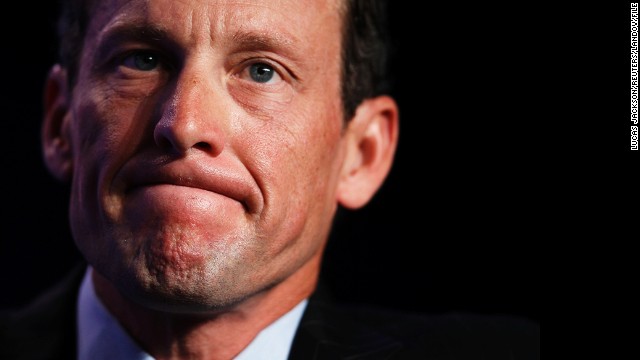 Photos: Lance Armstrong's rise and fall
The decision followed this month's finding by the U.S. Anti-Doping Agency that there is "overwhelming" evidence Armstrong was involved as a professional cyclist in "the most sophisticated, professionalized and successful doping program." Armstrong has steadfastly maintained his innocence.
McQuaid said he was "sickened" by the report.
But he emphasized, "Cycling has a future."
In a statement, the union wrote, "Today's young riders do not deserve to be branded or tarnished by the past or to pay the price for the Armstrong era."
The group, which officially goes by its French name Union Cycliste Internationale, or UCI, is the cycling's world governing body.
How an all-American hero fell to earth
Following the union's announcement, the French Cycling Federation said it was reissuing its call for Armstrong to return 2.95 million euros -- nearly $4 million -- that he collected for winning the tours.
And $4 million might be a trifle compared to what SCA Promotions wants back.
The Texas insurance company covered bonuses that Armstrong was promised if he won the Tour de France. In 2002, it paid him $1.5 million; in 2003, $3 million, according to a Texas Monthly article that SCA posted on its website.
But after his 2005 victory, SCA withheld a promised $5 million bonus, citing reports that Armstrong had doped. He fought back in court and won. SCA had to pay not only the $5 million but also attorneys' costs and fees, bringing the total that year to $7.5 million.
So the company could seek as much as $12 million back. In a statement Monday, SCA said it was "considering all legal options to pursue a return of the funds paid by SCA to Mr. Armstrong."
Meanwhile, one of the sponsors that hadn't yet given up on Armstrong dropped out Monday.
He was once "a symbol of possibility," Oakley -- which has outfitted him in sunglasses and other gear -- said in a statement, adding that it looks "forward with hope to athletes and teams of the future who will rekindle that inspiration by racing clean, fair and honest."
Heavyweights such as Nike, RadioShack and Anheuser-Busch have already fled team Lance, though, like Oakley, they've vowed to continue supporting the Lance Armstrong Foundation, which fights cancer through a program widely known as Livestrong.
Armstrong does get to keep one prized possession from his Tour de France days. The Amaury Sport Organisation, which runs the 21-day tour, told CNN it will not ask him to return the yellow jerseys he won.
Armstrong did not comment Monday. At an event Sunday, he did not refer to the controversy directly but said it's been "an interesting and at times very difficult few weeks."
"People ask me a lot how are you doing," he told participants in his foundation's annual Ride for the Roses in Austin, Texas. "And I tell them I've been better, but I've also been worse."
Though in the past he has often tweeted angry responses against those who accused him of doping, Armstrong has remained uncharacteristically quiet in recent days.
His attorneys did not immediately respond to CNN's requests for comment Monday, and the foundation said it would not make a statement.
Armstrong's story -- that of an outspoken cancer survivor who tamed the grueling three-week race more than any other cyclist before or since -- had made him a household name. But allegations of doping long dogged his career.
Then came the USADA finding.
The agency announced it would ban Armstrong from the sport for life and strip him of his results dating from 1998. The decision wiped out 14 years of his career. McQuaid said Monday the cycling union would not appeal USADA's decision.
McQuaid, speaking at a news conference, said he does not believe cycling will ever be free from doping, because "I don't think in any aspect of society there are no cheats. I do believe that doping can be hugely reduced."
The keys are education programs and how teams are structured, he said.
Monday's news conference turned somewhat contentious as reporters asked whether the cycling union had looked the other way for years despite growing allegations of widespread doping in the sport. Armstrong had made two donations to the union for anti-doping technology.
McQuaid insisted his organization never ignored the concerns raised about possible doping. And he wrote off any suggestion that Armstrong's contributions had led the organization to make any decision on the issue.
"The UCI has tested Lance Armstrong 218 times. If Lance Armstrong was able to beat the system, then the responsibility for addressing that rests not only with the UCI but also with" the anti-doping agencies that accepted the results, the cycling union said in its statement.
The International Olympic Committee also is reviewing the evidence and could revoke Armstrong's bronze medal from the 2000 Sydney Games.
With Armstrong's disgrace, will anything change?
The cycling union will meet later this week to discuss whether to award the seven Tour de France titles -- from 1999 to 2005 -- to another rider.
The group's announcement Monday leaves Greg LeMond as the only American to win the tour. He did so in 1986, 1989 and 1990.
U.S. cyclist Floyd Landis was stripped of his 2006 Tour de France victory in 2010.
In the past, Armstrong has argued that he took more than 500 drug tests and never failed. In its 202-page report, the USADA said it had tested Armstrong less than 60 times and the International Cycling Union conducted about 215 tests.
"Thus the number of actual controls on Mr. Armstrong over the years appears to have been considerably fewer than the number claimed by Armstrong and his lawyers," the USADA said.
The agency didn't say that Armstrong ever failed one of those tests, but his former teammates testified as to how they beat tests or avoided the test administrators altogether. Several riders also said team officials seemed to know when random drug tests were coming, the report said.
Armstrong stepped down last week as chairman of his foundation but said he will continue to be involved. Some of the foundation's donors are furious over the scandal and want their money back.
"We will not be deterred," Armstrong said Friday night at the organization's 15th anniversary celebration in Austin. "We will move forward."
Doping scandal costs Armstrong sponsors, charity
CNN's Ed Payne, Jason Morris, and Arthur Brice contributed to this report.