STORY HIGHLIGHTS
NEW: Clashes erupt in Tripoli between supporters, opponents of Syria's government
Protester: "We don't want our prime minister to be our leader"
The violence comes after a series of political speeches at Wissam al-Hassan's funeral
Many anti-Syrian politicians in Lebanon blamed Syria for the assassination
Beirut, Lebanon (CNN) -- Anti-government rage erupted in central Beirut Sunday as protesters clashed with security forces after a funeral for the nation's intelligence chief.
A mob pushed toward the prime minister's office, hurling sticks, stones and flags and calling for his dismissal. Gunfire could be heard as police used tear gas to turn away crowds. At least 15 members of the military were wounded, according to the office of Prime Minister Najib Mitaki.
A smaller, peaceful demonstration continued later Sunday as government figures called for calm. But deep-rooted political and sectarian tensions still simmered.
Protesters, many of them allied with Sunni coalitions that have long been sharply critical of the Lebanese government's perceived closeness with the Syrian regime, blamed Mitaki for not preventing Friday's deadly car bomb blast that killed Brig. Gen. Wissam al-Hassan.
Don't know who is who in Lebanon? A guide to key players
Many anti-Syrian politicians in Lebanon blamed Syria for the assassination.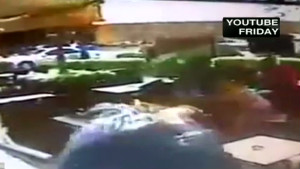 See moment of Beirut car bomb explosion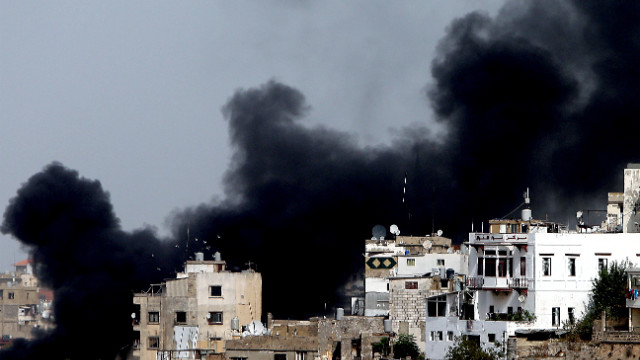 Smoke billows in Tripoli's Bab al-Tabanneh neighborhood during clashes between Alawites, an offshoot of Shiite Islam, and anti-government supporters on Monday, October 22. Fighting continued in Tripoli and Beirut, where a top police official was killed in a car bombing. At least two people were killed in Tripoli and several wounded in Beirut.
The coffin of intelligence chief Gen. Wissam al-Hassan arrives in downtown Beirut during his funeral procession on Sunday, October 21. Hassan, a prominent Lebanese figure opposed to Syrian President Bashar al-Assad, died when a powerful bomb exploded in an upmarket Beirut suburb on October 19, sparking calls for Prime Minister Najib Mikati and his government to quit.
An anti-government protester waves a pre-Baath Syrian flag at a demonstration outside the govermental palace in Beirut, Lebanon, after a funeral for al-Hassan and his bodyguard on Sunday. The two men and one other person were killed in a car bombing on Friday.
Demonstrators face off with Lebanese security forces on Sunday as they try to storm the palace.
Protesters climb a statue Sunday during the funeral of al-Hassan.
A demonstrator runs for cover from tear gas fired by Lebanese police on Sunday.
Anti-government protesters demonstrate outside the government palace on Sunday.
Protesters react to tear gas being fired at them by Lebanese police officers on Sunday.
Protesters hurled sticks, stones and flags on Sunday. A number of injuries were reported, Lebanon's National News Agency said.
Officers and mourners gather around al-Hassan's coffin during his funeral on Sunday.
The mother and wife of the slain intelligence officer mourn Sunday.
Lebanese officers of the Internal Security Forces carry the intelligence chief's coffin on Sunday.
Sunday's anti-government protests came after a series of political speeches given to the crowd gathered in Beirut's central square.
A Lebanese man holding the national flag watches the funeral procession on Sunday.
A woman with a cross and a rosary prays at a poster with an image of al-Hassan, during a protest Saturday, October 20, against his killing.
People set up tents and gather outside the headquarters of the Prime Minister of Lebanonon on Saturday night.
A damaged building is pictured in Beirut's predominantly Christian district of Ashrafiyeh on Saturday.
Smoke rises from burning tyres blocking the main northern entrance of Beirut on Saturday. Protesters blocked some roads in Beirut, Tripoli in the north, Sidon in the south, and the Bekaa Valley in the east.
Lebanese security forces inspect damage in Ashrafiyeh on Saturday.
A damaged building stands Saturday with windows knocked out and belongings from within strewn about.
A worker on Saturday sweeps shattered glass outside damaged shops.
Lebanese men block a road leading to the airport in Beirut to protest against the assassination of top intelligence official Wissam al-Hassan in a blast on Friday, October 19.
Lebanese light candles during a vigil near the site of the car bomb attack on Saturday.
Lebanese people take part in a candlelight vigil near the site of the car bomb blast.
A Lebanese firefighter douses cars at the site of an explosion in Beirut's Christian neighbourhood of Ashrafieh.
Lebanese firefighters douse burning vehicles.
A car burns after an explosion in Beirut's predominantly Christian district of Ashrafiyeh.
Lebanese Red Cross aid workers help a wounded man. Dozens were injured, some seriously, and others were slightly hurt, a senior hospital official said.
Lebanese security forces and rescue workers gather at the site of the explosion.
Lebanese men evacuate a wounded woman from the scene of the car bomb.
Lebanese police stand by a crater as they secure the site.
Civil defense members help a wounded man in the immediate aftermath.
A wounded woman is carried from the area. The attack did not target any political figure, the Lebanese National News Agency says.
A civil defense member helps a wounded man.
A wounded woman gets assistance.
A woman is helped by a Lebanese soldier after the explosion.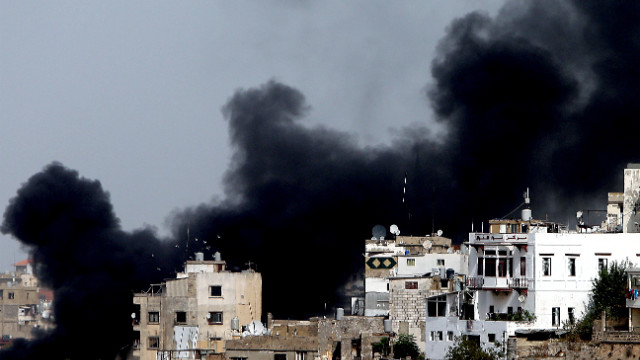 Photos: Lebanon on edge after officer's death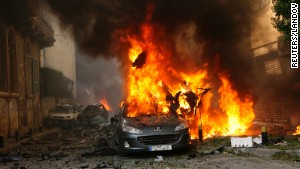 Syria under suspicion for Lebanon attack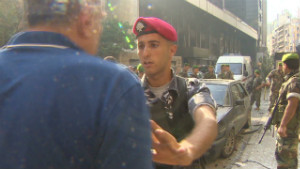 Sunni community will 'unleash its wrath'
"We don't want our prime minister to be our leader, hiding (Syrian President) Bashar (al-Assad's) crimes," one angry protester shouted as he rushed toward the government building. "They are responsible for Wissam al-Hassan's blood."
Friday's attack -- in broad daylight, at one of the capital's busiest areas -- left a crater more than a meter (3 feet, 3 inches) deep and also killed al-Hassan's bodyguard and a bystander.
The intelligence chief's death brought a sense of deja vu to Lebanese, recalling the 2005 assassination of former Prime Minister Rafik Hariri, which triggered the end of Syria's occupation of Lebanon and the turmoil that followed.
Mikati, a billionaire supported by Syrian ally Hezbollah, announced Saturday that he planned to stay in power, despite having offered his resignation to appease those who claimed Syria's al-Assad was behind Friday's car bombing that killed al-Hassan.
"To hold me personally responsible for the assassination is unfair," he told reporters Saturday. "I have always respected and admired al-Hassan, who has done great things for Lebanon."
Al-Hassan had spearheaded investigations of Hariri's death and a series of killings that targeted major anti-Syrian political figures.
Sunday's violence broke out after a series of political speeches given to the crowd gathered in Beirut's central square for al-Hassan's funeral.
"This government is responsible for the assassination of martyr (al-Hassan) and his companion martyrs, therefore, this government must leave," former Prime Minister Fouad Siniora told the crowd.
After his speech, "the participants immediately called on people to head to the prime minister's office. The call was mentioned repeatedly in provocative language," read a statement from Mitaki's office.
"We put these facts forward to the public and we hold those people, who provoked with their slogans and actions, responsible for the attempt to storm the prime minister's office."
A mob surged from the central square toward the minister's office, growing in number and in intensity. Dozens rushed toward police lines.
Clashes also took place in Tripoli, Lebanon, between supporters and opponents of Syria's government, Lebanon's National News Agency said.
Some politicians had called for a day of rage Sunday, as accusations over who's responsible for the most high-profile assassination in Lebanon in more than seven years homed in on al-Assad's government. Others, including speakers at the funeral, had urged crowds to remain peaceful.
Syria and Hezbollah condemned the blast very quickly after it happened on Friday.
But al-Hassan's work would have earned him a number of enemies, particularly among pro-Syrian elements in Lebanon and in Damascus.
He was aligned with the March 14 movement, the anti-Syrian regime coalition that emerged after Hariri's assassination in 2005. That movement was key in forcing the withdrawal of Syrian troops, which had long occupied neighboring Lebanon and pulled out months after Hariri was killed.
He had worked closely with the U.N. Special Tribunal for Lebanon investigating the Hariri assassination. He had survived two assassination attempts, including one that killed an official getting evidence in Hariri's killing.
While Lebanese authorities continued investigating Friday's attack, many among the crowd at Sunday's funeral said they were convinced Syria was responsible for al-Hassan's death.
Some booed when Mitaki's face flashed across large screens showing the event.
"If you're against the Syrian government, you'll be eliminated," one attendee named Ahmed said. "If you're not against it, then you're fine, you're safe."
A woman named Nathalie said she came to the funeral to show the world that Lebanon would never surrender to terrorism.
"We're all here today to show the whole world and even the Syrian regime that we'll never be afraid of them," she said, "and Lebanon will never be Syria."
CNN's Tracy Doueiry contributed to this report.