UK man charged over photographers' kidnapping in Syria
updated 8:48 PM EDT, Wed October 17, 2012
STORY HIGHLIGHTS
Shajul Islam is charged with "unlawfully and injuriously" imprisoning two photographers
He was arrested at London's Heathrow Airport last week
A 26-year-old woman arrested alongside Islam was released without charge
Photographers John Cantlie and Jeroen Oerlemans were held for a week in July
London (CNN) -- A British man appeared in a London court Wednesday, charged with the kidnapping of two Western photographers in Syria this summer.
Shajul Islam, 26, is accused, together with others, of having "unlawfully and injuriously imprisoned" two photographers between July 17 and July 26. The two are Briton John Cantlie, who has worked for the Sunday Times newspaper, and Dutchman Jeroen Oerlemans.
Islam, who was charged late Tuesday, appeared at Westminster Magistrates' Court on Wednesday morning for a preliminary hearing.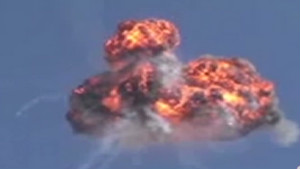 Syrian rebels say they shot down chopper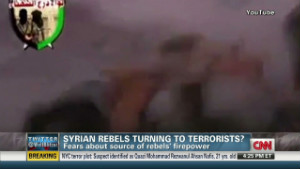 Syrian Jihadists getting weapons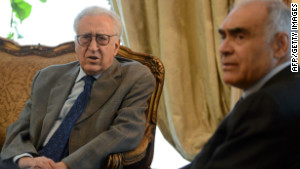 Renewed bid for Syria solution
He is qualified as a National Health Service doctor, having trained at St Bartholomew's Hospital in London, the court heard.
Prosecutor Piers Arnold told the court that Islam had joined a jihadist group in Syria and worked as a medic for it.
There could be as many as 15 British nationals working at the jihadists' camp in Syria, Arnold said.
Islam was remanded in custody, with the next hearing due to take place on November 2 at the Old Bailey, London's main criminal court.
He was arrested a week ago after arriving at London's Heathrow Airport on a flight from Egypt. A 26-year-old woman was arrested alongside Islam on suspicion of planning or taking part in terrorist acts. She was released Tuesday without charge.
Police searched two addresses in east London in connection with their arrests.
The photographers said they were held hostage by jihadist fighters in Syria for a week in July.
CNN's Jonathan Wald and Dan Rivers contributed to this report.

Part of complete coverage on
Syrian crisis

There's more to the Syrian civil war than rebels versus the regime. Syria's neighbors in the Middle East also have a stake in the conflict.
updated 5:13 PM EDT, Thu May 9, 2013

Israel is taking steps to defend itself against threatened retaliation from Syria after claims it launched airstrikes on Damascus.
updated 12:36 PM EDT, Tue May 14, 2013

Domestic political will is a necessary for intervention and polls show Americans are reluctant to support military interventions in Syria.
updated 1:38 PM EDT, Mon May 6, 2013

Syria's claim that Israel launched airstrikes presents a dangerous escalation of Israel's involvement in Syria's war, writes Fawaz Gerges.
updated 5:41 AM EDT, Tue May 7, 2013

The U.N. says a Syrian rebel group may have used a nerve agent -- it would not be the first time the al-Qaeda-affiliated group used chemical weapons.
updated 2:00 PM EDT, Wed May 1, 2013

Having willfully avoided direct military involvement in Syria for the past two years, Obama may not be so lucky anymore, writes Aaron David Miller.
updated 5:44 AM EDT, Fri May 10, 2013

What began as a protest movement became an uprising that metastasized into a war, a vicious whirlpool dragging a whole region toward it.

A devout man prays. A fighter weeps over a slain comrade. These are a few faces of the Syrian conflict captured by photographer LeeHarper.
updated 4:59 AM EDT, Thu April 25, 2013

A group of pro-Syrian regime hackers that has targeted major news organizations but its cyber attacks can have real-life impact.
updated 6:24 PM EST, Thu March 7, 2013

The role of women in Syrian uprising is little reported, but many have played a key part as activists and medics since the bloodshed began.

Are you in Syria? Share your stories, videos and photos with the world on CNN iReport, but please stay safe.