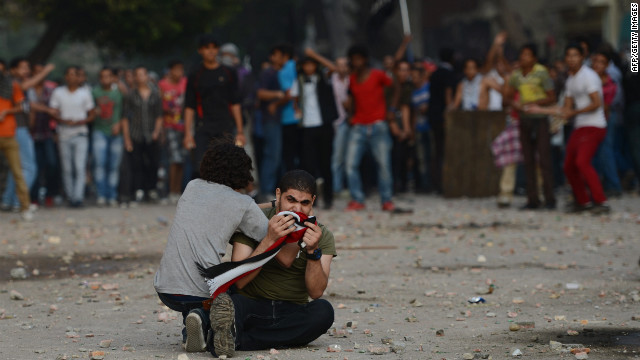 An anti-Muslim Brotherhood and President Mohamed Morsy protester cries on the ground as a man tries to calm him during clashes with Morsy supporters in Tahrir Square in Cairo on Friday, October 12.
Egyptian opponents of the Muslim Brotherhood and President Mohamed Morsy throw a Molotov cocktail toward government supporters on Friday.
Anti-Muslim Brotherhood and pro-government supporters clash in the worst violence over Egypt's new Islamist leader on Friday, a day after he crossed swords with the judiciary.
Protesters and government supporters throw stones at each other during clashes on Friday.
Protesters and government supporters throw stones at each other during clashes on Friday.
Egyptians evacuate a wounded man during clashes on Friday.
The health ministry said at least 12 people were wounded as protesters showered each other with stones after Morsy supporters tore down a podium from which anti-Brotherhood chants were being orchestrated.
Egyptian protesters hold a national flag as they walk past a burning bus.
Egyptians inspect a bus that was set on fire during clashes between government supporters and opponents of the Muslim Brotherhood and President Mohamed Morsy.
Morsy's Muslim Brotherhood movement and a coalition of secular-leaning groups held separate rallies on some of the thorniest issues facing the new democracy after last year's uprising, which ousted President Hosni Mubarak.
Protest turns violent in Cairo
Protest turns violent in Cairo
Protest turns violent in Cairo
Protest turns violent in Cairo
Protest turns violent in Cairo
Protest turns violent in Cairo
Protest turns violent in Cairo
Protest turns violent in Cairo
Protest turns violent in Cairo
Protest turns violent in Cairo
STORY HIGHLIGHTS
NEW: At least 121 reported injured
NEW: Muslim Brotherhood HQs in Mahala and two of their buses in Cairo are burned
Thousands turn out as critics, supporters of Egyptian president throw rocks, Molotov cocktails
Groups are protesting release of suspects in 2011 attack on opposition demonstrators
Cairo (CNN) -- Clashes erupted in Cairo on Friday after Egyptian political forces called on President Mohamed Morsy to take a stand for justice after his first 100 days in office.
Shops and streets at Tahrir Square were closed as Morsy supporters and critics threw rocks at one another. At least 121 people were injured, a spokesman for the health ministry said.
Thousands turned out for the protest, with some groups chanting, "Leave Morsy." Protesters threw Molotov cocktails at one another, and firecrackers sounded amid clashes around Tahrir and Talat Harb squares.
Read more: Should U.S. worry about Morsy?
Witnesses said protesters from the Muslim Brotherhood attacked and destroyed a stage built by right-wing groups that criticize Morsy.
The Brotherhood said two of their buses were burned near Tahrir Square and their headquarters was burned in Mahala.
The same protesters that toppled President Hosni Mubarak in 2011 were scheduled to meet in five locations Friday and march toward Tahrir Square around 3 p.m.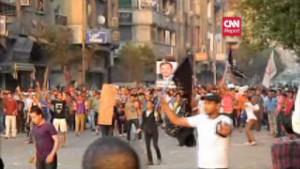 Clashes in Cairo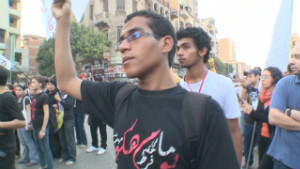 Egyptians still missing after revolution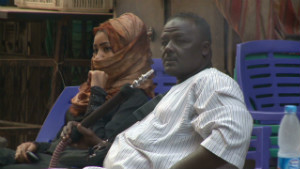 Egyptians message to Romney, Obama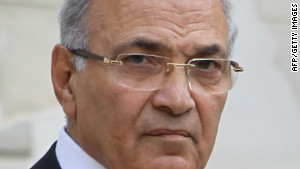 Shafik: Egyptian situation very unstable
"We want retribution for all the martyrs of the revolution. Those Mubarak cronies released from prison for the camel attack must return behind bars, and we also demand a drafted constitution that represents all factions in a civil democratic language," Rami Shaath told CNN, explaining the main demands of the nationwide protest.
Shaath, a founding member of the Egyptian Revolutionary Alliance, a bloc of secular and religious parties, was referring to the February 2011 "Battle of the Camel," street violence in which regime supporters, backed by men on horses and camels, attacked opposition demonstrators. He says he wants to keep Egypt's revolution going while the media covers Morsy's political maneuvers.
The acquittal Thursday of all suspects detained in relation to the battle last year has sparked a wave of discontent among youths and the Islamic movement across the country -- especially since 24 of those suspects were former senior members of Mubarak's regime.
Most of the officers charged with killing more than 800 protesters during the uprising have not been convicted.
"We also want the retrial of Mubarak, his Minister of Interior Habib El Adly and the seven chief police officers accused of killing the martyrs," Shaath said.
Many people relate the latest wave of acquittals to the removal of General Prosecutor Abdul Majid Mahmoud on Thursday night.
"The general prosecutor submitted his resignation to the president, and he appointed him as an ambassador to the Vatican," presidential spokesman Yaser Ali told CNN.
Mahmoud's removal has been a top demand during the many "million-man" protests that followed Mubarak's ouster.
In a tone of defiance, Adel Saeed, the general prosecutor's official spokesman, released a statement saying that the prosecutor has not resigned and that he will continue his business as usual, as the judicial system bans the president from firing the general prosecutor.
iReport video: Clashes in Tahrir Square
"He is a corrupted man appointed by Mubarak, and it would be a disgrace to the Vatican if this is true," said Mohamed Farhat, a member of the Muslim Brotherhood.
Many people who followed the revolution know the vital role the young revolutionaries took in sparking the uprising against Mubarak.
The same personalities that toppled the regime have been discreetly applying pressure by mobilizing laborers to demand more rights and better pay.
Activist Gigi Ibrahim and her husband, Hossam El-Hamalawy, a member of the Socialist movement, have supported the laborers and helped them strike against the government, including this week's action by doctors, in which people in hundreds of public hospitals took part in a partial strike and demanded higher wages. More than 30,000 people took part, the Ministry of Health said.
"If the government does not provide to the people, we may see a 'revolution of the hungry' next," Ibrahim said.
The political duo, along with certain right-wing groups, also aided last week's general transportation strike.
"They all wanted to revolt demanding better pay, so we helped them by providing lawyers, organizing meeting points and involving media to pressure Morsy to accomplish what he promised to do" Ibrahim told CNN.
Morsy on Wednesday announced a presidential decree to pardon all those arrested between the January 25 uprising and June 2012. The revolutionaries welcomed the decision with some reservations.
"What are the criteria they are using to identify the true revolutionaries from the thugs? No cop has been convicted for killing us, and now, Mubarak's former NDP (National Democratic Party) members are loose after they hired men on camels who charged into Tahrir Square, beating us with whips and sticks," Shaath said.
Thousands of protesters took to the streets Wednesday to remember the 27 protesters killed by the army on October 9, 2011, in what has become known as the Maspero Massacre. Protesters demanded the arrest and trial of Gen. Mohamed Hussein Tantawi, the former head of the Supreme Council of the Armed Forces, which was running the country then. Dozens of political parties and movements, along with the Muslim Brotherhood, say they will join the protests.
Abdelmonen Abol Fotoh, a former presidential candidate, has announced that members of his party will protest on courthouse steps across the nation.
Morsy, in his latest presidential speech, announced that he had completed 75% of his promises in regards to security, traffic and garbage removal.
A court ruling this month is expected to dissolve an assembly appointed to draft a new constitution. Islamic movements hold 80% of the seats, according to lawyer Sameh Ashour, a member of the assembly.
"If the court dissolves the assembly, then President Morsy will appoint the new team. I hope he does not please his Muslim Brotherhood supporters and remain fair for all sects -- women, Coptics and legal constitutional experts," Shaath said.
CNN's Hamdi Alkhshali contributed to this report.