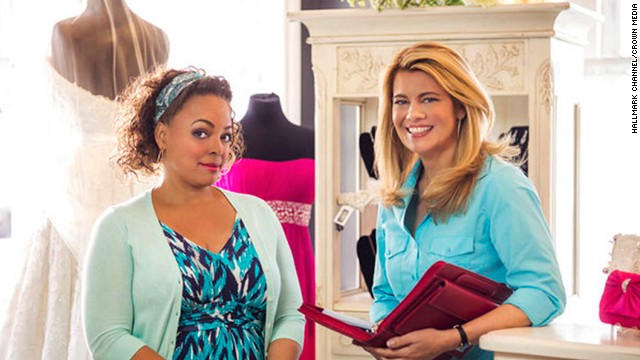 "Facts of Life" co-stars Kim Fields, left, and Lisa Whelchel reunited in the 2014 Hallmark Channel movie "For Better or For Worse." Here's what else these two actresses, and their former co-stars, have going on:
After playing spoiled Blair Warner on "The Facts of Life," and taking a lengthy hiatus from acting, Whelchel reprised her role in 2001's "The Facts of Life Reunion." After divorcing her husband of 24 years in March 2012, Whelchel was a contestant on CBS' "Survivor: Philippines," and then snagged a role in Tyler Perry's 2013 movie, "Tyler Perry's A Madea Christmas."
Kim Fields, who played Tootie on "The Facts of Life," roller-skated over to Fox in 1993 to play Regine Hunter on "Living Single." She appeared on several series and worked as a director-producer before playing a social worker in 2012's "What to Expect When You're Expecting." In 2013 Fields and her husband became a family of four as they welcomed second son Quincy.
Mindy Cohn has voiced "Scooby-Doo's" Velma and appeared on "The Secret Life of the American Teenager" as Dylan's mom since playing Natalie Green. According to IMDb, Cohn will voice Velma in the 2015 TV movie "Freak Out Scooby Doo!"
After playing housemother-turned-dietitian Edna Garrett, Charlotte Rae went on to voice the character of Nanny on "101 Dalmatians: The Series." She has also appeared in films like "You Don't Mess with the Zohan" and TV shows such as "ER." She played a "bead shop woman" on a 2011 episode of "Pretty Little Liars."
Rebellious Jo Polniaczek joined the show in its second season. Nancy McKeon has since appeared on series like "Can't Hurry Love" and "Style & Substance." She starred in Lifetime's "The Division" and played Connie Munroe on the Disney Channel's "Sonny with a Chance."
Cloris Leachman joined the cast as Beverly in 1986. With flicks like "The Beverly Hillbillies," "Double, Double, Toil and Trouble," "Now and Then" and "The Women" under her belt, the "Young Frankenstein" actress competed on Season 7 of "Dancing With the Stars." She also starred on Fox's "Raising Hope." Leachman won an Oscar for best supporting actress for 1971's "The Last Picture Show."
Since playing Beverly's adopted son, Andy Moffet, actor Mackenzie Astin went on to appear in films like 1994's "Iron Will," 1996's "In Love and War," 2003's "How to Deal" and 2000's "Stranger Than Fiction." In 2014 he appeared in several TV shows, including "Hawaii Five-0" and "Scandal."
After playing handyman George Burnett, George Clooney starred in "ER" and picked up an Oscar for his role in 2005's "Syriana." He's known for starring in films like "Oceans Eleven" and its sequels, "O Brother, Where Art Thou," "Up in the Air" and "Good Night, and Good Luck," which he also directed and co-wrote.
'The Facts of Life': Where are they now?
Lisa Whelchel
Kim Fields
Mindy Cohn
Charlotte Rae
Nancy McKeon
Cloris Leachman
Mackenzie Astin
George Clooney