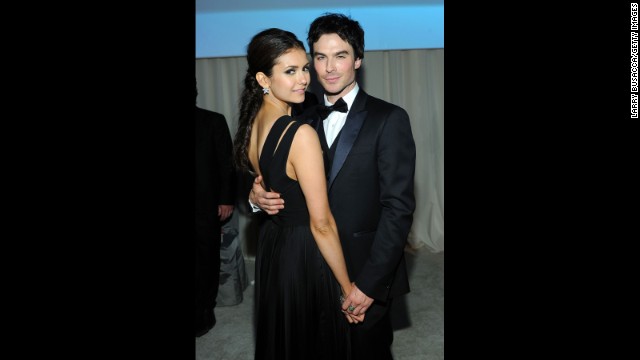 "Vampire Diaries" stars Nina Dobrev and Ian Somerhalder had a relationship that sizzled on and off the small screen. But the two shocked fans when anonymous sources confirmed to
People magazine
in May that the co-stars are no longer a couple. Somerhalder and Dobrev had dated for "several years," and their reported breakup came without warning.
Amidst reports
Jane Seymour and James Keach
People
reported. Sources told the magazine that the duo's busy schedules are to blame, but they plan to stay friends.
Julianne Hough and Ryan Seacrest have decided to take a break after more than two years together,
October 2012.
Months later, DeVito said they were trying to
reconcile.
After 30 years of marriage, Danny DeVito, 67, and actress Rhea Perlman, 64, separated, DeVito's rep told CNN in
In September 2012, Will Arnett and Amy Poehler separated after nine years of marriage. They have two sons together.
Tom Cruise and Katie Holmes "amicably settled" their divorce in July 2012, just two weeks after Holmes filed for it, an attorney told CNN. Holmes and Cruise, who were married for five years, have one daughter together.
Former California Gov. Arnold Schwarzenegger and Maria Shriver separated in May 2011 after 25 years of marriage. The public has since learned of Schwarzenegger's affair with the family's housekeeper that resulted in the birth of his fifth child.
After almost seven years together, Kate Winslet and director Sam Mendes went their separate ways in March 2010. The couple said the split was mutual and that they would continue raising their children together.
Tom Cruise and Nicole Kidman collaborated on four films together, including the controversial "Eyes Wide Shut," during their 11-year marriage. The couple split in 2001.
Susan Sarandon and Tim Robbins split in 2009 after 23 years together. The pair, who met on the set of "Bull Durham," have two sons but never married.
Mia Farrow appeared in several of Woody Allen's films before the couple went their separate ways in 1992. The pair reportedly split after Farrow found out about Allen's sexual relationship with one of her adopted daughters, who Allen married in 1997.
MTV's "Newlyweds" Jessica Simpson and Nick Lachey split in 2005 after their three-year marriage.
Reese Witherspoon and Ryan Phillippe were married for seven years before calling it quits in 2006. The pair, who have two children together, finalized their divorce in 2008.
Brad Pitt and Jennifer Aniston's seven-year romance came to an end in 2005. Speculation over whether Angelina Jolie had anything to do with the breakup added a juicy angle to the split.
Perhaps Hollywood's happiest divorced couple, Bruce Willis and Demi Moore split in 1998 after a 10-year relationship. The pair, who knew each other for three months before wedlock, have three daughters.
After years of rumors about drug abuse and separation, Whitney Houston and Bobby Brown publicly split in 2006 after 14 years of marriage.
Shocking celebrity splits
Shocking celebrity splits
Jane Seymour and James Keach
Ryan Seacrest and Julianne Hough
Danny DeVito and Rhea Perlman
Amy Poehler and Will Arnett
Katie Holmes and Tom Cruise
Arnold Schwarzenegger and Maria Shriver
Sam Mendes and Kate Winslet
Nicole Kidman and Tom Cruise
Tim Robbins and Susan Sarandon
Woody Allen and Mia Farrow
Nick Lachey and Jessica Simpson
Ryan Phillippe and Reese Witherspoon
Jennifer Aniston and Brad Pitt
Demi Moore and Bruce Willis
Bobby Brown and Whitney Houston