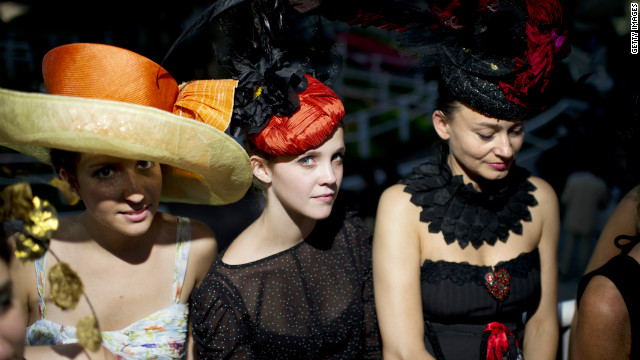 "French chic" has become synonymous with the country's powerhouse fashion labels, including Channel, Louis Vuitton and Yves Saint Laurent.
The fashion stakes are high at the Prix de 'Arc de Triomphe, with many race-goers opting for a classic, elegant style.
Spanish model Irene Salvador set the tone last year in a 1920s-inspired ensemble. The French race attracts a more demure style than the extroverted costumes seen at Britain's Royal Ascot.
Monaco's Princess Charlotte Casiraghi, the daughter of Princess Caroline, was one of the high-profile guests at last year's Arc. The prestigious race regularly attracts royalty, political leaders and business heavyweights from across Europe.
France's Industry Minister Eric Besson and wife Yasmine Tordjman also brought glamor to the stands in 2011. Politicians are a common sight at Longchamp, with many owning race horses.
Ladies at Britain's Royal Ascot tend to have a more flamboyant style than their counterparts across The Channel. "French dressing is less spectacular," says Arc spokesman Julien Pescatore.
Some fashion racing accessories appear universal -- such as the obligatory outrageous hat. A Royal Ascot punter dons a football-themed hat at this year's races.
The picturesque Parisian race track is named after the Prix du Moulin de Longchamp windmill, orginally built as part of a 13th century monastery.
The Qatar Racing and Equestrian Club-sponsored event is the richest in Europe, with almost €8 million ($10.4 million) in prize money on offer over the weekend.
Jockey Andrasch Starke celebrates on the podium after German horse Danedream wins the 2011 race. The defending champion was banned from traveling this year after training at the Cologne racecourse, which is under strict quarantine following the detection of swamp fever.
French jockey Christophe Soumillon will be riding Japan's big hope Orfevre. His chances of winning now look slim after drawing the far outside stall 18.
French fashion
Parisian chic
Model behaviour
A royal event
Movers and shakers
Meanwhile, across the Channel...
Hat's off
Picture perfect
World class
No Danedream
Japan's big hope
STORY HIGHLIGHTS
Think "French chic" and the words elegance, style and grace spring to mind
That glamor will be on display at this weekend's Prix de l'Arc de Triomphe
Stark contrast to UK's Royal Ascot, which has a more flamboyant style
Prestigious race regularly attracts the "creme de la creme" of European society
(CNN) -- With names like Chanel, Louis Vuitton and Yves Saint Laurent under its belt, it's little wonder Paris has earned a reputation as one of the fashion capitals of the world.
If "French chic" has become synonymous with the elegance, grace and style of its country's powerhouse fashion labels and catwalk shows, this weekend that glamor will be out in force on a very different type of track -- the Prix de l'Arc de Triomphe. Your average horse race this is not.
While Britain's Royal Ascot often displays images of Tango-colored ladies kicking off their heels, their French counterparts take a distinctly more demure approach to a day at the races.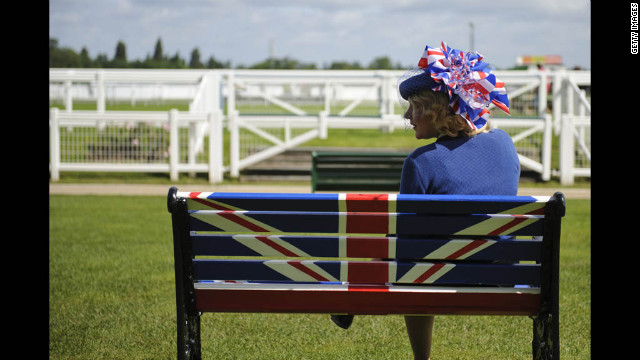 A race-goer attends day five of the Royal Ascot races in Ascot, England, on Saturday, June 23.
Queen Elizabeth II and Prince Philip, Duke of Edinburgh, arrive at the course on day four of the races.
A sign and flags hang in the air.
Attendees escape the rain under their umbrellas on day four.
An attendee examines a booklet with descriptions of the racers.
Riders race during the Diamond Jubilee Stakes on day five of Royal Ascot races Saturday.
Two onlookers congratulate each other with a high-five.
A large hat resembling the British flag sits atop a woman's head.
Racehorse Black Caviar neighs after carrying his rider across the finish line for the win on Saturday.
Racegoers sit at a table and study the form on Friday.
Queen Elizabeth II and Prince Philip, Duke of Edinburgh, and other members of the royal familly arrive in the Parade Ring at the Royal Ascot on Ladies Day on Thursday, June 21. Ladies Day is traditionally the fashion highlight of the five-day race meeting.
Rain falls on the race-goers attending the Royal Ascot.
A couple stand in a puddle at Royal Ascot.
Frankie Dettori celebrates riding Colour Vision to win The Gold Cup during Ladies Day at Royal Ascot.
A woman shows off her unusual hat.
Race-goers wear plastic rain covers over their dresses during some showers.
Frankie Dettori riding Colour Vision, center, to win the Gold Cup.
Larisa Katz shows off an umbrella hat design at Royal Ascot.
A visitor to Royal Ascot photographs her friends.
A woman poses with a striking hat and equine-themed umbrella.
A group of women in striking hats poses for a photo.
It's the end of the day in the silver ring during Ladies Day at Royal Ascot .
A race-goer poses on day three of the Royal Ascot.
Princess Anne and Princess Beatrice attends Ladies Day.
A worker checks benches in the grandstand.
Pat Smullen riding Princess Highway wins The Ribblesdale Stakes during Ladies Day at Royal Ascot at Ascot racecourse.
A worker attempts to dry tables and chairs at a Champagne bar on Ladies Day at Royal Ascot.
A bench is decorated with a Union Jack flag in the Grandstand on Ladies Day at Royal Ascot.
Top hats are worn by race-goers at the Royal Ascot in England on Wednesday, June 20. The five-day meeting is one of the highlights of the horse racing calendar and the season. Thousands of race fans are expected to attend.
Runners take the bend away from the grandstand at Ascot racecourse.
A visitor to Royal Ascot holds a race guide and a glass of Champagne.
Race-goers from The Royal Enclosure watch the arrival of the royal family.
Two women chit-chat on day one of the races.
Lisa Scott Lee attends day two of Royal Ascot.
Photographers in top hats snap photos of Royal Ascot attendees.
Queen Elizabeth II smiles as she arrives.
A dress code assistant holds a basket of pashminas at the main entrance to Royal Ascot. Visitors are expected to keep to a strict dress code.
Visitors to Royal Ascot enjoy a picnic before the start of racing.
A race-goer wearing a flamboyant hat poses for the media.
Race-goers sit together on a bench.
A woman in a striking hat attends day one of the races.
A woman wearing an elaborate hat designed to look like a bird cage attends day one of the races.
The Tootsie Rollers retro girl-band entertains visitors.
A race-goer poses for photographers at the races.
Race-goers ride an escalator down from the private boxes of the Royal Enclosure.
Jackie St. Clair attends day two of Royal Ascot.
Black Caviar, ridden by Paddy Bell, gallops before the Royal Ascot race meeting on June 14.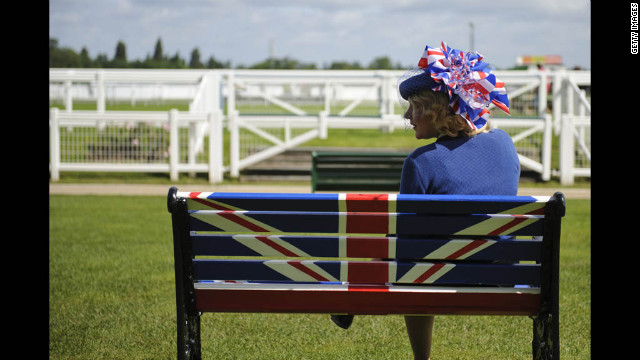 Photos: Royal Ascot 2012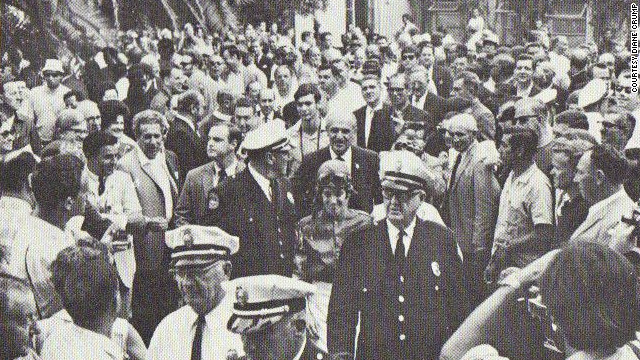 Escorted by police, Diane Crump makes her way through the crowd at Hialeah Park Race Track in Florida on February 7, 1969. She became the first female jockey to compete in a professional race in the U.S.
As a 19-years-old she also became the first woman to compete in the Kentucky Derby in 1970. "It was great for me as a rider, as a female and as a person," Crump said.
It was the beginning of a career which would span three decades and include more than 300 wins.
After marrying Crump, pictured in 1996, would continue juggling her racing career and family of two daughters until a horrific accident in 1992 left her virtually bed-bound for months.
One of the decade's most iconic images was of U.S. sprinters Tommie Smith and John Carlos making their gloved Black Power salutes at the 1968 Mexico Olympics, to highlight the issue of segregation.
Sri Lankan Prime Minister Sirimavo Bandaranaike became the world's first female head of government in 1960. The widow of previous prime minister, Solomon Bandaranaike, she was to serve three times over four decades.
Russia's Valentina Tereshkova (second from right) became the first woman in space in 1963, orbiting earth 48 times over three days.
American Jerrie Mock receives an award from President Lyndon B. Johnson in 1964 after becoming the first female to fly solo around the world.
British cyclist Beryl Burton beat all competitors, including men, in a 12-hour continuous cycle race in Otley, West Yorkshire, in 1967. Mother and daughter, pictured in 1963, later raced together in the 1972 world championships.
Author Betty Friedan became an icon of the women's liberation movement after publishing The Feminine Mystique in 1963, one of the first books to analyze the role of women in American society and raise issues of emancipation.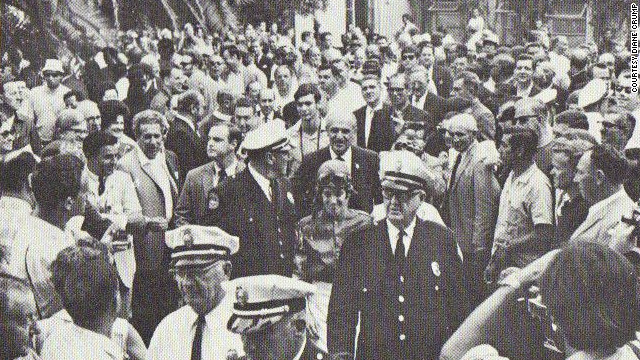 Female pioneers of the swinging sixties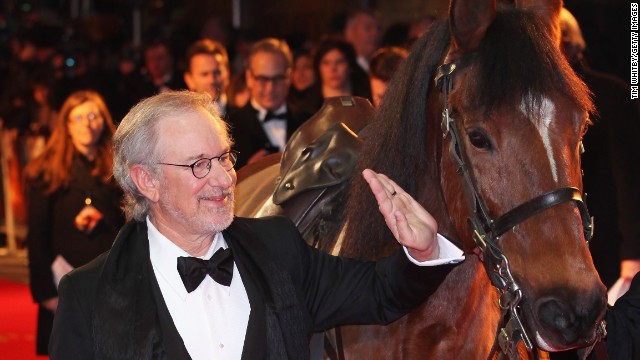 Oscar-winning director Steven Spielberg's interest in horses does not stop at the movie set. He co-owned racehorse Atswhatimtalkingabout, which came fourth in the 2003 Kentucky Derby. He is also an investor in Biscuit Stables, the Delaware-based race trainers.
Actor and director Kevin Costner, right, part-owns a number of racehorses which mainly run at Hollywood Park in California. He also supported the industry by voicing a documentary called "Laffit: All About Winning," celebrating the life and career of one of horseracing's most decorated jockeys, Laffit Pincay.
Pop icon MC Hammer, or Stanley Kirk Burrell on his passport, invested in and created his own Oaktown Stables. Hammer owned 19 racehorses at one stage, including the multiple Grade 1 stakes winner Lite Light and the aptly named Dance Floor -- which was third at the 1992 Kentucky Derby.
Rolling Stones guitarist Ronnie Wood runs Sandymount Stud in Ireland. He has also raced his own horses, including Sandymount Earl -- a gelding which won three times in three months at The Curragh, home of the Irish Derby.
Songwriter Burt Bacharach, left, has owned horses since 1980 and has seen them run in the Dubai World Cup and the Breeder's Cup. He has had notable successes with three horses over a near 30-year ownership period: Soul of the Matter, Afternoon Deelites and Heartlight No. 1.
American TV cook and celebrity restauranteur Bobby Flay is leading a new generation of celebrity into the racehorse business. He struck lucky on his first run, with Mrs. Kipling winning on her debut in 2009. Since then his horses have finished in the top three 16 times in 36 outings.
Soccer icon Alex Ferguson is a renowned owner of racehorses. Seen here with latest runner Forgotten Hero, the Manchester United manager was involved in a legal battle with Coolmore stud owner (and then major United shareholder) John Magnier about the stud fees of 2002 European Horse of the Year Rock of Gibraltar.
Racehorses are a popular subject in the Old Trafford dressing room, with former Manchester United striker Michael Owen also taking a big interest. He co-owns Manor House Stables -- the Cheshire-based racehorse trainers, as well as being the owner of a few horses himself.
Manchester United striker Wayne Rooney initially bought three horses -- Pippy, Tomway and Switcharooney -- but it was Yourartisonfire who provided his first win at English course Haydock Park on July 5.
Eddie Jordan (right) is no stranger to horsepower, having owned the Jordan Formula One team. The Irishman owns a number of horses in training with the Michael "Mouse" Morris stable in County Tipperary.
Britain's Queen Elizabeth is a renowned racehorse owner, with her first victory coming in her Coronation year of 1953 when Choir Boy won at Ascot. She is pictured here collecting the Queen's Vase after her horse Estimate triumphed at Royal Ascot this year -- her 21st win at the prestigious meeting.
As owner of the prolific Godolphin stables, United Arab Emirates ruler Sheikh Mohammed bin Rashid Al Maktoum has seen his racing unit secure nearly 200 Group 1 victories around the world every year -- creating an annual prize fund of $16.8 million. Godolphin has stables in Dubai, Ireland and the UK.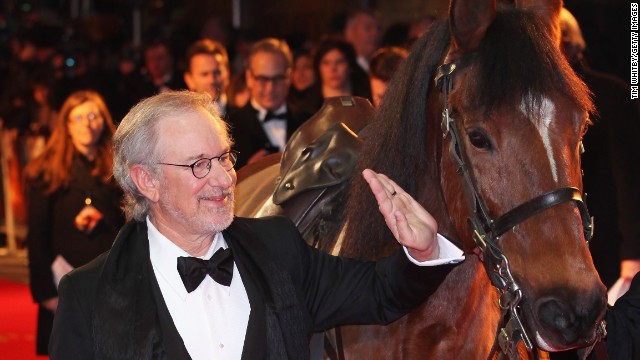 Celebrity racehorse owners
"French dressing is less spectacular than Ascot, it's less extroverted," Arc spokesman Julien Pescatore said.
"The French style is very classic. It's about elegance, beauty and glamor."
Such was the clampdown on decorum at this year's Royal Ascot, organizers went to the extent of publishing style guides for race-goers.
Ladies were advised that all dresses were to be of "modest" length -- defined as "falling just above the knee or longer." Shorts and shoulderless dresses were also deemed a non-no.
While Parisian race-goers adhere to a more classic style, one fashion accessory appears universal -- the obligatory outrageous hat.
"The hat is an essential element of the Prix de l'Arc de Triomphe," says Pescatore.
"It started in the 1920s as a way to convey some eccentricity, to do some showing-off. Today that might mean a hat with the Eiffel Tower on top."
Read: Royal Regulations for Ascot's fashionistas
Set on the picturesque Longchamp racecourse in Paris, "the Arc," as it is known, prides itself on being Europe's most prestigious -- and richest -- horse race.
With almost €8 million ($10.4 million) in prize money on offer over the weekend, the Qatar Racing and Equestrian Club-sponsored event attracts an elite clientele of royalty, world leaders and business heavyweights.
Each year the grandstands fill with the "crème de la crème" of European society, with Monaco's Princess Charlotte Casiraghi, the daughter of Princess Caroline, and Spanish model Irene Salvador some of the glamorous guests in 2011.
For the super rich wanting to beat the crowds, a helicopter flying from London to Issy-les-Moulineaux in Paris will take around one hour and 45 minutes -- and set you back a whopping £5,480 ($8,874).
That's not to mention the 15-minute car hire from Issy-les-Moulineaux to Longchamp costing another £200 ($323).
Read: How to pick a winner - horse racing's 'speed gene'
The Arc's slogan: "Ce n'est pas une course, c'est un monument" -- "Not so much a race as a monument," points to the grand imagery surrounding this uniquely French event.
French dressing is less spectacular than Ascot, it's less extroverted
Julien Pescatore, L'Arc spokesman
Founded in 1920, the Prix de l'Arc de Triomphe was named after the very monument built in honor of French allied forces during World War One.
This year will mark the 91st Arc, which has only been canceled twice in its illustrious history -- in 1939 and 1940 during World War Two.
Yet despite this emphasis on prestige, the Arc also remains one of Europe's most accessible races for the average punter, with general admission to Sunday's headline event costing just €8 ($10.4).
A ticket to Royal Ascot's grandstand, meanwhile, will cost you £75 ($121).
Read: Jockey who refused to stay in the kitchen
Arc organizers are preparing for a huge Japanese contingent this year, as horse Orfevre aims to deliver the country's first win at Longchamp.
The Japanese triple crown winner had been a co-favorite to win the race alongside Epsom Derby winner Camelot.
But its chances now look unlikely after drawing the far outside stall 18, where just one horse has won in the 92-year history of the race.
Nonetheless there will still be Japanese-speaking stewards at betting desks to assist the large numbers of Asian punters expected.
Read: Outbreak thwarts Danedream's Arc defence
It may be known as "The Sport of Kings," but come Sunday the Arc may also be referred to as the "Sport of Bakers" if French Derby winner Saonois takes the crown.
Bought by a prosperous baker for just €10,000 ($13,056) as a yearling, Saonois is now the other favorite to win the race after drawing the plumb stall of two.
Whatever the outcome, one thing is for sure, the French crowd will be celebrating in style.