All creatures great and small at Frankfurt's Animal Lounge
updated 12:30 PM EDT, Thu October 4, 2012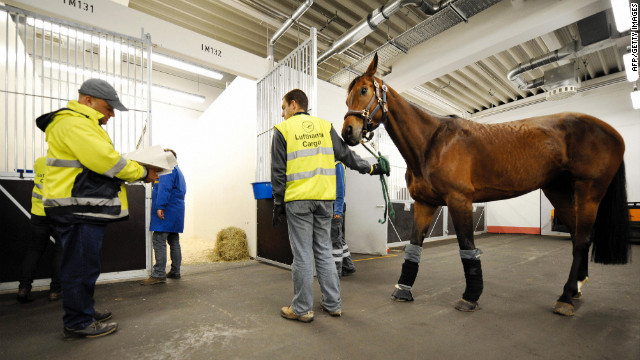 Operated by Lufthansa Cargo, the Frankfurt Animal Lounge in Germany facilitates the movements of more than 100 million animals every year.
The 3,750-square meter facility has 42 large animal stalls as well as 37 dog kennels, three quiet zones for cats, four aviaries, climate-controlled chambers and blacklight areas for examining of ornamental fish.
Director of the Animal Lounge Axel Heitman says that 2,000 horses are sent around the world via Frankfurt annually.
The Frankfurt Animal Lounge is fully licensed by the European Commission to transfer any type of creature -- great or small.
Heitman says that they count every individual fish or worm that comes through the building.
Many of the animals are traveling pets that are waiting to be reunited with their owners. As a result 14,000 dogs and cats travel through Frankfurt per year.
An airline staff member loads cases of living worms on a trailer at the Animal Lounge at Frankfurt's international airport. The lounge moves 300 tons of worms annually for use by fishermen around the world.
Frankfurt Airport's Animal Lounge
First-class facilities
Transatlantic horses
Transporting crustaceans
Flying fish
Man's best friend
STORY HIGHLIGHTS
Frankfurt Airport's Animal Lounge handles more than 100 million animals annually
Domestic pets and exotic creatures including rhinos, polar bears and crocodiles jet in and out
Facility opened in 2008 and is the world's busiest animal airport hub
Each week The Gateway goes behind the scenes of the world's major transport hubs, revealing the logistics that keep goods and people moving. This month, the show is in Frankfurt, Germany.
(CNN) -- With 56.4 million passengers, Frankfurt was the world's ninth busiest airport in 2011, according to airport trade organization, Airport Council International.
But when it comes to animal arrivals and departures, the German gateway takes top billing.
More than 100 million animals jetted in and out of Frankfurt's Animal Lounge last year including 2000 horses, 14,000 cats and dogs, 80 million ornamental fish and 300 tons of worms.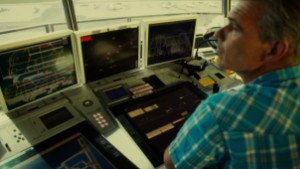 Frankfurt Airport: A strategic hub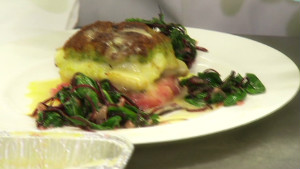 Restaurant food on an industrial scale
Run by German carrier Lufthansa, animals range from domestic pets to more exotic specimens destined for zoos and animal reserves, explains Axel Heitman, director of the Animal Lounge.
Frankfurt Airport: facts and figures
"A polar bear was on his way home from the Alps after doing some shooting for some advertising and was really gentle actually," Heitman said.
"He had his owner next to him and he took the entire trailer ... and then we had him transported back to Canada."
The 3,750-square meter facility opened its doors in 2008 and is equipped with non-slip floors and climate-controlled chambers to help make an animal's stay as comfortable as possible.
A team of 60 trained vets and qualified animal handlers are also on hand round the clock to monitor them when they arrive.
Read more: The world's transport gateways
"When they are in transit, for example, [the staff] would take them out of the kennels and feed them and if they are here overnight, they will walk them around the facility," Heitman says.
Most animals can travel in the belly of passenger planes, but Lufthansa also has a fleet of 18 freight aircraft which can accommodate all shapes and size of animal -- be it hippopotamuses en route to the Philippines from Israel or rhinos and even crocodiles.
There is no such thing as an average day, Heitman says.
"Every day we learn new things because, as you can imagine, there is a huge variety of animals," he said.

updated 5:07 AM EDT, Tue May 14, 2013

Romanian president, Traian Basescu, aims to steer Constanta Harbor on his country's eastern coast towards a new age of prosperity.
updated 2:12 PM EDT, Fri April 19, 2013

Singapore may be tiny but it is also one of East Asia's most powerful trading hubs.
updated 7:17 AM EDT, Mon April 22, 2013

Which Asian hub has been crowned the world's best airport? Clue: It has a swimming pool, cinema and nature trail amongst its many ancillary features.
updated 8:10 AM EDT, Wed April 3, 2013

Golf courses, cinemas, live concerts, art exhibitions, IMAX cinemas and ice rinks -- some airports are travel destinations in themselves.

The ports at Rashid and Jebel Ali have helped drive economic growth in Dubai and the wider Middle East region.
updated 1:20 PM EST, Fri December 21, 2012

Test your knowledge of the Middle East's biggest shipping hub which has transformed trade locally and around the world.
updated 9:01 AM EST, Thu December 13, 2012

The traditional wooden vessel remains a permanent fixture in Dubai and a reminder of the city's maritime history.
updated 1:28 PM EST, Wed December 5, 2012

Jebel Ali is more than a local port. It's a hub for the entire region, handling 80% of the UAE's international trade.
updated 6:08 AM EST, Wed November 28, 2012

Istanbul's busy waterway will soon see the construction of a new transport hub designed to look like the seabird in flight.
updated 6:52 AM EST, Thu November 22, 2012

An ambitious railway project is pulling Asia and Europe closer with the construction of the world's deepest submerged tunnel.
updated 7:15 AM EST, Wed November 21, 2012

As The Gateway travels to Istanbul, we take a closer look at this historic maritime city that straddles Europe and Asia.
updated 11:23 AM EDT, Mon October 29, 2012

In the capital Tokyo, nearly half of all commuters travel by train, heavily outweighing other modes of transport. But it can be a stressful experience for the uninitiated.
updated 10:03 AM EDT, Thu October 18, 2012

In Japan, rail rules as the transport mode of choice. Test your knowledge of Japan's rail network with our CNN quiz.