Fact Check: Is Donald Trump a small business?
updated 12:32 PM EDT, Fri October 5, 2012
STORY HIGHLIGHTS
Obama says Trump is a small business under Romney plan
The government defines small business as having under 500 workers
(CNN) -- President Barack Obama invoked Donald Trump's name during Wednesday's presidential debate, claiming that GOP presidential candidate Mitt Romney would consider the mogul's empire a small business.
"Under Governor Romney's definition, there are a whole bunch of millionaires and billionaires who are small businesses," President Obama said. "Donald Trump is a small business. Now, I know Donald Trump doesn't like to think of himself as small anything -- but that's how you define small businesses if you're getting business income."
The facts:
While there is no universally accepted definition of a small business, the federal government defines it as any business that employs fewer than 500 people.
The Trump Organization employs 22,000 people. But Trump also runs a number of other companies that employ fewer than 500, meaning that -- under the federal government's definition -- he qualifies as a small business.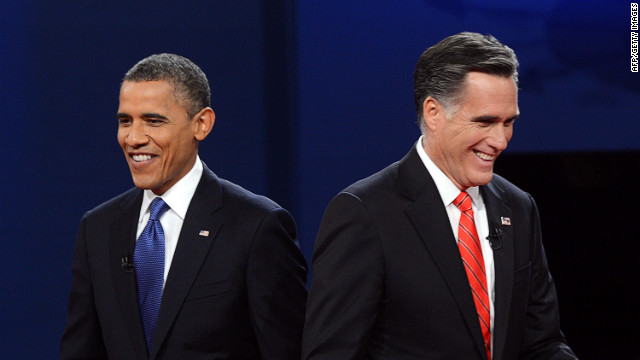 President Barack Obama and Republican presidential candidate Mitt Romney finish their debate in Denver on Wednesday, October 3. View behind-the-scene photos of debate preparations.
Romney stands with his wife, Ann, and family following the first presidential debate.
President Obama kisses first lady Michelle Obama after the debate Wednesday. It took place on their 20th wedding anniversary.
Jim Leher of PBS moderates the 90-minute debate on Wednesday. It was the candidates' first time debating face to face.
Obama defended his record and challenged his rival's proposals.
Romney was more aggressive Wednesday in criticizing Obama's vision.
People watch the debate at Galapagos Art Space in Brooklyn, New York.
The event was expected to draw the candidates' largest nationwide audience to date.
Romney answers a question from the moderator.
Obama argues his view. Both candidates said the other's proposals won't work.
Michelle Obama listens to the debate.
Romney said Obama has failed to bring down high unemployment and get the economy surging again.
Obama reacts to Romney's remarks on Wednesday.
Obama listens during the debate in Denver.
Romney, who has been unable to catch the president in most polls to date, sought to generate enthusiasm for a change in the White House.
Romney's shadow is projected beneath text from the Declaration of Independence at the University of Denver's Magness Arena.
The first of three presidential debates focused on domestic issues: the economy, health care and the role of government.
Obama and Mitt Romney clashed over the economy on Wednesday.
Romney speaks during Wednesday night's debate. The candidate called for a new economic path.
Obama called for "economic patriotism" and said Romney's plan of tax cuts for the rich failed before.
Romney and Obama wave to the crowd at the start of the presidential debate.
Obama greets Romney on Wednesday.
The candidates meet on stage less than five weeks before Election Day.
Obama and Romney shake hands Wednesday night.
The presidential race has been dominated so far by negative advertising as both camps try to frame the election to their advantage.
Leher takes the stage Wednesday. It's his 12th time moderating a presidential debate.
Michelle Obama points to Lehrer before the start of the debate.
Ann Romney and first lady Michelle Obama hug on Wednesday.
The candidates wives were in attendance for the most highly anticipated campaign event to date.
Michelle Obama sits with White House Senior Advisor Valerie Jarrett, right.
Rapper Will.i.am, left, speaks with Jarrett before the debate on Wednesday. View behind-the-scenes photos of debate preparations.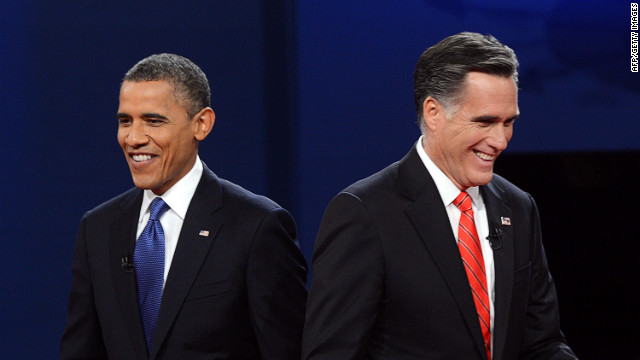 Photos: The first presidential debate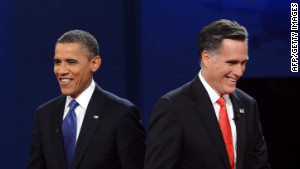 Analyst: Election now 'a horse race'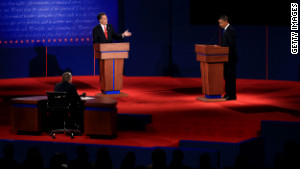 Best 'zingers' from debate night
According to the U.S. Small Business Administration, which uses the 500-worker maximum in its definition, such firms employ half of all private-sector workers and pay 44% of the total U.S. private payroll. In 2009, there were 27.5 million businesses in the nation, 99.7% of which were small firms.
Complete coverage of CNN's Fact Checks
IRS data on the highest-income people in the country underscores that small business does not necessarily mean small profits. Of the top 400 people — who got $19.8 billion in S corporation and partnership net income in 2009 — 237 count as small businesses.
An analysis by the Urban Institute-Brookings Tax Policy Center finds that extending tax cuts for people who make more than $250,000 per year ($200,000 for single filers) would disproportionately help the richest taxpayers: 82% of the cut would go to people with more than $1 million in adjusted gross income, who would get an average tax cut of $164,000 apiece.
Romney's plan does not single out small businesses for special treatment. His plan attempts to lower taxes on all businesses -- big or small.
Conclusion: While Romney's plan does not define who is or is not a small business, some of Donald Trump's companies would qualify as a small business because they have fewer than 500 employees.
Fact Check: Job creation versus unemployment
Fact Check: Oil and gas production
CNNMoney's Small Business Reporter Jose Pagliery and CNN's Diane Laposta contributed to this report