Fact Check: Would repeal of Obamacare hike seniors' drug costs?
updated 12:16 PM EDT, Thu October 4, 2012
STORY HIGHLIGHTS
The candidates sparred over health care claims
Obama: "We were able to lower prescription drug cost for seniors"
Obama: Repealing health care law would hurt those savings
(CNN) -- Health care was a huge topic during Wednesday's presidential debate. President Barack Obama said the repeal of Obamacare would cause seniors' prescription drug payments to rise.
"We were actually able to lower prescription drug costs for seniors by an average of $600," Obama said during his debate with GOP challenger Mitt Romney. He went on to say that if Obamacare were repealed, "those seniors right away are going to be paying $600 more in prescription care."
The facts:
Nearly 5.4 million Medicare recipients saved more than $4.1 billion on prescription drugs as a result of the Affordable Care Act, Health and Human Services Secretary Kathleen Sebelius said in an August news release.
"Seniors in the Medicare prescription drug coverage gap known as the 'donut hole' have saved an average of $768," she said.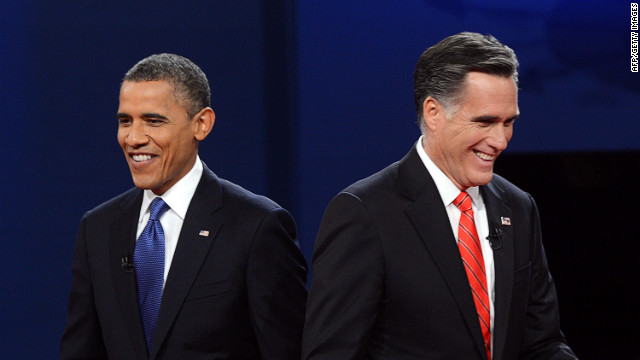 President Barack Obama and Republican presidential candidate Mitt Romney finish their debate in Denver on Wednesday, October 3. View behind-the-scene photos of debate preparations.
Romney stands with his wife, Ann, and family following the first presidential debate.
President Obama kisses first lady Michelle Obama after the debate Wednesday. It took place on their 20th wedding anniversary.
Jim Leher of PBS moderates the 90-minute debate on Wednesday. It was the candidates' first time debating face to face.
Obama defended his record and challenged his rival's proposals.
Romney was more aggressive Wednesday in criticizing Obama's vision.
People watch the debate at Galapagos Art Space in Brooklyn, New York.
The event was expected to draw the candidates' largest nationwide audience to date.
Romney answers a question from the moderator.
Obama argues his view. Both candidates said the other's proposals won't work.
Michelle Obama listens to the debate.
Romney said Obama has failed to bring down high unemployment and get the economy surging again.
Obama reacts to Romney's remarks on Wednesday.
Obama listens during the debate in Denver.
Romney, who has been unable to catch the president in most polls to date, sought to generate enthusiasm for a change in the White House.
Romney's shadow is projected beneath text from the Declaration of Independence at the University of Denver's Magness Arena.
The first of three presidential debates focused on domestic issues: the economy, health care and the role of government.
Obama and Mitt Romney clashed over the economy on Wednesday.
Romney speaks during Wednesday night's debate. The candidate called for a new economic path.
Obama called for "economic patriotism" and said Romney's plan of tax cuts for the rich failed before.
Romney and Obama wave to the crowd at the start of the presidential debate.
Obama greets Romney on Wednesday.
The candidates meet on stage less than five weeks before Election Day.
Obama and Romney shake hands Wednesday night.
The presidential race has been dominated so far by negative advertising as both camps try to frame the election to their advantage.
Leher takes the stage Wednesday. It's his 12th time moderating a presidential debate.
Michelle Obama points to Lehrer before the start of the debate.
Ann Romney and first lady Michelle Obama hug on Wednesday.
The candidates wives were in attendance for the most highly anticipated campaign event to date.
Michelle Obama sits with White House Senior Advisor Valerie Jarrett, right.
Rapper Will.i.am, left, speaks with Jarrett before the debate on Wednesday. View behind-the-scenes photos of debate preparations.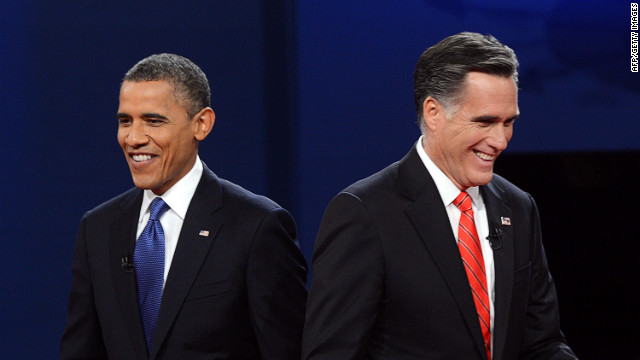 Photos: The first presidential debate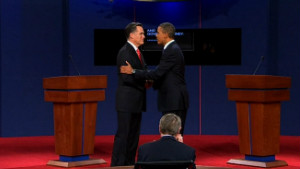 Obama and Romney debate in Denver
The law helps make Medicare prescription drug coverage more affordable.
Complete coverage of CNN's Fact Checks
People with Medicare can pay a monthly premium for outpatient prescription drug coverage. In 2010, enrollees paid 100% of their drug costs up to $310. For costs above that figure, they paid 25% of the total until that total reached $2,800.
Once that figure had been reached, beneficiaries were responsible for the full cost of their drugs until they had spent $4,550 -- after which, their share usually dropped to 5%. That coverage gap is referred to as the "donut hole."
The Affordable Care Act changed the formula.
In 2010, Medicare recipients who hit the prescription drug donut hole received a $250 rebate.
Last year, people with Medicare who reached the donut hole got a 50 percent discount on covered brand-name drugs and a discount on generic drugs.
Recipients will pay less and less until 2020, when they will be responsible for only 25% of the cost of their drugs until they reach the yearly out-of-pocket spending limit, according to a 2010 posting on healthcare.gov by Jonathan Blum, director for the Centers of Medicare and Medicaid Services.
Conclusion: Seniors, on average, would pay the $600 cited by Obama -- and then some, according to Medicare figures, if the Affordable Care Act was not in place.
Fact Check: Oil and gas production