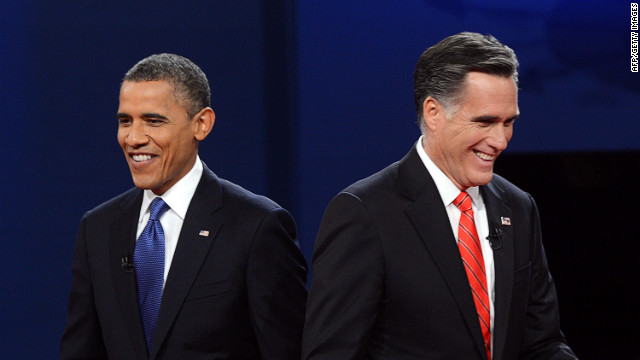 President Barack Obama and Republican presidential candidate Mitt Romney finish their debate in Denver on Wednesday, October 3.
View behind-the-scene photos of debate preparations.
Romney stands with his wife, Ann, and family following the first presidential debate.
President Obama kisses first lady Michelle Obama after the debate Wednesday. It took place on their 20th wedding anniversary.
Jim Leher of PBS moderates the 90-minute debate on Wednesday. It was the candidates' first time debating face to face.
Obama defended his record and challenged his rival's proposals.
Romney was more aggressive Wednesday in criticizing Obama's vision.
People watch the debate at Galapagos Art Space in Brooklyn, New York.
The event was expected to draw the candidates' largest nationwide audience to date.
Romney answers a question from the moderator.
Obama argues his view. Both candidates said the other's proposals won't work.
Michelle Obama listens to the debate.
Romney said Obama has failed to bring down high unemployment and get the economy surging again.
Obama reacts to Romney's remarks on Wednesday.
Obama listens during the debate in Denver.
Romney, who has been unable to catch the president in most polls to date, sought to generate enthusiasm for a change in the White House.
Romney's shadow is projected beneath text from the Declaration of Independence at the University of Denver's Magness Arena.
The first of three presidential debates focused on domestic issues: the economy, health care and the role of government.
Obama and Mitt Romney clashed over the economy on Wednesday.
Romney speaks during Wednesday night's debate. The candidate called for a new economic path.
Obama called for "economic patriotism" and said Romney's plan of tax cuts for the rich failed before.
Romney and Obama wave to the crowd at the start of the presidential debate.
Obama greets Romney on Wednesday.
The candidates meet on stage less than five weeks before Election Day.
Obama and Romney shake hands Wednesday night.
The presidential race has been dominated so far by negative advertising as both camps try to frame the election to their advantage.
Leher takes the stage Wednesday. It's his 12th time moderating a presidential debate.
Michelle Obama points to Lehrer before the start of the debate.
Ann Romney and first lady Michelle Obama hug on Wednesday.
The candidates wives were in attendance for the most highly anticipated campaign event to date.
Michelle Obama sits with White House Senior Advisor Valerie Jarrett, right.
The first presidential debate
The first presidential debate
The first presidential debate
The first presidential debate
The first presidential debate
The first presidential debate
The first presidential debate
The first presidential debate
The first presidential debate
The first presidential debate
The first presidential debate
The first presidential debate
The first presidential debate
The first presidential debate
The first presidential debate
The first presidential debate
The first presidential debate
The first presidential debate
The first presidential debate
The first presidential debate
The first presidential debate
The first presidential debate
The first presidential debate
The first presidential debate
The first presidential debate
The first presidential debate
The first presidential debate
The first presidential debate
The first presidential debate
The first presidential debate
The first presidential debate