STORY HIGHLIGHTS
Kevin Pietersen agrees return to the England cricket team
The South African-born batsman frozen out after sending provocative text messages
Pietersen has signed a new central contract and will begin a "re-integration" process
The batsman could return to the team in time for February's tour of New Zealand
(CNN) -- English cricketer Kevin Pietersen has reached an agreement with the England & Wales Cricket Board (ECB) which paves the way for his return to the national team.
Arguably England's most naturally talented cricketer, Pietersen was dropped by selectors in August after it emerged he had sent "provocative" text messages to South Africa's players during a recent Test series between the two teams.
However the South-African born Pietersen must undergo a "reintegration program", before England team director Andy Flower can pick him.
"ECB and Kevin Pietersen confirm that agreement has been reached concerning a process for his reintegration into the England team during the remainder of 2012," said an ECB statement.
"Upon completion of the program, the England selectors will consider Kevin for future matches."
Without Pietersen, who was born in South Africa, defending champions England crashed out of the World T20 tournament in Sri Lanka at the Super Eight stage.
Two years ago the allrounder was man of the tournament when England, captained by Paul Collingwood, were crowned T20 world champions in the Caribbean.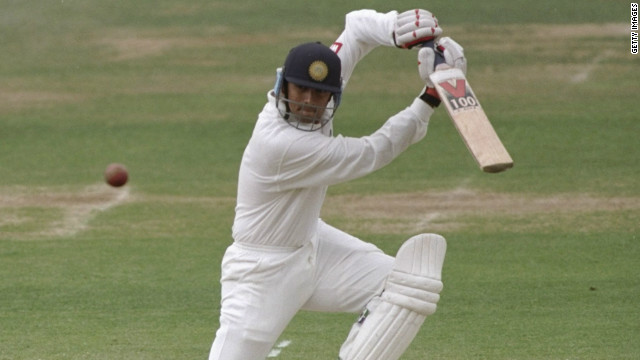 Rahul Dravid made his Test debut for India in 1996 against England at Lord's. He made a fantastic start, scoring an impressive 95.
Dravid smashed 145 in a 318-run partnership with Sourav Ganguly during a match with Sri Lanka at the 1999 World Cup, a record in the one-day form of the game.
Against Australia in Kolkata in 2001, Dravid destroyed one of the greatest bowlers to have played the game -- Shane Warne. Dravid came to the crease with India needing 45 runs to avoid an innings defeat. He eventually led them to a thrilling victory with a knock of 180, hitting Warne for 41 off 51 balls in the process.
Dravid hit four centuries in four consecutive Tests in 2002, recording three against England before grabbing another in India's first match of a series against the West Indies.
Dravid's first Test as India captain came against New Zealand in Mohali in 2003, standing in for Ganguly. He endured a frustrating match as the team's leader, with India eventually rescuing a draw.
Dravid became the first player to score centuries in every Test-playing nation with a ton against Bangladesh in December 2004.
India, led by Dravid, earned a 1-0 win in England in 2007's four-Test series. Dravid is pictured here with fellow cricket legend Sachin Tendulkar, who is currently stuck on 99 international centuries in his bid to become the first man to reach 100 hundreds.
Dravid endured an unsatisfactory 2008, but he did end the year on a high with a century against England in Mohali in December.
India were blown away by England in a 4-0 Test series defeat in 2011, a result which saw them usurped at the top of the world rankings by their opponents. But Dravid was in fine form despite the loss, scoring 461 runs in the series, including three centuries.
Dravid is contracted to play in the forthcoming Indian Premier League Twenty20 series, where he will represent the Rajsthan Royals. The franchise is partly owned by Bollywood star Shilpa Shetty.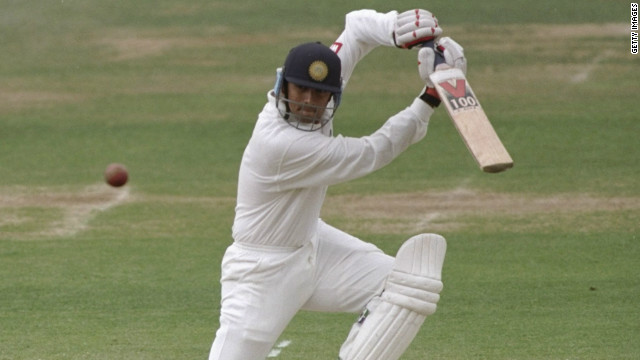 Rahul Dravid: One of cricket's greatest batsmen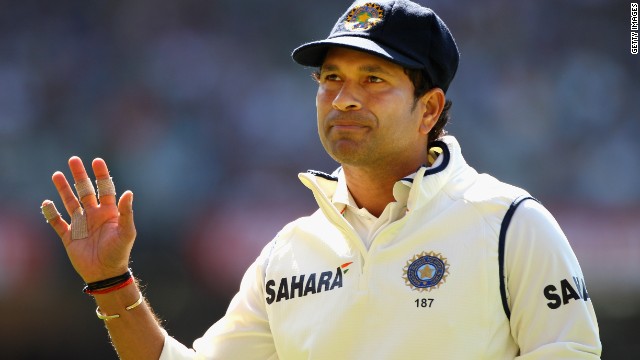 Sachin Tendulkar will end his record-breaking cricket career following his 200th Test match, against the West Indies in his home city of Mumbai.
A face-painter with a queue of spectators outside Mumbai's Wankhede Stadium. The match is not being covered by the world's leading photo agencies due to a dispute with Indian cricket's ruling body, which dates back to 2012.
Security was tight around the ground, which could have been sold out 10 times according to local reports.
Tendulkar helped his Indian Premier League side Mumbai Indians to win the Twenty20 limited-overs tournament earlier this year.
Indian painter Jagjot Singh Rubal touches up his painting commemorating Tendulkar's famous cricketing milestone.
Tendulkar became the first man in cricket history to score 100 international hundreds when he made 114 in a limited-overs match against Bangladesh on March 16, 2012.
Tendulkar visited the residence of Bangladesh's Prime Minister Sheikh Hasina Wazed, right, to mark his achievement.
He had been stuck on 99 since the 2011 World Cup, when he closed to within one of the milestone with a ton against South Africa. Tendulkar helped India win the final against co-hosts Sri Lanka in his home city of Mumbai on April 2. He scored only 18 in that match, but was India's top runscorer as his country won the 50-over tournament for the first time.
Cricket fans had been waiting for the milestone, which came 33 innings after the South Africa game. Tendulkar went close during India's disappointing tour of Australia -- against whom he has scored 20 tons, more than any other nation.
Tendulkar is the first and only player in cricket history to score 15,000 Test match runs, achieving the feat in November 2011.
Having scored a triple century as a schoolboy, and then passing 100 on his first-class debut in 1988, Tendulkar made his international debut the following year at the age of 16 against Pakistan.
Tendulkar scored his first international century in the five-day format the following year on India's tour of England, hitting 119 not out in the second Test at Old Trafford.
Debate still rages as to whether Tendulkar can be considered greater than Australian legend Donald Bradman, whose Test career ended in 1948 with an incredible average of 99.94, scoring 6,996 runs in 52 matches.
England's players applaud after Tendulkar scores 193 in Leeds in 2002, passing Bradman's record of 29 Test centuries. He has now played 188 Tests, notching 51 hundreds.
Tendulkar, left, became Test cricket's highst runscorer in October 2008 when he passed Brian Lara's previous record of 11,953 during a home series against Australia.
Tendulkar became the first batsman to score 17,000 runs in one-day internationals with a knock of 175 against Australia in Hyderabad on November 5, 2009.
Tendulkar's next foray into three figures saw him become the first batsman to score 200 in a 50-over international -- against South Africa on February 25, 2010. Indian schoolchildren in Amritsar celebrated their national hero's landmark feat.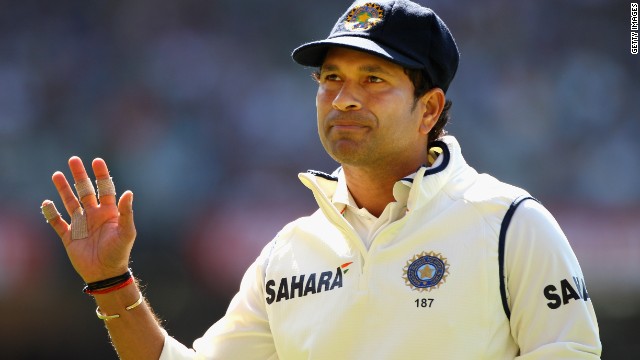 Sachin Tendulkar retires from cricket
In May, Pietersen had announced his retirement from T20 and one-day cricket, although he was in Sri Lanka working as a broadcaster for ESPN Star Sports.
Andrew Strauss, who was England captain when Pietersen was frozen out of the team, has since retired from international cricket, with Alastair Cook the side's new Test skipper.
"Kevin Pietersen has apologized to Andrew Strauss and wishes to express to all those who support England his regrets at the impact the recent controversies have had on the England team," continued the ECB statement.
"He now wishes to put the events of the summer behind him and to focus on regaining his place in the England team."
The ECB went on to say the issue regarding messages sent from Pietersen's Blackberry mobile phone had been resolved.
"With regards the issue of the BBM messages, due to the fact that Kevin had not retained the BBM messages, this matter has been successfully concluded through a binding assurance provided to ECB by Kevin.
"Kevin conceded that the messages exchanged were provocative. The ECB is satisfied, following receipt of this binding assurance, that to the best of his recollection, Kevin did not convey any messages which were derogatory about the England captain, the England team director, the ECB or employees of the ECB.
"Furthermore, there was no tactical information whatsoever provided to members of the South African touring party."
ECB chairman Giles Clarke refused to put a timescale on when Pietersen might return.
"Kevin has signed a central contract today," Clarke told a media conference. "Andy Flower will determine the progress of the reintegration process. It could be soon, it could be much later."
Pietersen admitted the situation had been difficult, but insisted he was focused on regaining his place in the team.
"It's been a horrible situation for all involved," said the 32-year-old cricketer.
"But it is time to move forward. All being well I'll be back in an England shirt as soon as possible."
Before he was dropped, Pietersen has been integral part of the England Test team since making his debut in 2005.
He has scored 21 centuries in 81 Test matches for his country and was given the honor of captaining England's one-day team in 2008.
The right-hander, who is an occasional spin bowler, will be hoping to win back his place in the team in time for November and December's tour of India.