Court: Pussy Riot appeal hearing to continue next week
updated 10:04 AM EDT, Mon October 1, 2012
STORY HIGHLIGHTS
NEW: The hearing will continue October 10
The three women were convicted in August to two years in prison
The sentence is linked to their performance of a song critical of President Vladimir Putin
Their song was in one of Moscow's grandest cathedrals
(CNN) -- The appeal hearing for three members of the punk rock band Pussy Riot, who were sentenced to two years for performing a song critical of President Vladimir Putin, will continue next week.
One of the band members Yekaterina Samutsevich said Monday that she no longer wants to work with an attorney who doesn't share her views in the case. The hearing will resume October 10.
Read more: Pussy Riot supporters vent anger on Twitter
The women were convicted in August for hooliganism, sparking an international outcry.
Authorities charged them after they criticized Putin in one of Moscow's grandest cathedrals.
Read more: Band member's husband condemns Pussy Riot prison sentences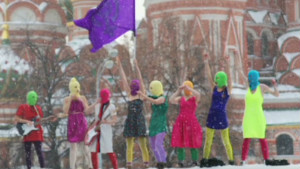 Russian punk rock band on trial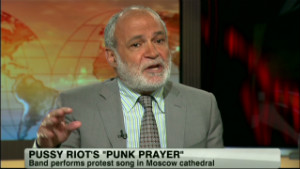 Political crackdown in Russia
"Mother Mary please drive Putin away," the women screamed in February inside the Christ Savior Cathedral, their faces covered in neon masks.
The group's prayer was inspired by their anger about the relationship between the Russian government and the Orthodox Church, according to the band's manager, who is married to one of the suspects.
A judge rejected the women's defense that they were acting from political motives, ruling that they had intended to insult the Orthodox Church and undermine public order.
An Orthodox church leader has been widely reported as saying Putin's years in power have been a miracle from God.
A day before the hearing, the Russian Orthodox Church appealed for leniency for the band members, according to state-owned Ria Novosti.
The church believes repentance will "benefit the souls" of the band members, the news agency said.
Russian Prime Minister Dmitry Medvedev has called for the members' release, but said he is "sickened" by their actions.
The three -- Samutsevich, Nadezhda Tolokonnikova and Maria Alyokhina -- were arrested in March.
Two other members of the female punk rock band have fled Russia.
CNN"s Alla Eshchenko contributed to this report

Part of complete coverage on
Pussy Riot trial
updated 4:46 PM EDT, Fri August 17, 2012

A judge blasts three members of Russian punk rock band Pussy Riot for performing a song critical of Vladimir Putin in a Moscow church.
updated 4:07 PM EDT, Fri August 17, 2012

Rachel Denbar of Human Rights Watch says the Pussy case casts a "highly disturbing' light on freedom of expression in post-Soviet Russia.
updated 3:47 AM EDT, Sat August 18, 2012

The Twittersphere lit up with pictures and messages of support from around the world after three band members were jailed for "hooliganism."
updated 12:21 PM EDT, Sat August 11, 2012

Tents, food trucks, art work and posters with "Free Pussy Riot" covered bus stops and real estate board during a concert in D.C. in support of the arrested Russian band.
updated 4:41 PM EDT, Wed August 8, 2012

Security's stepped up around Madonna's Moscow concert after the singer voices her support for the members of Pussy Riot.
updated 8:40 AM EDT, Fri August 3, 2012

Russian President Vladimir Putin asks a court to show leniency for three members of the punk rock band Pussy Riot charged with hooliganism.
updated 7:33 AM EDT, Thu August 2, 2012

Music stars including Pete Townshend of The Who, Alex Kapranos of Franz Ferdinand and Corinne Bailey Rae called on Russia to free members of the Pussy Riot punk band.
updated 9:51 AM EDT, Fri May 25, 2012

Here's a clue: Walk into a cathedral wearing a neon mask, stand on the pulpit and scream songs with lyrics like "Virgin Mary drive Putin away!"