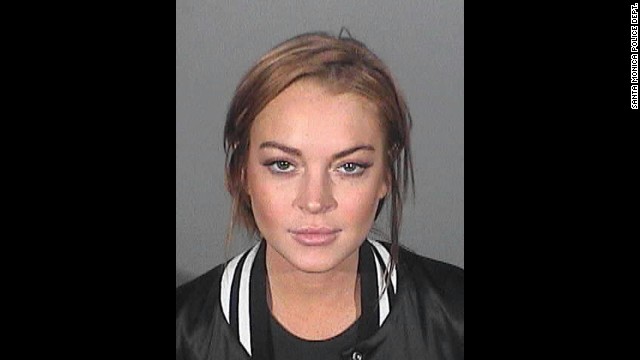 Lohan poses for a mug shot on Tuesday, March 20, after accepting 90 days in a "locked in" drug rehab facility for misdemeanor charges. Her six years of legal troubles trace back to two drunken driving arrests in 2007 and include other incidents in which she was behind the wheel.
Lindsay Lohan appears in court with her attorneys Anthony Falangetti, left, and Mark Heller in Los Angeles on Monday, March 18. She entered pleas of no contest on two misdemeanor charges relating to a traffic accident last summer, and she did not challenge the finding that she violated her shoplifting probation with those convictions.
Lohan's mug shot from July 2007 for driving under the influence.
Lindsay Lohan attends her probation hearing at the Airport Courthouse in March 2012 in Los Angeles. Superior Court Judge Stephanie Sautner decided to take Lohan off probation from a 2007 drunken driving case and said that she will no longer have to meet with a probation officer or appear in court on her 2011 shoplifting case, as long as she obeys all laws through May 2014.
Lohan leaves a progress report hearing at Venice Airport Branch Courthouse in Los Angeles in January 2012.
Lohan's mug shot from October 2011 after she was arrested for probation violations. She was released after posting $100,000 bail.
Lohan is led away in handcuffs at her probation progress report hearing at the Airport Courthouse in October 2011.
Lohan cries next to her lawyer Shawn Chapman Holley as she is sentenced to 90 days in jail by Judge Marsha Revel during her hearing at the Beverly Hills Courthouse in July 2010. Lohan violated her probation in two 2007 drunk driving cases.
Lohan poses for a booking photo after being arrested on DUI charges at Lynwood Jail in November 2007. Lohan voluntarily reported to the facility to serve her minimum 24-hour jail sentence that was part of a plea bargain for two DUI charges.
Lindsay Lohan in trouble
Lindsay Lohan in trouble
Lindsay Lohan in trouble
Lindsay Lohan in trouble
Lindsay Lohan in trouble
Lindsay Lohan in trouble
Lindsay Lohan in trouble
Lindsay Lohan in trouble
Lindsay Lohan in trouble
STORY HIGHLIGHTS
NEW: Lindsay Lohan and Christian LaBella file harassment claims against each other, official says
Lohan grabbed LaBella's phone when she realized he took photos of her, a police source says
LaBella says she took the phone without his permission, according to the source
Lohan "did sustain some injuries, she was not hospitalized," her publicist says
(CNN) -- Police dropped assault and harassment charges against a man who Lindsay Lohan said choked her during a scuffle over cell phone photos early Sunday, a New York Police Department official said.
Instead, Christian LaBella, 25, and Lohan, 26, filed harassment claims against each other.
"Cross complaints for harassment were filed and LaBella's assault arrest was voided after detectives investigated further," NYPD Deputy Commissioner Paul Browne said.
The incident happened in a guest room at New York's Union Square W Hotel at 5 a.m., according to a police official who did not want to be named.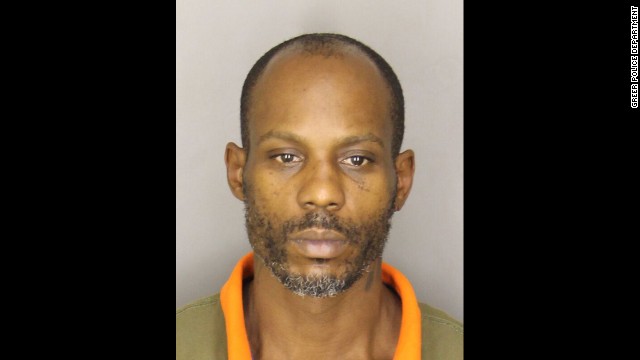 Rapper DMX was arrested in South Carolina and held for three hours on Monday, November 3 before posting bond on charges of driving with a suspended license and having no car tag or insurance, according to the Spartanburg County Detention Center website. DMX, whose real name is Earl Simmons, has been arrested three times in the state since July.
Dina Lohan, the mother of actress Lindsay Lohan, was arrested September 12 in New York on two DWI charges. New York State Police said a breath test showed her blood alcohol concentration to be more than twice the legal limit.
"The Partridge Family" star David Cassidy was arrested just after midnight on August 21 for driving while intoxicated and failure to dim his headlights in Schodack, New York.
Actor Thomas Guiry is charged with felony assault, accused of head-butting a police officer in an incident on August 3, at Bush Intercontinental Airport in Houston.
Singer-actress Pia Zadora was charged with domestic violence battery and coercion for allegedly scratching her 16-year-old son's ear as she tried to take his cell phone when he dialed 911 on June 1, according to a Las Vegas Metropolitan Police report.
Actress Amanda Bynes was arrested again May 23 in New York after she allegedly tossed drug paraphernalia out the window of her Manhattan apartment. The actress previously had been booked for suspicion of driving under the influence in Hollywood, California, on April 6, 2012, after she got into a fender bender with a marked police car. She later tweeted President Barack Obama and asked him to fire the cop who made the arrest. The California arrest is the source of this mug shot.
Actor Edward Furlong was arrested again on May 17 after allegedly violating a protective order filed against him by an ex-girlfriend. Furlong is seen here in a police booking photo after his arrest for alleged domestic violence, the arrest which resulted in the protective order, on January 13, in Los Angeles.
Actress Reese Witherspoon and husband Jim Toth were arrested early April 19 in Atlanta after Toth was pulled over for suspected drunken driving with Witherspoon in the car, the Georgia State Patrol said.
Country music star Billy Currington has been indicted on charges of terroristic threats and abuse of an elderly person on April 15 in his native state of Georgia.
Rapper Gucci Mane turned himself in to authorities on March 26 after a warrant was issued for his arrest on aggravated assault charges in Atlanta.
Lindsay Lohan poses for a mug shot on March 20, after accepting 90 days in a "locked in" drug rehab facility for misdemeanor charges. This was not her first brush with the law. The laundry list includes a 2011 arrest for violating her probation for a 2007 drunken driving conviction.
Stanley Kirk Burrell, aka MC Hammer, was arrested February 21, in Dublin, California, for allegedly obstructing an officer.
Actor Stephen Baldwin was arrested December 6, 2012, on a charge of failing to file New York state personal income tax returns for three years, according to a statement released by the Rockland County district attorney's office.
William J. Drayton, 53, also known as Flavor Flav, was arrested October 17, 2012, in Las Vegas and charged with assault with a deadly weapon and battery in a case involving his fiancee of eight years, police said.
Border Patrol agents in Texas arrested singer Fiona Apple in 2012, saying they found marijuana and hashish on her tour bus.
Musician Randy Travis was arrested in 2012 for misdemeanor DWI and felony retaliation after he was involved in a one-vehicle accident and found buck naked in the roadway. He was later released on bond.
Funny-man Russell Brand landed himself in the Orleans Parish Sheriff's Office in 2012 when he snatched a photographer's iPhone and threw it at a window. Brand was free on bond after turning himself in to New Orleans police.
Olympic gold medalist Shaun White, 26, was charged with vandalism and public intoxication in Nashville, Tennessee, on September 16, 2012.
Singer Bruno Mars was arrested on September 19, 2010, in Las Vegas, Nevada, on a drug charge. He later accepted a "deferred adjudication" deal in 2011.
"Gossip Girl" star Chase Crawford was arrested in June 2010 in Austin, Texas, and charged with possession of marijuana. He was charged with a misdemeanor because he had less than 2 ounces, according to a police report.
Bad boy actor Charlie Sheen is no stranger to Hollywood scandal. He posed for this mug after a 2009 arrest related to a domestic violence dispute.
Wayne "Lil Wayne" Carter was booked on drug charges in Arizona in 2008 and sentenced to a year in prison.
Nicole Richie was sentenced to four days in jail for DUI in August 2007. She spent 82 minutes in custody.
In 2007, Kiefer Sutherland got this mug shot after surrendering to serve a 48-day sentence for his third DUI arrest.
This mug was snapped after Mel Gibson, now notorious for getting himself into trouble, was arrested and charged with drunk driving in 2006.
Backstreet Boy Nick Carter was arrested for drunken driving after failing a field sobriety test in 2005.
Singer James Brown was arrested in Aiken, South Carolina, on January 28, 2004, and charged with Criminal Domestic Violence.
The Oklahoma County, Oklahoma, Sheriff's office took this mug shot of the famous "Home Alone" star Macaulay Culkin in 2004 after they found marijuana, Xanax and sleeping pills in his possession. He was briefly jailed before being released on bond.
Country singer Glen Campbell was arrested in Phoenix on November 25, 2003, on drunken driving and hit-and-run charges. According to Arizona police, the 67-year-old performer hit another car and left the scene. He was later picked up at his home where he smelled of booze and kneed a sergeant in the thigh. Seen Campbell poses for his mugshot in 2004 after checking into a Phoenix lockup to serve his first of 10 nights in jail. He pleaded guilty to the charges.
Actor Nick Nolte was arrested on suspicion of driving under the influence of drugs or alcohol on September 11, 2002. A California Highway Patrol officer saw the actor's car swerving across the highway. Nolte was described as "drooling" and "droopy-eyed."
Robert Downey Jr.'s drug problems are almost as famous as his talent. He served time in the late 1990s on a drug conviction, was arrested in November 2000 for drug possession, and was busted again in April 2001 in Culver City, California.
Marshall Mathers, aka Eminem, was booked on gun charges twice in June 2000. Police said both arrests stemmed from fights -- the first over his estranged wife, Kim, and the second against rival rap group Insane Clown Posse.
Rapper Jay-Z was arrested in 1999 for allegedly stabbing a record executive in a New York night club. He pleaded guilty in 2001 and was sentenced to three years' probation.
Matthew McConaughey was arrested in Austin, Texas, in 1999 after police allegedly found him dancing naked and playing bongo drums in his house. He paid a $50 fine for disturbing his neighbors with the show.
Curtis Jackson, aka 50 Cent, posed for this mug in 1994 when he was arrested at 19 for allegedly dealing heroin and crack cocaine.
Jane Fonda was arrested in Cleveland, Ohio, in 1970 after a scuffle with police in the airport. U.S. Customs agents allegedly found a large quantity of pills in her possession.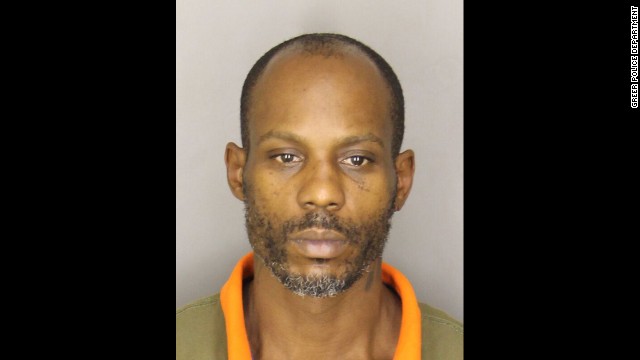 Photos: Celebrity mugshots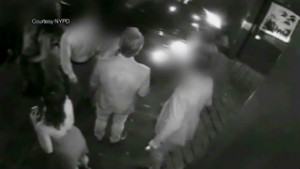 Lohan's alleged accident tape released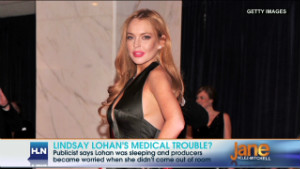 Lindsay Lohan's nap scares producers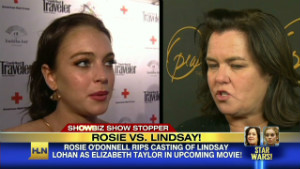 Rosie O'Donnell slams Lindsay Lohan
Lohan said she and three other friends -- another woman and two men, including LaBella -- went to the room after a night of partying at a nightclub, another police source said.
From there, the accounts differ.
Lohan told police she asked LaBella to borrow his cell phone because her battery died, and then discovered photos he took of her at the nightclub, the source said. LaBella told police Lohan took his phone without permission and refused to give it back.
When she refused to return the phone, Lohan told police that LaBella pushed her onto the bed and she suffered scratches, the source added.
Lohan said she then ran out of the room and into the stairwell with LaBella in pursuit, according to the source. She accused LaBella of choking her during the struggle for the phone, the source said.
Police, who responded to a fire alarm that officers said had been pulled by Lohan, arrested LaBella on two misdemeanor counts of assault and harassment based on Lohan's description of what happened. Those charges were dropped when investigators decided there was not enough evidence to support them.
Both Lohan and LaBella could have difficulty pursuing competing civil claims, a police source said. LaBella could argue she took his phone without permission, and Lohan can argue he attacked her, the source explained.
Lohan did not seek medical treatment, the source added.
"While she did sustain some injuries, she was not hospitalized," Lohan publicist Steve Honig said.
Police will have no further involvement in the case.
Lohan, who is on unsupervised probation for a shoplifting conviction, moved to New York this summer following a series of late-night controversies in Los Angeles.
LaBella told police he is a clerical worker from Valley Village, a suburb of Los Angeles. A spokesman for U.S. Rep. John Shimkus confirmed to CNN that LaBella is an employee in the Illinois congressman's Washington office.
"Obviously, the congressman does not condone his actions," said Shimkus spokesman Steve Tomaszewski, declining to comment further.
NYPD releases video of Lohan traffic incident
Lohan recovering after hospital visit
CNN's Susan Candiotti and Deirdre Walsh contributed to this report.