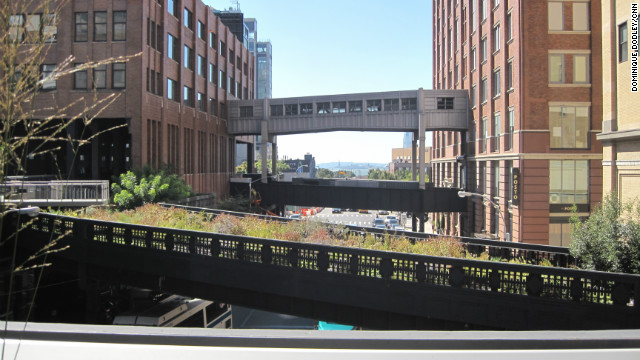 The High Line is an elevated park in Manhattan, which opened in 2009 on what were once raised train tracks.
Friends of the High Line
in September for a groundbreaking to develop the latest portion of the High Line.
New York Mayor Michael Bloomberg meets with
Construction will add sections from West 30th to 34th streets between 10th and 12th avenues.
The High Line's last phase of construction is estimated at $90 million, raised from both public and private funds.
This phase of construction is projected to open in 2014.
The High Line's freight history dates back to 1934, according to its website.
The tracks were elevated for trains to avoid accidents on Manhattan's congested streets.
Since its opening four years ago, the High Line reportedly has attracted more than 10 million visitors.
The park has become "a local treasure and an international icon," the mayor said.
Bloomberg said the latest development will turn the High Line "into a one-of-a-kind public park."
The High Line is supported by Friends of the High Line, founded in 1999, which is dedicated to its development and preservation.
The High Line offers unique views of the city for tourists and residents alike.
High Line breaks new ground
High Line breaks new ground
High Line breaks new ground
High Line breaks new ground
High Line breaks new ground
High Line breaks new ground
High Line breaks new ground
High Line breaks new ground
High Line breaks new ground
High Line breaks new ground
High Line breaks new ground
High Line breaks new ground