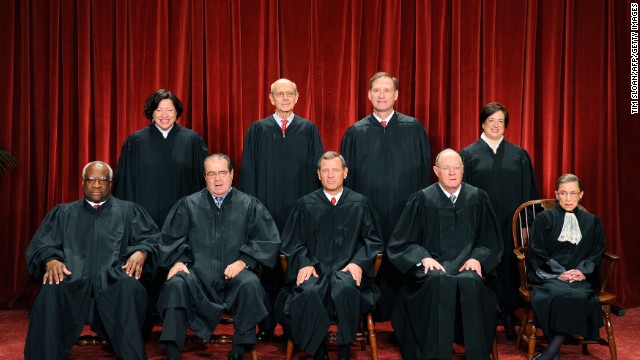 The justices of the U.S. Supreme Court sit for their official photograph on October 8, 2010, at the Supreme Court. Front row, from left: Clarence Thomas, Antonin Scalia, Chief Justice John G. Roberts, Anthony M. Kennedy and Ruth Bader Ginsburg. Back row, from left: Sonia Sotomayor, Stephen Breyer, Samuel Alito Jr. and Elena Kagan.
In 2005, Chief Justice John G. Roberts was nominated by President George W. Bush to succeed Justice Sandra Day O'Connor as an associate justice. After Chief Justice William Rehnquist died, however, Bush named Roberts to the chief justice post. The court has moved to the right during his tenure, although Roberts supplied the key vote to uphold President Barack Obama's Affordable Care Act.
Justice Antonin Scalia was appointed by President Ronald Reagan in 1986 to fill the seat vacated by Justice William Rehnquist when he was elevated to chief justice. A constitutional originalist -- and a colorful orator -- Scalia is a member of the court's conservative wing. He is currently the court's longest-serving justice.
Justice Anthony M. Kennedy was appointed to the court by President Ronald Reagan in 1988. He is a conservative justice but has provided crucial swing votes in many cases, writing the majority opinion, for example, in Lawrence v. Texas, which struck down that state's sodomy law.
Justice Clarence Thomas is the second African-American to serve on the court, succeeding Justice Thurgood Marshall when he was appointed by President George H. W. Bush in 1991. He is a conservative, a strict constructionist who supports states' rights.
Justice Ruth Bader Ginsburg is the second woman to serve on the Supreme Court. Appointed by President Bill Clinton in 1993, she is a strong voice in the court's liberal minority.
Justice Stephen G. Breyer was appointed to the court in 1994 by President Bill Clinton. He is considered a member of the court's liberal minority.
Justice Samuel A. Alito Jr. was appointed by President George W. Bush in 2006 and is known as one of the most conservative justices to serve on the court in modern times.
Justice Sonia Sotomayor is the court's first Hispanic and third female justice. She was appointed by President Barack Obama in 2009 and is regarded as a resolutely liberal member of the court.
Justice Elena Kagan is the fourth female justice and a member of the court's liberal wing. She was appointed in 2010, at the age of 50, by President Barack Obama and is the court's youngest member.
Today's Supreme Court
John G. Roberts
Antonin Scalia
Anthony M. Kennedy
Clarence Thomas
Ruth Bader Ginsburg
Stephen G. Breyer
Samuel A. Alito Jr.
Sonia Sotomayor
Elena Kagan
STORY HIGHLIGHTS
Court resumes work three months after politically charged healthcare ruling
Affirmative action, voting rights, same-sex marriage on judicial horizon
Issues will test John Roberts leadership of shaky 5-4 conservative majority
(CNN) -- A day after the Supreme Court upheld the health care law, Chief Justice John Roberts joked that he would spend some time at "an impregnable island fortress" to escape the torrent of vitriol and praise heaped on the bench.
The nation is now focused on the presidential election, but attention will likely shift back to the court after the November vote. A new term opens on Monday and the nine justices will address another potentially historic docket. Affirmative action, same-sex marriage, voting rights, and abortion could be taken up.
"The justices are moving from the frying pan right into the fire, having moved up with the big healthcare case," said Thomas Goldstein, a leading Washington lawyer and publisher of SCOTUSblog.com. "They are tackling some of the most difficult legal questions of today. Across the board, probably the biggest term in at least a decade."
Interactive: Big cases await Supreme Court's new term
A range of explosive issues will test Roberts' leadership of a shaky 5-4 conservative majority:
--Affirmative action and whether universities may continue to use race as one factor in student admissions to maintain a diverse campus.
--Same-sex marriage and the constitutional "equal protection" rights of gay and lesbian couples to wed.
--Voting rights challenges to rigorous federal oversight of state and local elections, and to voter identification laws.
--"Personhood" laws that say life begins at conception, a push by some states and anti-abortion opponents to perhaps revisit the Roe v. Wade ruling.
These issues and several other important criminal, business, and international cases could change the social political landscape in coming years.
Supreme Court possibilities if Romney wins election
"A lot of progressives are concerned that this might mean that Chief Justice Roberts has built up some capital, some good will, and will now push the conservative agenda just as, if not more, strongly in other important cases that limit the national government's ability to solve national problems, or go into areas of social policy like marriage, like abortion, and push a conservative agenda," said Elizabeth Wydra, chief counsel with the Constitutional Accountability Center.
But some conservative legal scholars play down the idea of an activist, agenda-driven court.
"I think that's absurd. I mean, if, certainly this is not a crusading conservative court, it's really a court in equipoise," said Carrie Severino, chief counsel of the Judicial Crisis Network.
"Justice [Anthony] Kennedy has certain issues which he tends to vote conservative on and certain issues he tends to vote more liberal on, and that's where we stand until we have a shift I think in the membership of the court, it's impossible to call it a court that leans more to the left or to the right," Severino said.
Opinion: Why are candidates silent on Supreme Court?
A political magnet
Roberts' lead role in the health care ruling has made him a hero and a traitor, a sign the Supreme Court remains powerful but subject to political arrows.
Kennedy may be the court's noted "swing vote," but it is Roberts and his leadership skills that will be viewed with greater scrutiny this term. His narrow opinion upholding the core of the Affordable Care Act gave President Barack Obama a huge election-year boost, but raised questions from both the left and the right about his motives.
Roberts viewed the law's central part -- the "individual mandate" requiring most Americans to purchase some form of health insurance or pay a penalty -- as a tax, and therefore within congressional authority. It was a constitutional interpretation that none of his colleagues embraced. But the four mostly liberal justices were happy to endorse the end result -- the mandate was upheld.
Court sources privately, but strongly dismiss suggestions it was a case of political expediency, an effort by Roberts to insulate the court from charges of partisanship and activism in a landmark case decided in a presidential election year. Those sources say the Roberts' opinion was just that, what he really believed was the right legal answer to an admittedly complex, divisive issue.
Election raises stakes for possible Supreme Court vacancies
But moving ahead, some legal analysts suggest the health care decision could pay unexpected dividends to the reputation and prestige of the court.
"It's certainly true that it's going to be much harder to paint him as an ideologue, after he cast the vote to save the president's signature achievement," said Goldstein. "That's not to say that activists on one side or the other will criticize justices they disagree with. But in terms of the center of the country, he certainly has the reputation of being bipartisan and absolutely fair."
Sixty-seven percent of Americans surveyed in a recent Gallup poll say they trust the judiciary, far more than the legislative or executive branches of government.
A CNN/ORC poll conducted just after the June 28 health care ruling found the public evenly divided, 50-49, over whether they agreed with the decision. And by a 53-46 margin, a majority of Americans approve of the job the Supreme Court is doing.
Hard feelings over healthcare
But hard feelings linger on the right over Roberts' role in the health care ruling.
"It was a decision that appears to have been taken for ultimately political reasons," said Severino. "So unfortunately, that emphasizes the risks of a politicized court. But it does remind us all that these justices are all individual human beings and none of them is necessarily going to fit the mold you predict."
Nonetheless, most court watchers expect Roberts to continue being a reliable conservative, along with Justices Antonin Scalia, Clarence Thomas, Samuel Alito, and in most cases, Kennedy.
"The chief is just as conservative this term as he was when President (George W.) Bush nominated him and as he was at the beginning of last term," said Wydra. "And I think that his conservative leanings will probably come to bear when the court considers these issues about affirmative action, and perhaps same-sex marriage."
Supreme Court possibilities if Obama is reelected