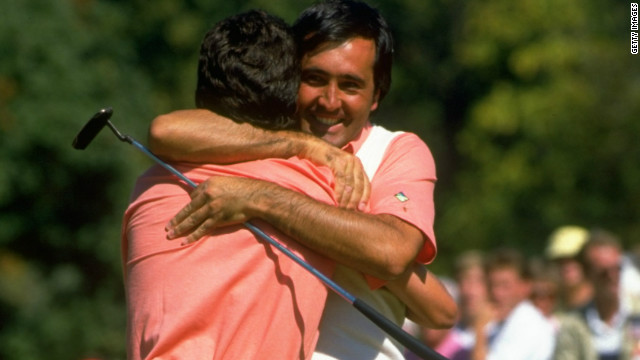 Severiano Ballestereros hugs his youthful Spanish compatriot Jose Maria Olazabal as their incredible partnership got underway during the 1987 match at Muirfield Village.
The 1981 United States Ryder Cup team is rated the strongest in their history and they romped to victory over the Europeans at Walton Heath.
Ballesteros famously drove the par-four 10th at The Belfry in 1985 as he inspired the European team to their crushing victory over the U.S.
Sam Torrance holed the winning putt at The Belfry in 1985 as Europe sealed a comprehensive victory over the United States to snap their long-standing domination of the team event. The last time the U.S. had failed to retain the trophy was 1957.
In the beginning. The Great Britain and Ireland team on its way to the inaugural match in 1927 in Boston, Massachusetts, where the United States were deserving winners.
The great Walter Hagen is handed the trophy after a convincing victory for the Americans in the 1937 match at Southport -- the first time an away team had claimed the trophy.
A very rare victory for Great Britain and Ireland saw a team led by Dai Rees capture the trophy at Lindrick in 1957 but the U.S. quickly regained the trophy and held it until 1985.
Tony Jacklin and Jack Nicklaus shake hands at the end of their famous tied singles match at Royal Birkdale in 1969 -- leaving the overall match tied at 16-16 in a gripping encounter. Nicklaus conceded a tricky putt for Jacklin on the last green in a famous act of sportmanship.
For the first time ever, the 1979 Ryder Cup found two Spaniards - Ballesteros and Antonio Garrido (4th and 3rd from right) - joining players from Great Britain and Ireland in competing against the United States. The match took place in West Virginia, where the home side triumphed again.
European captain Jacklin harnessed the talent of Ballesteros as his team ended the United States' lengthy winning run during the 1980s.
A tearful Ballesteros hugs arch-rival Nick Faldo after the Englishman scored a crucial victory over Curtis Strange as Europe won the 1995 match at Oak Hill.
Golf legend Ballesteros captained Europe to a narrow victory over the Americans in 1997 as the match was held on Spanish soil for the first time at Valderrama.
The agony of defeat: Bernhard Langer reacts after missing the putt which would have tied the match against the United States at Kiawah Island in 1991.
Justin Leonard is hugged by his teammates after beating Jose Maria Olazabal at the infamous match at Brookline in 1999. Olazabal had yet to make his putt to keep their singles clash alive when the U.S. team dashed onto the 17th green.
Boo Weekley's first fairway antics were a celebrated feature of the shock win for the United States over Europe at Valhalla in 2008.
Graeme McDowell was the last-day hero of Europe's narrow victory at Celtic Manor two years ago and he will take his place at Medinah looking for a repeat.
Spanish matadors
Invincible line-up
Flamboyant hero
Pivotal win
Early trailblazers
American domination
Dai's delight
True sportsmanship
Vital change
Captain fantastic
Rivals united
Inspirational figure
Bernhard's blues
Infamous encounter
Boo blast
Magic McDowell
STORY HIGHLIGHTS
Nick Faldo has won more points at the Ryder Cup than any other European player in history of competition
Faldo captained Europe during their disastrous defeat at Valhalla four years ago
World No.1 Rory McIlroy set to lead European challenge at Medinah
Faldo unable to predict a winner with both teams so evenly matched
(CNN) -- Nick Faldo knows what it takes to win the Ryder Cup -- so when he says he would rather go into battle with Rory McIlroy in his side than Tiger Woods, it is probably worth listening.
Six-time major winner Faldo remains Europe's most successful player in the competition having taken 25 points from his duels against the U.S.
While his captaincy during the 2008 defeat at Valhalla was firmly criticized following a disappointing defeat, he remains one of the most iconic figures of the competition.
Azinger slams Ryder Cup rival Faldo
With the U.S. and Europe set to go head-to-head at Medinah Country Club in Chicago on Friday, world No.1 McIlroy is expected to lead the charge for Jose Maria Olazabal's team.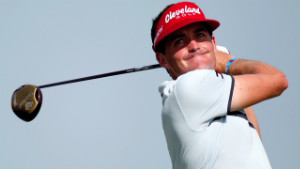 Is Olazabal ready for Ryder Cup?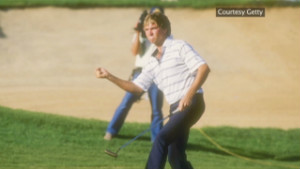 Davis Love III's golfing family
The 23-year-old has enjoyed a sensational run of form, winning the 2011 U.S. Open and the 2012 PGA Championship and more recently the Deutsche Bank Championship, before pocketing a cool $3 million at the FedEx Cup last weekend.
Those achievements have convinced Faldo to back a man playing in just his second Ryder Cup tournament ahead of 14-time major champion and current World No.2 Woods
"I'd pick Rory," said Faldo. "They're both really marked men now.
"Rory is at the top of the game and everybody in America wants to beat him now and at 23 he has a pretty daunting job on his shoulders.
McIlroy dismisses claim that Tiger is 'intimidated'
"You send out your teams you think are going to give you a point but he's a marked man so it gives him a moral victory if somebody beats him as well and that's what I'm trying to say.
"It's the same with Tiger. I think Tiger has obviously changed a lot. I think he recognises the importance of having that team around him and how good it is for him to do his bit for the team.
"Every player would love to do their part for the Ryder Cup team."
Europe triumphed by a single point at Celtic Manor two years ago with Northern Ireland's Graeme McDowell sinking the winning putt following his titanic tussle with Hunter Mahan.
Europe beats U.S. to win Ryder Cup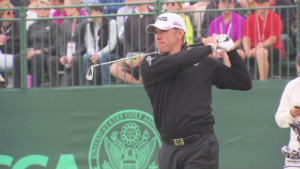 Lee Westwood looks forward to Ryder Cup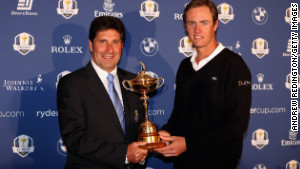 What can Ryder Cup golfers expect?
A quick glance at the world rankings shows that Europe has four players inside the top five with Woods at No.2 separating the likes of McIlroy from Luke Donald, Lee Westwood and Justin Rose.
But the U.S. is looking a far more accomplished team this time around with the likes of Brandt Snedeker hoping to build on his stunning Tour Championship and FedEx Cup victory.
U.S captain Davis Love III also has the likes of Bubba Watson, Jason Duffner and Webb Simpson to call on in addition to the more experienced players such as Steve Stricker, Phil Mickelson and Jim Furyk.
"On paper you look at the two teams and they're really well matched," said Faldo.
" Both teams have got bombers, both teams have got steady-eddies and both have got fiery putters
"At the start of the year I said it would maybe be a tie to try and dismiss the question early on. But now it could be.
"I'm not sitting on the fence, it could be a point either way and who knows who is going to get the momentum.
"I'm split in the middle and it could well be a tie."