Memorable hotel suites

updated 8:48 AM EDT, Thu September 27, 2012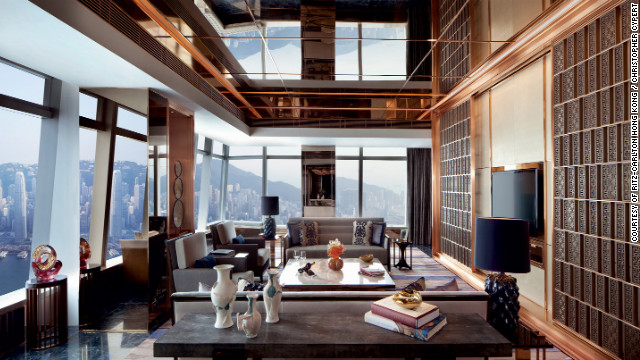 This 4,460-square-foot escape has all the necessities (butler service, access to the hotel's Club Lounge, Acqua di Parma bath amenities), but its location on the 117th floor of the Ritz-Carlton, with spectacular views of Victoria Harbour and the island of Hong Kong—really seal the deal. From $15,472; International Commerce Centre, 1 Austin Rd. W., Kowloon; 852-2263-2263; ritzcarlton.com.
Located on 600 acres in a valley, Amangiri takes full advantage of its gorgeous landscape. Guests enter the suite via a private courtyard that continues up to a sky lounge with an outdoor bed, and the spa is only steps away. From $3,300; 1 Kayenta Rd., 435-675-3999; amanresorts.com.
This 1,600-square-foot, one-bedroom suite at the design-forward Hotel Arts Barcelona is furnished with pieces by the likes of Antonio Citterio and B&B Italia and features wide views of the Mediterranean Sea and famed La Sagrada Família church. From $8,775; Marina 19--21; 34-93/221-1000; hotelartsbarcelona.com.
The Jacques Garcia--designed hotel is a sumptuous dwelling whose 1,200-square-foot Atlas Deluxe Suite features traditional Moroccan lanterns, mosaic tilework and views of the Atlas Mountains. $740; Km 5, Route d'Amizmiz; 212-5/24-45-96-00; selman-marrakech.com.
The Hassler Roma's 807-square-foot, one-bedroom Trinità dei Monti suite has close-up views of the domes of the Trinità dei Monti Church, floor-to-ceiling windows and a domed ceiling beset with Swarovski crystals. From $4,380; Piazza Trinità dei Monti 6; 39-06/699-340; hotelhasslerroma.com.
At 5,000 square feet, the Royal Penthouse at the Corinthia is the largest two-bedroom hotel residence in London. The suite has a private kitchen and wine cellar, a terrace with a fire pit and a spiral staircase leading up to the leather-detailed bedrooms. From $28,479; Whitehall Pl.; 44-20/7930-8181; corinthia.com.
The Ritz-Carlton, Hong Kong: The Ritz Carlton Suite
Amangiri, Canyon Point, Utah: Girijaala Suite
Hotel Arts Barcelona: Arts Suite
Selman, Marrakech: Atlas Deluxe Suite
Hassler Roma: Trinità dei Monti Suite
Corinthia Hotel, London: Royal Penthouse Suite
STORY HIGHLIGHTS
A hotel's suite is often its most desired room and the epitome of hospitality
London's Corinthia Hotel's penthouse is the largest two-bedroom hotel residence in the city
Hotel suite views are luxe: Everything from desert beauty to Arabian horses enhance the rooms
(DEPARTURES) -- A hotel suite ought to leave an impression—these eight most certainly do.
DEPARTURES: 10 stunning hotel penthouses
No matter the destination, and no matter the reason for being there, the allure of a hotel suite knows no bounds. A suite is a hotel's first-class seat, often the most desired room and the epitome of hospitality done right. Be it palatial or cozy, high-design or low-key, it offers a place to eat, sleep, dress, entertain, observe or just plain lounge. The overall effect can be irresistible.
DEPARTURES: Top fashion designer hotels and suites
Many hotels have taken their suite offerings to (literally) new heights. London's Corinthia Hotel, for instance, houses the 5,000-square-foot Royal Penthouse, which contains its own spa-treatment pod and a striking spiral staircase (among other luxe touches) and is the largest two-bedroom hotel residence in that city. The chic Arts Suite at the design-driven Hotel Arts Barcelona offers guests special extras, such as helicopter transport to lunch at one of Spain's Michelin-starred restaurants, or electric Smart cars to drive around town.
DEPARTURES: The perfet New York hotel rooms | World's most outrageous hotel perks
While size is often a major selling point, it isn't the only measure of success. Taking cues from the outside environment can turn an already spectacular setting into something extraordinary. The Girijaala Suite at Amangiri in Canyon Point, Utah, takes full advantage of its superb desert locale, incorporating natural elements into its design and maximizing views of the Entrada Sandstone mesas. And in Marrakech, the Atlas Deluxe Suite at Selman is perched on 15 acres of parkland and offers unprecedented views of the Atlas Mountains, as well as the hotel's 16 Arabian horses.
DEPARTURES: Stunning hotel dining room views
Award-winning actress Vivien Leigh once said, "I need something truly beautiful to look at in hotel rooms." These suites have beautiful views of all kinds covered, but they also create an experience that conforms to every need, making for a truly unforgettable stay.
DEPARTURES: Spectacular hotel rooftop pools
See more of the world's best hotel suites at Departures.com.
© 2010 American Express Publishing Corporation. All rights reserved.