Stunning shots of Endeavour's final journey
Join the conversation
CNN iReport
updated 10:44 AM EDT, Mon October 15, 2012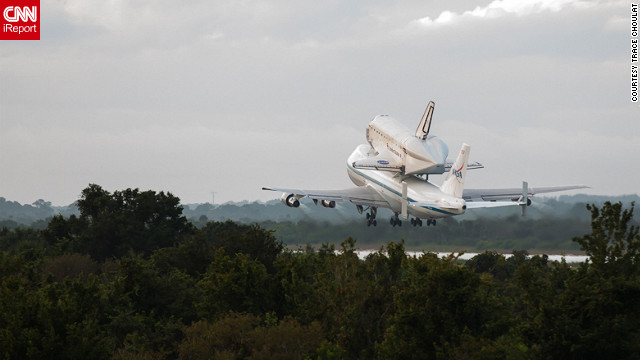 Onlookers shared their
best photos
of space shuttle Endeavour's final flight with
CNN iReport
. Here, the shuttle
leaves Florida's Kennedy Space Center
atop a 747 the morning of Wednesday, September 19, 2012.
soars toward the clouds
above Cocoa Beach, Florida.
Endeavour
Shuttle Landing Facility
in Florida before turning west.
Endeavour and the shuttle carrier aircraft pass back over NASA's
Endeavour
flies over retired rockets
at Johnson Space Center in Texas.
touch down at Ellington Field
in Houston on Wednesday, midway through their journey to Los Angeles.
The carrier aircraft and Endeavour
view the shuttle
as it rested at Ellington Field.
The public was invited to
Spencer Niegocki, 10,
salutes Endeavour
from the top of a playground slide as the shuttle is flown over Tucson, Arizona, on Thursday, September 20. "Years from now, he will be able to look back and say he saw the last shuttle get carried to its final home," said his father, Dann Niegocki. "He may not understand it now, but we all participated in something impressive through the shuttle program."
shuttle cruises
over Tucson, Arizona, on the SCA.
The
Endeavour flies low
over the Hollywood sign
as it travels toward its final destination in Los Angeles on Friday.
Endeavour's final flight
Endeavour's final flight
Endeavour's final flight
Endeavour's final flight
Endeavour's final flight
Endeavour's final flight
Endeavour's final flight
Endeavour's final flight
Endeavour's final flight
Endeavour's final flight