Emmy Awards: Best dressed of all time
updated 9:59 AM EDT, Fri September 21, 2012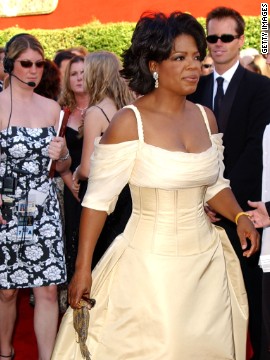 Oprah Winfrey looked regal in this canary yellow gown in 2002.
The always fashionable Sarah Jessica Parker turned heads in Chanel in 2003.
Halle Berry has had her fair share of red carpet flops, but she nailed it in 2005 with this Ungaro gown.
Katherine Heigl looked stunning in the white Zac Posen gown she wore in 2007.
"Felicity" star Keri Russell knows less is more. The actress wore a simple white gown in 1999 and a flirty pink dress in 2010.
Good or bad, "Glee's" Lea Michele knows how to work the red carpet. The actress wore a navy Oscar de la Renta gown in 2010.
Kerry Washington matched the red carpet in 2011 with this stunning Zuhair Murad gown.
"How I Met Your Mother" star Cobie Smulders wore this vibrant Alberta Ferretti number to the Emmy Awards in 2011.
Rashida Jones donned a blush Alberta Ferrettiin number 2011.
"The Vampire Diaries" Nina Dobrev is another actress who stunned in red at the 2011 Emmy Awards.
Oprah Winfrey
Sarah Jessica Parker
Halle Berry
Katherine Heigl
Keri Russell
Lea Michele
Kerry Washington
Cobie Smulders
Rashida Jones
Nina Dobrev