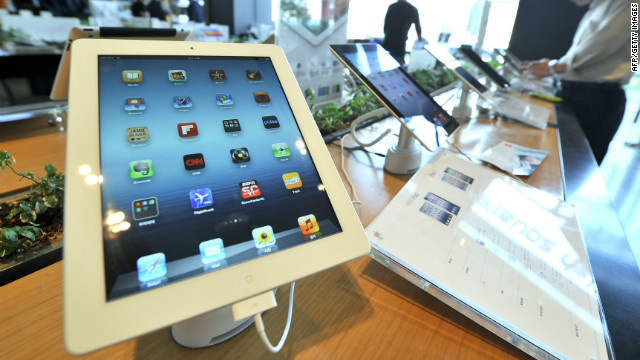 There were tablets before the iPad, but Apple's tab introduced the concept to millions who had never heard of one. More than 84 million have been sold, dwarfing the competition. With its high-definition "retina display" screen, dual cameras and extensive app catalogue, it's the standard by which other tablets are measured. They start at $499 and run up to $829 for a 64GB version with 3G connectivity.
Apple promises the Mini, unveiled on October 23, will offer the positives of its bigger tablet in a smaller, more portable package. At 7.9 inches when measured diagonally, its screen is bigger than its rivals in the "small tablet" category and has the same proportions as its bigger cousin. Its price begins at $329, which is more expensive than other similar tablets.
With the Kindle Fire, Amazon made a small dent in the iPad's dominance by going smaller and cheaper, with a $199 price tag for the 7-inch tablet. The second-generation HD bears the same price, adds a camera and high-resolution screen, and includes a bigger 8.9-inch model for an extra $100. The a souped-up version of the first-generation Fire can now be had for $159. Amazon CEO Jeff Bezos said the goal isn't to win by going cheap, but to make "the best tablet at any price." Most critics say they're not there yet, but celebrate the competition.
Computing giant Microsoft took its time getting into the tablet game. But the Microsoft Surface, announced in June, promises to take the space in a different direction. It comes with a "Touch Cover" keyboard and a display screen an inch bigger than the iPad's. It could be key in Microsoft's plans for a single operating system for all devices. The tablet starts at an iPad-like $499, with a more powerful Windows RT version for $599, or $699 with the touch cover.
Android tablets designed to compete feature-for-feature with the iPad have struggled. But critics have given mostly high marks to the Samsung Galaxy Tab 2 10.1. It's lighter and thinner than the iPad 2 and sports a fast, powerful processor. A 16-GB version now sells for $329, or a little less at some retailers.
Google's first tablet took a page from the Amazon playbook -- going small with a price that starts at $199. It features a Tegra 3 quad-core processor, runs the latest version of Google's Android operating system and has been greeted with largely positive reviews.
Amazon has expanded its line of industry-leading e-readers. They now range from the basic Kindle, which costs $69, to the new Kindle Paperwhite, which features 62% more pixels than the Kindle Touch and a fiber-optic lighting system that was four years in the works.
In April, Microsoft sank $300 million into a partnership with Barnes & Noble on the Nook line of e-readers and tablets. The line has a smaller market share than Amazon, but readers like the Nook Simple Touch with GlowLight (the first straight reader to solve the read-in-the-dark problem), which has been reviewed highly.
Kobo isn't as popular in the United States as it is in Canada and some other countries. But the Toronto-based company provides an alternative to the "big two" e-readers at comparable prices. Wired magazine's editors caled the Kobo Touch "the most natural e-ink reader we've ever used." The simpler Kobo Mini sells for $79, just $10 more than a basic Kindle with ads.
Tablets and e-readers: iPad
iPad Mini
Kindle Fire HD
Microsoft Surface
Samsung Galaxy Tab 2 10.1
Google Nexus 7
Kindle Paperwhite
Nook
Kobo Touch