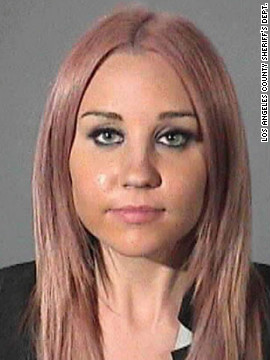 Actress Amanda Bynes was arrested again May 23 in New York after she allegedly tossed drug paraphernalia out the window of her Manhattan apartment. The actress previously had been booked for suspicion of driving under the influence in Hollywood, California, on April 6, 2012, after she got into a fender bender with a marked police car. She later tweeted President Barack Obama and asked him to fire the cop who made the arrest. The California arrest is the source of this mug shot.
Actor Edward Furlong was arrested again on Friday, May 17, after allegedly violating a protective order filed against him by an ex-girlfriend. Furlong is seen here in a police booking photo after his arrest for alleged domestic violence, the arrest which resulted in the protective order, on January 13, in Los Angeles.
Country music star Billy Currington has been indicted on charges of terroristic threats and abuse of an elderly person on April 15 in his native state of Georgia.
Actress Reese Witherspoon
and husband Jim Toth were arrested early April 19 in Atlanta after Toth was pulled over for suspected drunken driving with Witherspoon in the car, the Georgia State Patrol said.
Rapper Gucci Mane
turned himself in to authorities on March 26 after a warrant was issued for his arrest on aggravated assault charges in Atlanta.
Singer Bruno Mars was arrested on September 19, 2010 in Las Vegas, Nevada, on a drug charge. He
Lohan poses for a mug shot on March 20, 2013, after accepting 90 days in a "locked in" drug rehab facility for misdemeanor charges.
Stanley Kirk Burrell, aka MC Hammer, was arrested February 21 in Dublin, California, for allegedly obstructing an officer.
Actor Stephen Baldwin was arrested December 6 on a charge of failing to file New York state personal income tax returns for three years, according to a statement released by the Rockland County district attorney's office.
William J. Drayton, 53, also known as Flavor Flav, was arrested October 17 in Las Vegas and charged with assault with a deadly weapon and battery in a case involving his fiancee of eight years, police said.
Border Patrol agents in Texas arrested singer Fiona Apple on September 18, saying they found marijuana and hashish on her tour bus.
Olympic gold medalist Shaun White, 26, was charged with vandalism and public intoxication in Nashville, Tennessee, on September 16.
Los Angeles police took this 2011 mug shot of party girl Lindsay Lohan for violating her probation for a 2007 drunken driving conviction. She later cleaned up her act -- and the L.A. County Coroner's office -- by completing community service as a morgue janitor.
Bad boy actor Charlie Sheen is no stranger to Hollywood scandal. He posed for this mug after a 2009 arrest related to a domestic violence dispute.
This mug was snapped after Mel Gibson, now notorious for getting himself into trouble, was arrested and charged with drunk driving in 2006.
Nicole Richie was sentenced to four days in jail for DUI in August 2007. She spent 82 minutes in custody.
Musician Randy Travis was arrested August 7 for misdemeanor DWI and felony retaliation after he was involved in a one-vehicle accident and found buck naked in the roadway. He was later released on bond.
Marshall Mathers, aka Eminem, was booked on gun charges twice in June 2000. Police said both arrests stemmed from fights -- the first over his estranged wife, Kim, and the second against rival rap group Insane Clown Posse.
Funny-man Russell Brand landed himself in the Orleans Parish Sheriff's Office on March 16 when he snatched a photographer's iPhone and threw it at a window. Brand was free on bond after turning himself in to New Orleans police.
Rapper Jay-Z was arrested in 1999 for allegedly stabbing a record executive in a New York night club. He pleaded guilty in 2001 and was sentenced to three years' probation.
Matthew McConaughey was arrested in Austin, Texas, in 1999 after police allegedly found him dancing naked and playing bongo drums in his house. He paid a $50 fine for disturbing his neighbors with the show.
Curtis Jackson, aka 50 Cent, posed for this mug in 1994 when he was arrested at 19 for allegedly dealing heroin and crack cocaine.
Robert Downey Jr.'s drug problems are almost as famous as his talent. He served time in the late 1990s on a drug conviction, was arrested in November 2000 for drug possession, and was busted again in April 2001 in Culver City, California.
Wayne "Lil Wayne" Carter was booked on drug charges in Arizona in 2008 and sentenced to a year in prison.
Kiefer Sutherland got this mug shot after surrendering to serve a 48-day sentence for his third DUI arrest.
Backstreet Boy Nick Carter was arrested for drunken driving after failing a field sobriety test in 2005.
"Gossip Girl" star Chase Crawford was arrested in June 2010 in Austin, Texas, and charged with possession of marijuana. He was charged with a misdemeanor because he had less than 2 ounces, according to a police report.
Jane Fonda was arrested in Cleveland, Ohio, in 1970 after a scuffle with police in the airport. U.S. Customs agents allegedly found a large quantity of pills in her possession.
The Oklahoma County, Oklahoma, Sheriff's office took this mug shot of the famous "Home Alone" star Macaulay Culkin after they found marijuana, Xanax and sleeping pills in his possession. He was briefly jailed before being released on bond.
Amanda Bynes
Celebrity mug shots
Celebrity mug shots
Celebrity mug shots
Gucci Mane
Bruno Mars
LIndsay Lohan
MC Hammer
Stephen Baldwin
Flavor Flav
Fiona Apple
Shaun White
Lindsay Lohan
Charlie Sheen
Mel Gibson
Nicole Richie
Randy Travis
Eminem
Russell Brand
Jay-Z
Matthew McConaughey
50 Cent
Robert Downey Jr.
Lil Wayne
Kiefer Sutherland
Nick Carter
Chase Crawford
Jane Fonda
Macaulay Culkin