U.N. envoy Angelina Jolie visits Syria refugees in Iraq
updated 7:41 AM EDT, Mon September 17, 2012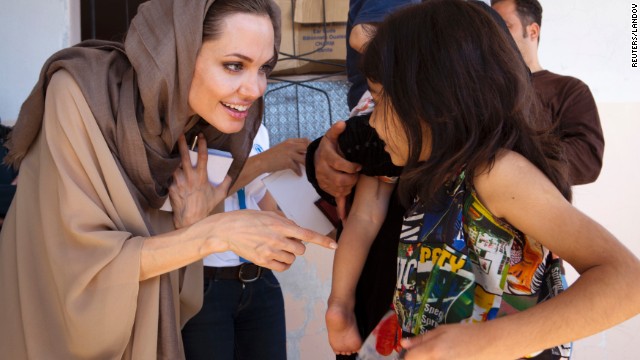 Actress Angelina Jolie, special envoy for the United Nations High Commissioner for Refugees, meets with Syrians in Lebanon's Bekaa Valley.
Jolie arrives on Thursday at a refugee camp in the southeastern Turkish city of Kilis to meet Syrian refugees. Jolie visited the Oncupinar camp, Turkey's largest, where some 12,000 people are staying.
Jolie meets with Turkish Interior Minister Idris Naim Sahin in Ankara on Thursday. About 80,000 refugees are encamped in southeastern Turkey, near the Syrian border.
Jolie and U.N. High Commissioner for Refugees Antonio Guterres, center, arrive on Thursday to meet with the Turkish deputy prime minister in Ankara.
Jolie and Guterres at a refugee camp in Kilis on Thursday.
Jolie speaks during a news conference following a meeting with Guterres, right, and Lebanese Prime Minister Najib Mikati in Beirut on Wednesday.
Jolie briefs the press during her visit to the Za'atri camp near Jordan's border with Syria on Tuesday.
Jolie meets with refugees at the Za'atri refugee camp in Jordan to demonstrate solidarity with Syrian refugees and pay tribute to the Jordanian government for their refugee protection.
Jolie waves to the crowd as she arrived at Al Za'atri refugee camp on Wednesday.
Jolie meets with refugees on the Jordanian border minutes after they crossed from Syria on Tuesday in Amman, Jordan. With shelling clearly audible and visible across the border in Syria, some 200 refugees made the dangerous crossing under cover of night.
Jolie visits Syrian refugees
Jolie visits Syrian refugees
Jolie visits Syrian refugees
Jolie visits Syrian refugees
Jolie visits Syrian refugees
Jolie visits Syrian refugees
Jolie visits Syrian refugees
Jolie visits Syrian refugees
Jolie visits Syrian refugees
Jolie visits Syrian refugees
STORY HIGHLIGHTS
Actress Angelina Jolie visits a Syrian refugee camp in Baghdad
She discusses Syrian refugees with the Iraqi foreign minster
The number of Syrian refugees in Iraq has risen to 21,000, the minister says
Jolie is a special envoy for the U.N.'s refugee agency
Baghdad (CNN) -- Hollywood star Angelina Jolie is visiting Iraq's semi-autonomous Kurdistan region Sunday after cancellation of her flight from Baghdad because of bad weather.
Jolie's flight to Erbil was canceled Saturday, said Aurvasi Patel, assistant representative of the United Nation's refugee agency. She made it there a day later.
After she met with Kurdish officials at Erbil airport, the actress met with refugees at a Syrian camp in Dohuk province.
Jolie -- a special envoy for the refugee agency -- met Iraqi returnees from Syria and senior government officials Saturday in Baghdad.
She discussed the situation of Syrian refugees in Iraq with Foreign Minister Hoshyar Zebari at his office in Baghdad, the ministry said in a statement.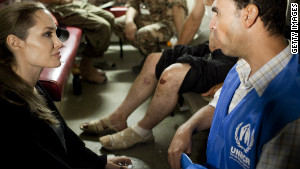 Jolie visits Syrian refugees in Jordan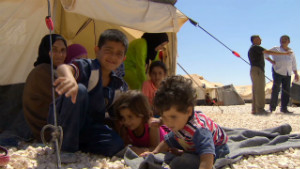 Syrian refugees pour into Jordan
They also talked about the Iraqi government's efforts to meet the daily needs of refugees, the statement said.
Zebari told Jolie that the number of Syrian refugees who have fled the conflict to seek sanctuary in Iraq has risen to 21,000. Many are now living in Iraq's western Anbar and northern Duhok provinces.
Zebari said nearly 31,000 Iraqis have also fled the war in Syria and returned to their native country.
Jolie also met with officials from the Iraqi ministry that deals with displaced people.
She has recently visited refugee camps in Turkey, Lebanon and Jordan to highlight suffering and the need for international humanitarian assistance.
While at the Zaatari refugee camp in Jordan on Tuesday, Jolie, who is herself raising six children with partner Brad Pitt, spoke of the horrors that children, many of them orphans, have witnessed in Syria.
"I am grateful to Jordan and the border countries for saving the lives (of those) who are dying in Syria. It's an extraordinary thing. We encourage the international community to support the people here until one day they go back home," she said.
Jolie, who was appointed a special envoy of U.N. High Commissioner for Refugees Antonio Guterres in April, accompanied Guterres on a visit to the Kilis camp in Turkey on Thursday.
She was previously a goodwill ambassador for the U.N. Refugee Agency, undertaking more than 40 field trips on its behalf.

Part of complete coverage on
Syrian crisis

There's more to the Syrian civil war than rebels versus the regime. Syria's neighbors in the Middle East also have a stake in the conflict.
updated 5:13 PM EDT, Thu May 9, 2013

Israel is taking steps to defend itself against threatened retaliation from Syria after claims it launched airstrikes on Damascus.
updated 12:36 PM EDT, Tue May 14, 2013

Domestic political will is a necessary for intervention and polls show Americans are reluctant to support military interventions in Syria.
updated 1:38 PM EDT, Mon May 6, 2013

Syria's claim that Israel launched airstrikes presents a dangerous escalation of Israel's involvement in Syria's war, writes Fawaz Gerges.
updated 5:41 AM EDT, Tue May 7, 2013

The U.N. says a Syrian rebel group may have used a nerve agent -- it would not be the first time the al-Qaeda-affiliated group used chemical weapons.
updated 2:00 PM EDT, Wed May 1, 2013

Having willfully avoided direct military involvement in Syria for the past two years, Obama may not be so lucky anymore, writes Aaron David Miller.
updated 5:44 AM EDT, Fri May 10, 2013

What began as a protest movement became an uprising that metastasized into a war, a vicious whirlpool dragging a whole region toward it.

A devout man prays. A fighter weeps over a slain comrade. These are a few faces of the Syrian conflict captured by photographer LeeHarper.
updated 4:59 AM EDT, Thu April 25, 2013

A group of pro-Syrian regime hackers that has targeted major news organizations but its cyber attacks can have real-life impact.
updated 6:24 PM EST, Thu March 7, 2013

The role of women in Syrian uprising is little reported, but many have played a key part as activists and medics since the bloodshed began.

Are you in Syria? Share your stories, videos and photos with the world on CNN iReport, but please stay safe.