U.N. envoy says he'll 'spare no effort' to halt Syria bloodshed
updated 7:30 AM EDT, Fri September 14, 2012
STORY HIGHLIGHTS
Lakhdar Brahimi makes his first visit to Damascus as U.N. envoy
Brahimi replaced Kofi Annan in August
Another 165 people were killed in Syria on Thursday, opposition group says
(CNN) -- The newly minted U.N.-Arab League envoy to Syria vowed Thursday during his first visit to Damascus to "spare no effort" to help end that country's civil war.
Lakhdar Brahimi, who replaced Kofi Annan as the international community's point man for the conflict, held "candid and comprehensive" talks with Syrian Foreign Minister Walid Moallem, a U.N. statement said.
Al Qaeda leader's growing interest in Syria
Turkish PM: U.S. elections hampering action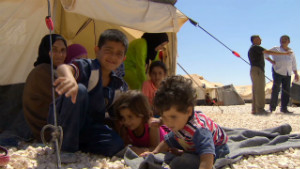 Syrian refugees pour into Jordan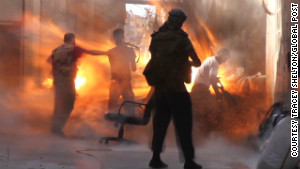 Photojournalist describes Syria bombing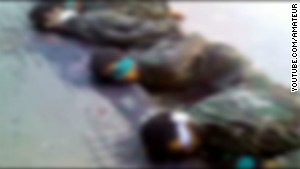 Syria accused of using 'barrel bombs'
"Mr. Brahimi emphasized that, as he said before, he would spare no effort to help find a solution to the crisis," the statement read. "His only masters in this endeavor were the Syrian people, whose welfare and security were his prime concern."
Brahimi, a former Algerian foreign minister and U.N. envoy to Afghanistan, was also to meet with opposition figures and other groups during his visit.
Brahimi was named to the post after Annan resigned in August, blasting the Syrian government for refusing to implement a cease-fire he had negotiated in April and complaining about the "escalating military campaign" of the opposition.
The 18-month-old conflict claimed another 165 lives Thursday, opposition activists reported, with 66 reported in the suburbs of Damascus and another 52 in the commercial hub of Aleppo. Both cities have been the scene of recent intense fighting between government troops and rebel fighters.
Heart-rending choices in warzone hospital
One Syrian family's desperate story

Part of complete coverage on
Syrian crisis

There's more to the Syrian civil war than rebels versus the regime. Syria's neighbors in the Middle East also have a stake in the conflict.
updated 5:13 PM EDT, Thu May 9, 2013

Israel is taking steps to defend itself against threatened retaliation from Syria after claims it launched airstrikes on Damascus.
updated 12:36 PM EDT, Tue May 14, 2013

Domestic political will is a necessary for intervention and polls show Americans are reluctant to support military interventions in Syria.
updated 1:38 PM EDT, Mon May 6, 2013

Syria's claim that Israel launched airstrikes presents a dangerous escalation of Israel's involvement in Syria's war, writes Fawaz Gerges.
updated 5:41 AM EDT, Tue May 7, 2013

The U.N. says a Syrian rebel group may have used a nerve agent -- it would not be the first time the al-Qaeda-affiliated group used chemical weapons.
updated 2:00 PM EDT, Wed May 1, 2013

Having willfully avoided direct military involvement in Syria for the past two years, Obama may not be so lucky anymore, writes Aaron David Miller.
updated 5:44 AM EDT, Fri May 10, 2013

What began as a protest movement became an uprising that metastasized into a war, a vicious whirlpool dragging a whole region toward it.

A devout man prays. A fighter weeps over a slain comrade. These are a few faces of the Syrian conflict captured by photographer LeeHarper.
updated 4:59 AM EDT, Thu April 25, 2013

A group of pro-Syrian regime hackers that has targeted major news organizations but its cyber attacks can have real-life impact.
updated 6:24 PM EST, Thu March 7, 2013

The role of women in Syrian uprising is little reported, but many have played a key part as activists and medics since the bloodshed began.

Are you in Syria? Share your stories, videos and photos with the world on CNN iReport, but please stay safe.