STORY HIGHLIGHTS
Libya gives very strong condemnation of attacks
Egypt and Afghanistan focus on offensive movie in comments
Pakistan says film 'deeply hurt the feelings' of Muslims around globe
(CNN) -- The United States has been clear about how it thinks leaders should react to the anti-American violence in Libya, Yemen and Egypt this week. The chaos has been spurred on in part by a movie posted on YouTube that unflatteringly portrays Islam's Prophet Mohammed.
Secretary of State Hillary Clinton said Thursday there should be no debate that bloodshed in response to speech is not acceptable.
"Any responsible leader should be standing up now and drawing that line," she said.
But is it really that simple?
Here's a look at the reactions from key regional leaders since the violence started -- and what their words could really signify.
(Click here for a quick recap of what happened)
Egyptian President Mohammed Morsy: Morsy initially focused his criticism on the film as an unacceptable insult to Islam.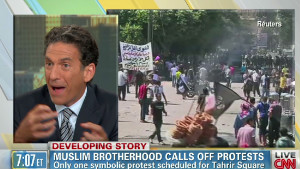 New order in Egypt at 'critical moment'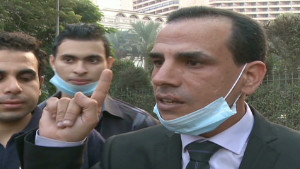 Egyptians demand apology from Obama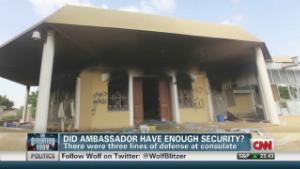 Does the U.S. need to up security abroad?
"The presidency condemns in the strongest terms the attempt of a group to insult the place of the Messenger, the Prophet Mohammed ... and condemns the people who have produced this radical work," Morsy said in a statement posted on his Facebook page. "The Egyptian people, both Muslims and Christians, refuse such insults on sanctities."
But after speaking with President Barack Obama in what the White House described as a review of the "strategic partnership between the United States and Egypt," Morsy directly criticized the attacks for the first time Thursday.
"Those who are attacking the embassies do not represent any of us," he said in comments from Brussels, Belgium, where he was visiting the headquarters of the European Union.
What Morsy may be saying: The Egyptian leader's modified statement came a day after Obama hinted at where things stand between the countries. "I don't think we would consider Egypt an ally, but we don't consider them an enemy," Obama said. (Learn more about the tenuous Egypt-U.S. relationship)
Morsy, who took over as Egyptian president in June, had to do two things in order to appease the Islamists who voted him into power and to seem sensitive to the United States' loss, said Omar Ashour, the director of Middle East Studies at the University of Exeter in the U.K.
"Morsy is skating on thin ice already with Islamists," he said, referring to an already tense domestic situation involving a continuing effort with Israel to beef up security of the Sinai Peninsula, a move Islamists do not like.
"It's already tense because of that, and Islamists have been asking -- what is the difference between Mubarak and Morsy. This is a way to show that difference.
"This is a president who won by the Islamist vote," Ashour added. "If he started losing them, he likely won't be the president of Egypt after the next election."
Ashour thinks it would be have best if Morsy added an explanation that the film is merely an expression guaranteed by the First Amendment and that it isn't a message the U.S. has anything to do with, nor does it represent how the vast majority of Americans feel.
"But I would say he's probably afraid that if he starts to say that -- the media in Egypt is very ideological and they would twist or misrepresent his words as a defense," Ashour said. "He probably thought he couldn't take that risk."
Afghanistan President Hamid Karzai: While Obama said he and Karzai are committed to preventing similar violence in Afghanistan. Karzai's statement about the violence wasn't focused on condemning the violence as much as condemning the movie. He called it a "heinous" and "evil act" that has created "outrage and anxiety for all peace-loving humans who back up the idea of peaceful coexistence."
Karzai accused the movie's alleged producer, a mystery man using the name Sam Bacile, and American pastor Terry Jones of committing an act of "desecration" which is "not a part of the freedom of expression, but a criminal act that has now badly affected the righteous sentiments of 1.5 billion Muslims all over the globe."
But, Karzai noted, the men represent a "radical minority."
"Prophet Mohammad (PBUH) was the greatest prophet of Islam, a prophet sent to guide mankind, a pacifist and promoter of truth and honesty in the world," Karzai said. "In fact, insult to the greatest Prophet of Islam means insult to high values of 1.5 billion Muslims across the world."
"This offensive act has stoked inter-faith enmity and confrontation and badly impacted the peaceful coexistence between human beings."
Kazai demanded that the film not be released.
What Karzai might be saying: His statement didn't ask for peace and it didn't denounce the killings, and Karzai's focus on the film could spark protests in Afghanistan, analysts say. "People are boiling with anger with the United States because they hosted the director of the movie," said Abdel Bari Atwan, author of "The Secret History of al Qaeda."
The U.S.-Afghan relationship is complex. At times, it seemed to be highly cooperative but there is also a history of anti-American protest in Afghanistan. In February, the country plunged into chaos after American troops mistakenly burned copies of the Quran at Bagram air base.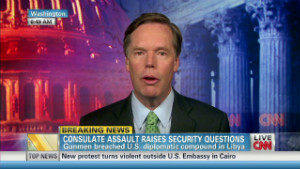 Amb. Burns: 'A time of testing' for U.S.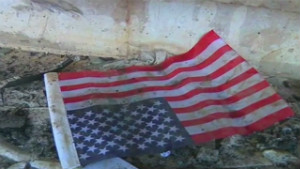 Libya struggling to deal with militants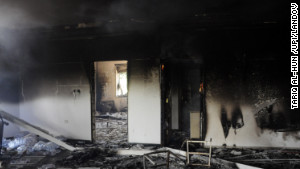 Watch how consulate attack unfolded
At the time, Obama apologized to Karzai, calling the burning an inadvertent error.
In 2010, Karzai condemned Florida pastor Terry Jones for burning Qurans. His outcry fueled an already tense situation, prompting mob killings in the northern city of Mazar-e-Sharif.
Now, Atwan says, "Karzai has to be careful with his words because he does not want to be a target of angry Muslims. He knows Afghans are frustrated by the behaviors of U.S. soldiers there."
Libyan officials
-- Prime Minister Mustafa Abushagur on Thursday told CNN, "This is not acceptable to the Libyan people; this is not acceptable to our values. We are taking this very, very seriously."
-- The president of Libya's ruling General National Congress, Mohammed Al-Megaryef, asked for world cooperation.
Opinion: Arab Spring nations don't yet grasp freedom of dissent
"We apologize to the U.S., to the American people and to the government and also to the rest of the world for what happened yesterday. And at the same time, we expect the world to cooperate with us to confront to what is meant out of this kind of act of cowardice," al-Megaryef said.
-- Ambassador to the United States Ali Aujali called the attacks "deplorable."
"The Government of Libya stands by the U.S. in opposing acts of terrorism. We are committed to bringing the attackers who perpetrated these crimes to justice," he said in a statement. "Ambassador Chris Stevens and the other American who were killed served the U.S. Government bravely.
"Ambassador Stevens worked tirelessly in support of freedom in Libya. When Stevens was appointed as Special Representative of the U.S. to the National Transitional Council of Libya in April 2011, he faced enormous challenges.
"He served as the principal liaison of the U.S. to the opposition in Libya and he helped coordinate the U.S. response to the enormous humanitarian crises in Libya. He handled these responsibilities with a calm demeanor and strong determination in the midst of a war."
What those reactions may suggest: Several analysts largely agreed that Libya had set the right tone in its response, both from a strategic point of view for them and also with keeping up a relationship with the West.
"The murders happened on their soil so they need to be the strongest in their wording," said James Gelvin, an American scholar of Middle Eastern studies at the University of California, Los Angeles. "This was also personal -- they seemed to genuinely care about losing the ambassador because they knew him and knew that he was committed to making the country better.
Fred Abrahams of Human Rights Watch, who has an expertise in Libya and the region, agreed.
"My feeling is that there is a lot of gratitude toward the United States for the role it played in Libya revolution, thankful for the help given to the rebels to overthrow Moammar Gadhafi," he said. "Also, the Libyan government has been unable to rein in the plethora of armed groups. (The violence this week) is a clear sign of how far those groups can possibly go. This is the Libyans' chance to seize an opportunity to make it clear that no good can come of that and that they welcome help in fighting those groups." Iraqi Prime Minister Nuri al-Maliki: Iraq's leader since 2006 said the movie on YouTube insulted "religious sanctities by some suspicious people and groups deserves the strongest condemnation and denunciation."
He said the clip on YouTube is "devoid of any values but abusing of Muslims sanctities and their noble values."
He urged a "quarantine" of "the racists" (behind the clip) in order to "stop them from spreading ... their dangerous thoughts." He then said that people should "refrain from resorting to violence and exercise the principles of Islam and its civilized values."
What al-Maliki might be saying: "We need to keep in mind that Nuri al-Maliki is an Islamist and he needs to represent that, so he's going to attack the film," said Kenneth M. Pollack is an expert on Middle Eastern political-military affairs at the Brookings Institution.
"He has never had a strong understanding of the United States," Pollack said, which likely explains why al-Maliki have no explanation of U.S. First Amendment rights or freedom of expression.
"Iraqis don't think of him as a puppet of the U.S.," Pollack said. "There would be no reason for him to go further with that explanation, so he's said what I would expect, he's been long on condemning the film and short on the violence."
More reactions
Other leaders in the region have weighed in, and their comments tend to focus on the movie, rather than the violence.
Jordan's parliament members released a statement saying it rejects "any insult against Islamic belief and religious symbols."
"Islam, which has great respect for other monotheistic religions, prohibit insult to any prophet or other any religion," the statement said.
In Lebanon, influential former Prime Minister Saad Hariri said the film "deliberately offends Islam and the Prophet Muhammad" and said "the suspicious attempts behind it ... stir up hatred and discord between religions and peoples at a time when we are working to build bridges of dialogue, understanding and mutual respect.
Hariri also denounced the violent reactions against the movie, the murder of the U.S. ambassador and the attacks that targeted U.S. embassies and consulates in many regions.
"Such brutal and violent practices and attacks offend Muslims just as this suspicious film offended Islam," he said. "They are also detrimental to the Arab Spring path in general and give free excuses and justifications to the enemies of this promising path, in order to discredit it and disable its constructive effects in implementing democracy, freedom and dignity of the Arab peoples."
Pakistani's Foreign Ministry also released a statement saying that the video has "deeply hurt the feelings of the people of Pakistan and the Muslims all over the world."
CNN's Faith Karimi and Paul Armstrong contributed to this report.