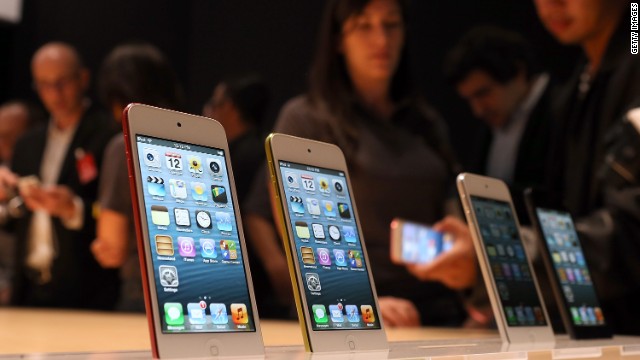 Perhaps you've heard of it. The sixth version of Apple's pioneering phone went on sale in stores Friday and boasts a larger screen, more powerful processor, better camera and the ability to run on faster 4G LTE wireless networks. Apple took 2 million pre-orders for the phone in the first 24 hours.
The iPhone's main competitor, Samsung's Galaxy S III, is larger and faster. And it includes hip features. For one: It switches to silent mode if placed face down on a table.
HTC's One X is seen as the most stylish Android phone. "It can't be overstated what a beautiful device this is," wrote a reviewer from The Verge. It's also powerful.
Once-dominant Nokia has been slipping. Its Lumia 920 and 820 phones, however, feature new camera tech and run the Windows Phone 8 operating system. Comeback?
Motorola, now owned by Google, released a new line of Razr phones this summer. The Razr M will be available for $100 with contract. It runs the Android OS.
From Samsung and Google, the Galaxy Nexus soon will run the latest version of the Android operating system. Face-recognition tech lets you "unlock your phone with a smile."
The standout feature on the Sony Xperia Ion is its camera, which has 12 megapixels to the iPhone 4S's eight. It's only $100 with contract.
Most smartphones have ditched tactile keyboards. Not the Motorola Photon Q. Engadget says it has "one of the finest physical keyboards we've used on an Android device."
With a monster 5.5-inch screen, the unreleased Samsung Galaxy Note II is a "phablet," or a phone-tablet hybrid. It doesn't fit in your pocket, but it does come with a stylus.
Also in the mondo-screen category is the LG Optimus Vu, which Wired says "promotes doodle scribbling and free-hand note-taking."
Another take on the "phablet" comes from Asus. The PadFone docks with a screen to become a tablet. It's "the Russian doll of the mobile world," wrote Will Findlater, editor of Stuff, a gadget magazine.
iPhone 5
Samsung Galaxy S III
HTC One X
Nokia Lumia 920 and 820
Motorola Razr
Samsung Galaxy Nexus
Sony Xperia Ion
Motorola Photon Q
Samsung Galaxy Note II
LG Optimus Vu
Asus PadFone