Dash camera captures temple killer's bullet
updated 11:32 AM EDT, Tue September 11, 2012
STORY HIGHLIGHTS
NEW: The first officer to arrive was hit 15 times, police chief says
A bullet smashes through a police officer's windshield
The image was captured by the squad car's dashboard camera
Other video captures the first officer shooting it out with the temple gunman
(CNN) -- Dashboard cameras from police cars captured a bullet smashing into one cruiser's windshield as officers confronted the man behind the August rampage at a Sikh temple outside Milwaukee.
The bullet went "right above the steering wheel and it went into the headrest," Oak Creek, Wisconsin, police officer Sam Lenda told reporters Monday.
Lenda was crouched behind the open driver's side door with a rifle at the time, shouting "Drop the gun!" He shot back, wounding temple gunman Michael Wade Page.
Page is blamed for killing six people at the Oak Creek temple and critically wounding the first officer to arrive at the scene, Lt. Brian Murphy. Investigators released video from the two officers' patrol cars Monday, including scenes of Murphy exchanging fire with Page as the officer is hit.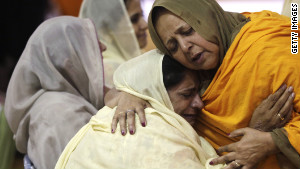 Gunshots heard in Sikh temple 911 calls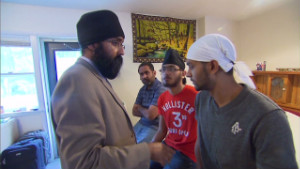 Volunteers help temple mourners cope
"The both fire at the same time, and the bullet hits him in the throat," Oak Creek Police Chief John Edwards says. "So he's hit as he's diving behind cover when you see that."
Lenda shot Page in the stomach, then Page turned his pistol on himself as officers closed in, investigators later determined.
Murphy is now at home, recovering from this wounds, Edwards said. Lenda said that when he pulled into the driveway of the Sikh temple, or gurdwara, "I saw an individual coming at me, and I had a sense this was not right."
"The way he was marching at me was in an aggressive manner," Lenda said. "It's not like someone raising their hands, asking for help."
Page, an Army veteran who played in a white supremacist rock band, killed five men and a woman at the temple. The dead included the congregation's president. The FBI said the slayings were being investigated as a possible act of domestic terrorism, but the probe is still under way, Milwaukee County District Attorney John Chisholm said Monday.
Police said in the aftermath of the killings that Murphy had been shot nine times. But Edwards said Monday that Murphy had in fact been shot 15 times, including three bullets that were stopped by his body armor.
Chisholm said Murphy managed to get one round off from his pistol before being hit himself.
"There's no question in my mind that Lt. Murphy's intervention prevented Page from continuing this rampage . . . The time he spent that allowed Officer Lenda to arrive on scene is probably the difference between other people being killed in this incident," Chisholm said.
Why some people leap in front of bullets

Part of complete coverage on

Learn more about the victims through photos and memories shared by their loved ones.
updated 10:42 PM EDT, Tue August 7, 2012

Community members are coming together to seek emotional healing in the wake of a shooting spree that killed six people and wounded four at a religious service.

Ten years ago, Balbir Singh Sodhi was gunned down, apparently because he looked Muslim or Arab. Sodhi was a Sikh.
updated 3:53 PM EDT, Tue August 7, 2012

Satwant Singh Kaleka died trying to stop a gunman who attacked a Sikh temple in Milwaukee on Sunday.

Sikhism, the world's fifth most popular religion, is a monotheistic faith that believes in equality and service to others, Sikh officials say.
updated 7:51 AM EDT, Tue August 7, 2012

Women and children were busy inside the Sikh temple in suburban Milwaukee, preparing for their traditional Sunday feast when shots rang out.
updated 10:46 AM EDT, Tue August 7, 2012

Hundreds of white supremacist groups are active in the United States today and are experiencing a kind of resurgence.
updated 7:42 AM EDT, Tue August 7, 2012

Investigators are trying to figure out what led 40-year-old Wade Michael Page from repairing missiles for the Army to a Sikh temple, where he was killed by police at the end of a rampage.

Are you a friend or family member of one of the victims? Do you live near the temple, or are you Sikh? We invite you to share your remembrances and tributes.

In support of the less fortunate victims involved in the Oak Creek Sikh Temple shooting, websites have been set up for donations.