STORY HIGHLIGHTS
NEW: The wounded 7-year-old survivor came out of a coma on Sunday, prosecutors say
Investigators are tight-lipped about a possible perpetrator in the killing
Authorities have not ruled out robbery as a motive, a prosecutor says
Autopsies show each victim was shot twice in the head, the prosecutor says
London (CNN) -- The slaughter at Chevaline.
That's what the French media has dubbed last week's daylight execution-style slaying of a British-Iraqi family and a French cyclist at a rural mountain rest stop on the outskirts of the Alpine village popular with outdoor enthusiasts.
Each of them -- the man; his wife; a woman believed to be his mother-in-law, and the cyclist -- was found with two gunshot wounds to the head.
The couple's 7-year-old daughter was badly beaten and shot. Their 4-year-old daughter hid for hours behind her dead mother's legs.
Young girl found alive among bodies in France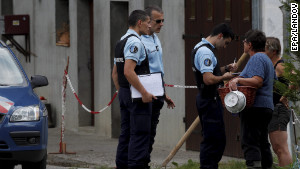 Police seek clues in French shooting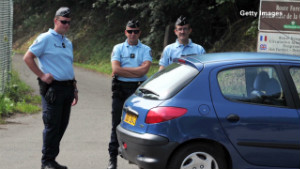 Alps murder mystery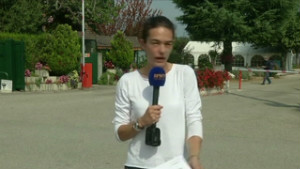 What led to fatal shooting in France?
The attack was, in the words of one French prosecutor, an "unheard-of savagery."
Four days after the Wednesday incident outside Chevaline, French and British authorities continued to piece together the puzzle Sunday.
Was it a robbery gone bad? A family feud over inheritance? A case of mistaken identity? Or, maybe, one of being at the wrong place at the wrong time?
Theories have abounded since investigators found the bodies of British national Saad al-Hilli, his wife Ikbal, and a 74-year-old woman believed to be the mother-in-law.
The fourth victim was Sylvain Mollier, a Frenchman who was cycling in the area.
About 25 shots were fired, police said.
Authorities have been tight-lipped about possible perpetrators and motives, even as the investigation stretched Sunday from France to Britain and they asked Italian and Swiss officials for help.
The answers may rest in part with the survivors of the shooting: the couple's two daughters.
The 4-year-old, identified in media reports as Zeena, has not given investigators any information about who carried out the attack.
She is physically unharmed and will be returned to Britain, French prosecutors said Sunday. She has been under the care of French doctors, watched over by police and British consular officials.
Her elder sister, who has been named in media reports as Zainab, is also being protected by police in case of a further threat to her safety. She suffered head wounds and a gunshot wound to the shoulder, but came out of a medically induced coma on Sunday, the French prosecutor's office said Sunday.
Speaking to reporters Saturday, French prosecutor Eric Maillaud did not offer ideas as to why or who might have carried out the brutal attack.
French investigators travel to UK to probe killings
Investigators have widened to several square kilometers the search area around the shooting scene in the mountainous Haute-Savoie region.
One clue may lie in a report by a cyclist who said he saw a green 4x4 vehicle and a motorbike near the site of the killings.
That cyclist, identified as a former member of the Royal Air Force in media reports, discovered the bodies at the rest stop. The engine of al-Hillis' car was still running, according to authorities.
The al-Hilli family arrived in France in late August for a camping holiday, Maillaud said.
Al-Hilli was an Iraqi-born engineer who lived south of London with his wife and two daughters.
He was born in 1962 and was a naturalized British citizen. He worked at Surrey Satellite Technology, a high-tech company owned by EADS -- the aerospace corporation that builds satellites.
Neighbor Jack Saltman, in al-Hilli's well-heeled Surrey County community of Claygate, said al-Hilli came from Iraq "many years" ago.
The identity of a third person killed in the car is not yet clear, though there has been speculation that she is the mother-in-law.
She had a Swedish passport, but her relationship to the others has not been confirmed, Maillaud said.
Sweden has granted a number of Iraqis fleeing violence and persecution residence.
"There is still some technical evidence that they need to work on before they can fully confirm her identity," Swedish Foreign Ministry spokeswoman Linn Duvhammar said.
Over the weekend, authorities searched the al-Hilli home. Police plan to question family members, including his brother, Maillaud said.
The prosecutor downplayed reports of a conflict between the brothers over an inheritance.
The unnamed brother went to police voluntarily after he learned of the deaths, Maillaud said. He returned the next day on his own accord to tell police there had been no conflict with al-Hilli over money.
Investigators have not ruled out the possibility that the al-Hillis were killed in robbery at the rest stop, and that the cyclist may have been killed after stumbling upon the robbery.
The bodies will be released to their families for burial as soon as judicial authorities conclude they are no longer necessary for the inquiry, the prosecutor said.
Mystery surrounds French shooting
CNN's Laura Smith-Spark reported from London; Chelsea J. Carter from Atlanta. Dan Rivers and Per Nyberg contributed to this report.