STORY HIGHLIGHTS
Bob Greene was in Ohio this summer, where presidential candidate visits were constant
He says they are like traveling salesmen who must show up if they want to close the deal
He says Ohioans get weary of the courting, even though they know it ends in November
Greene: They're like Willy Loman: "A salesman is got to dream, boy. It comes with the territory"
Editor's note: CNN Contributor Bob Greene is a bestselling author whose 25 books include "Late Edition: A Love Story" and "Once Upon a Town: The Miracle of the North Platte Canteen."
(CNN) -- "Excuse me," the woman called. "Is the president still speaking?"
"I think so," I called over to her.
She let her face scrunch up into an expression of mild dismay. It had nothing at all to do with politics.
This was in central Ohio; she was standing next to a furniture-delivery truck near the intersection of two streets called Sherwood and Dawson.
President Barack Obama was addressing a rally on the campus of Capital University in Bexley, a few blocks away. People attending the event had jammed the residential neighborhood with their parked cars, and some of those cars were so close to her driveway, on Sherwood, that the furniture truck could not maneuver into it.
"I had this delivery scheduled, but I didn't know it would be the same time the president was here," she said, her voice pleasant. "The guys from the truck are looking for another way to get it to my house. I told them I'd stand here and guard the furniture."
Ohio is getting plenty of visits from the candidates. During the time I was in the middle of Ohio this summer, Paul Ryan was in the area twice, Mitt Romney was there at least once, and on this early afternoon Obama had made his way to Capital. Scenes like this repeat every four years; there are days in highly contested states when something seems almost amiss if you don't encounter a motorcade or a police escort.
They are traveling salesmen, the candidates are; they hit the road bearing their products -- the products being themselves. And although presidential and vice presidential candidates are the most celebrated politicians in the land, they become not so different from the thousands of other sales reps who lug their sample cases across America every work week of the year.
Gergen: Harsh realities for Democrats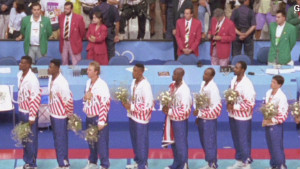 Obama: Team USA can't beat Dream Team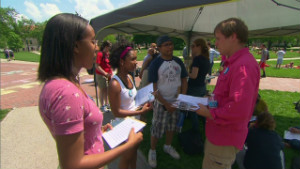 Obama kicks off 2012 campaign in Ohio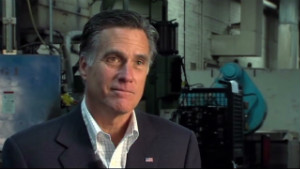 Romney claims credit for auto success
And the people in the towns -- especially in the swing states -- find out what it's like to be suddenly wanted, to be the recipient of exceptionally fervid sales ardor.
When you are in the market for a big-ticket item -- a house; a new car -- you notice how accommodating the real-estate agent or the car dealership is toward you: always checking back, asking what they can do to win your business, generally being constantly around and ever available. After you've bought the item, they tend not to come calling.
That's how it is during that small sliver of time when the people running for president and vice president can't do enough for the potential voters. For those voters in the states that can tip the balance of an election, it can be flattering -- and also a little wearying -- to be so relentlessly courted, even while knowing that the courtship has a hard expiration date in early November.
Begala: Democrats fix their enthusiasm gap
The candidates, however low on sleep and tugged in all directions, travel great distances to try to make the sale. Despite the much-vaunted reach of television commercials and social networks, they understand that, to close the deal, they had better be there in person, just like the real-estate agent or the car dealer. Because if they aren't, they know that the other real-estate agent or car dealer will be.
To watch the major-party candidates move through the country in these months ... well, for all their fame, there's more than a bit of literature's most unforgettable salesman, Willy Loman, present: "a man way out there in the blue, riding on a smile and a shoeshine."
On the day Obama spoke on the campus lawn at Capital, the Secret Service and the local police had closed down Pleasant Ridge Avenue to traffic, but allowed pedestrians to slip around the barricade if they wanted to give the pizzeria one door down a little business. A local man walking with a cane, running for an office considerably less lofty than president or vice president, stopped at each of the outdoor tables and handed a leaflet to each pizza-eater, saying: "I'd like your vote this fall. I'm on the ballot."
In less than nine weeks, two of the four men crisscrossing the nation -- Obama, Romney, Ryan, Joe Biden -- are going to find out that they failed to make the sale after all, and two of the men are going to find out that they have successfully culminated the transaction. The nervous uncertainty of that is what can make their high-level pursuit at times feel utterly life-sized.
Arthur Miller, in that same play in which he introduced Willy Loman to the world, understood the compulsion behind all of this quite well:
"A salesman is got to dream, boy. It comes with the territory."
Follow us on Twitter @CNNOpinion
Join us on Facebook/CNNOpinion
The opinions expressed in this commentary are solely those of Bob Greene.