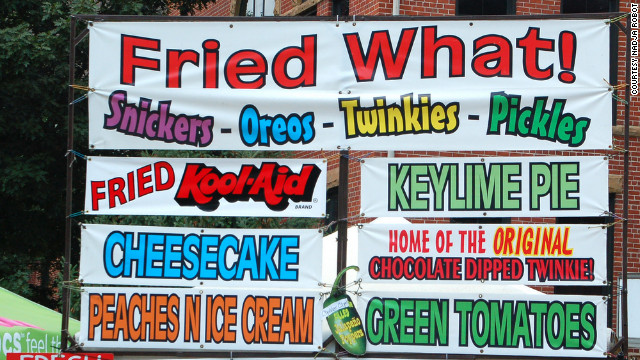 Americans spend millions on food each year at fairs and festivals around the country. Here are a just a few examples of the creative concoctions being offered to attendees.
Nadja Robot didn't feel up to trying any of these fried delights at the 2011 Illinois State Fair. "I'm sure they were really... something," she says.
Dezra Despain spotted these new takes on an old favorite at the 2012 Indiana State Fair. "I remember when funnel cakes were just fried dough with powdered sugar on top. They are getting creative," she says.
Abby Langston's husband had these at the Dixie Classic Fair in Winston-Salem, North Carolina. "He loved them and has gotten them every year since, but I think they're a little dry in the middle and aren't really worth the probably-too-many-to-count calories."
The Picnic on a Stick, at the State Fair of Texas, contains pieces of spicy fried chicken, tater tots and slices of dill pickle. The ingredients are repeated three times on a stick, then dipped in batter, rolled in bread crumbs and fried. It is completed with the choice of barbecue sauce, ranch or honey mustard.
The State Fair of Texas features sliders. "Three-cheese mac is baked until golden brown, battered in bread crumbs, deep-fried until crisp on the outside, warm and gooey on the inside," fair officials say. The concoction is then placed on a slider bun with a griddled beef patty.
Jackie Alpers is a photographer who says she tries to taste almost everything she photographs. She made an exception with these fries, covered with pinto beans, chile sauce and cheese from a county fair in Arizona.
The Big E, or Eastern States Exposition, in West Springfield, Massachusetts, is home to the Craze-E Burger, which was introduced in 2009. It's "a huge hamburger, topped with melting cheese and crispy bacon, all served on a grilled, glazed donut."
Alison Toon's son indulges in a once-a-year fair treat at the California State Fair in Sacramento. "I just wander around the fair, enjoying the smell of the food. Most I can't eat, as I have to stick to a gluten-free diet," Toon says.
The fried bacon cinnamon roll won first place for "Most Creative" treat at the 2012 State Fair of Texas. It's made of a cinnamon roll dipped in a sweet pancake batter and rolled in crispy fried bacon crumbles. It is then deep-fried and topped with powder sugar. The fair calls it "a main course and a dessert all in one."
A fair-goer enjoys chocolate-covered bacon at the 2009 Indiana State Fair.
This way to...
Funnel cakes
Fried Oreos
Picnic on a Stick
Deep-fried Mac-N-Cheese Slider
Super Fries
Craz-E Burger
Fried Snickers
Fried bacon cinnamon roll
Chocolate-covered bacon
STORY HIGHLIGHTS
Fair and festival-goers spend millions on concession food every year
From fried Oreos to "Super Fries," the possibilities are endlessly fattening
Fair foods can be enjoyed in moderation, says Dr. Donald Hensrud
(CNN) -- Jackie Alpers, a photographer from Tucson, Arizona, has documented food at her local county fair for the past couple of years.
"My favorite fair food has elements of the unexpected," she said. "It's bigger and weirder than the food I see every day, and it evokes awe... the more absurd the better."
Alpers, who tries mostly everything she photographs, drew the line when she snapped a picture of Super Fries -- french fries covered in pinto beans, chile sauce and cheese.
"It looked like they weighed about two pounds and that there was enough for a family of four to share," she said. "I'd say there was more saturated fat on that plate than I care to imagine."
But fat and calories aren't enough to stop many fair-goers from indulging in such creations once a year, even when healthy options are available.
Fair foods can be enjoyed in moderation, says Dr. Donald Hensrud, who specializes in nutrition and preventive medicine at the Mayo Clinic.
"Instead of kind of throwing caution to the wind ... it's still possible to enjoy yourself and enjoy some good tastes, yet stay reasonably on track."
For that, Hensrud offered some suggestions:
Before you go
Devise a plan ahead of time.
"Put a little thought into it -- what kinds of foods do you want to try? How much do you want to eat?" he said. "Just have a general plan instead of going in and just eating everything in sight or the first thing that you see."
A workout and a healthy meal can help you resist temptation later.
"If you don't eat anything in the morning, you might get there and be ravenous ... that can lead to overeating," Hensrud said.
The deep-fried belly of the fair food beast
During the fair
Splitting food with family or friends allows smaller tastes of multiple things. In addition, you can satisfy yourself by having a little bit of food when you get to the fair, Hensrud suggested. He said it's best to stop eating before you're full.
"You'll be glad that you did later on," he says.
Remember to use some common sense. Limit portion sizes of fatty or fried foods.
He also recommended using your time at the fair to get in a great walk, helping to burn off some of those calories.
Finally, don't forget that liquid calories add up. Stay well-hydrated with water.
Following the fair
Indulging once a year "isn't going to cause a huge amount of problems," Hensrud said. "We can recover from that relatively easily."
"People should forgive themselves and move on... and not throw in the towel completely if they do overindulge."
Hensrud advised fair-goers to focus their attention elsewhere, instead of solely on the food. Typically, people can take in an abundance of sights and sounds from arts and crafts, scale-tipping pumpkins, livestock and live entertainment.
For Alpers, there is always something new to see -- and taste -- every year. She is looking forward to documenting next year's fair.
"Everyone has their own trigger and the fair is a perfect excuse to pull it," she said. "The look of excitement on their face is unmistakable, and similar to the look I see in line for the roller coaster or the freak show."
Fried Kool-Aid at the San Diego Fair