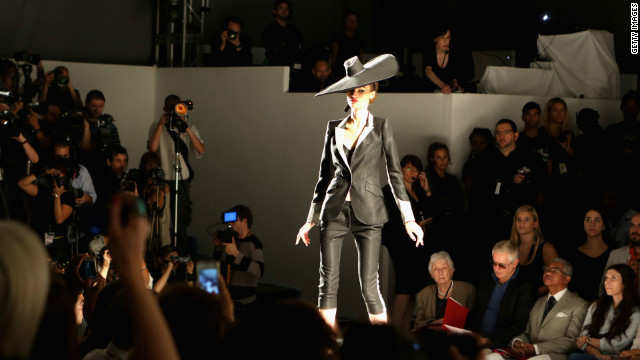 A model at the Norisol Ferrari show. Ferrari is known to favor menswear-inspired silhouettes and classic styles.
At 81, Carmen Dell'Orefice walks the Norisol Ferrari fashion show, proving you're only as old as you feel.
Many designers opt for presentations during Fashion Week instead of the conventional runway show. Here, models pose at the David Tlale Sun presentation.
Kate Spade's 2013 spring line is technicolor-inspired, with bold, bright colors and playfully shaped handbags.
Zac Posen, known for designs that evoke glamour, dresses models in show-stopping gowns at his spring runway show.
Shoes used in Anna Francesca's show are lined up backstage.
Iconic American designer Tommy Hilfiger's line showcases nautical themes with snakeskin accessories.
Legendary designer Carolina Herrera debuts her spring line in Lincoln Center on Monday. Ivanka Trump and Anna Wintour were among those who attended the show.
A model lookis pretty in pink at the Zang Toi show.
On an all-white backdrop, Carmen Marc Valvo reveals his spring line, including this cobalt and ivory number.
The EMERSON collection channels the modern, free-spirited woman.
Elena Slivnyak, a contestant on "Project Runway," showcased an edgy, modern collection, complete with green and yellow lipsticks.
Jewelry and handbag designer Kara Ross displays her spring pieces, including this cuff.
All eyes -- wearing glasses or not -- were on the Nicholas K Spring 2013 fashion show. Nicholas K was among the first designers to show at Fashion Week.
Max Azria of BCBG balanced textures by pairing delicate fabrics with bondage elements.
BCBGMAXAZRIA puts its best foot forward for the spring line.
"Twilight" actor Kellan Lutz, U.S. Olympic swimmer Ryan Lochte and actors Frank Grillo and Daniel Gillies sit in the front row of the Joseph Abboud Spring 2013 fashion show.
A model sports a two-toned manicure by butter LONDON for the Kaeleen Spring 2013 fashion show.
Richard Chai's spring line featured a soft palette, like the powder blue seen here.
Another model walks the catwalk in a Richard Chai piece.
The Creatures of the Wind presentation at Milk Studios was inspired by 1960s couture.
Three male models looking sleek backstage at the Duckie Brown Spring 2013 fashion show.
Models wore their hair in beautifully messy buns for the Chadwick Bell Spring 2013 fashion show.
On the ground at New York Fashion Week
On the ground at New York Fashion Week
On the ground at New York Fashion Week
On the ground at New York Fashion Week
On the ground at New York Fashion Week
On the ground at New York Fashion Week
On the ground at New York Fashion Week
On the ground at New York Fashion Week
On the ground at New York Fashion Week
On the ground at New York Fashion Week
On the ground at New York Fashion Week
On the ground at New York Fashion Week
On the ground at New York Fashion Week
On the ground at New York Fashion Week
On the ground at New York Fashion Week
On the ground at New York Fashion Week
On the ground at New York Fashion Week
On the ground at New York Fashion Week
On the ground at New York Fashion Week
On the ground at New York Fashion Week
On the ground at New York Fashion Week
On the ground at New York Fashion Week
On the ground at New York Fashion Week