News Corp. makes bid for Australia-based CMH
updated 9:12 AM EDT, Fri September 7, 2012
STORY HIGHLIGHTS
News Corp. has revised a bid to buy Consolidated Media Holdings
News Corp. is offering $3.45 a share in Australian dollars, CMH says
The revised offer also includes a 6-cent dividend to be paid to CMH shareholders
Hong Kong (CNN) -- Rupert Murdoch's News Corp. has offered $1.94 billion in Australia dollars for Sydney-based Consolidated Media Holdings, the investment media company said Friday.
News Corp. offered $3.45 a share in a revised offer that was slightly less than a $3.50 offer made in June, though it now includes a 6-cent dividend to be paid to Consolidated Media shareholders, according to a statement released by CMH.
The two companies are partners in the ownership of Foxtel and Fox Sports Australia, with News Corp owning 25% of Foxtel and 50% of Fox Sports Australia, according to filings.
Under the proposed deal, News Corp. would own 50% of Foxtel and 100% of Fox Sports Australia.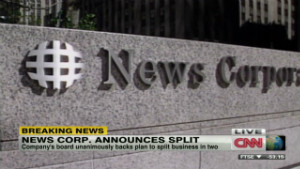 News Corp. to become two companies
One of CMH's major shareholders, CPH Executive Chairman James Packer, said he also supported the deal "in the absence of a superior cash proposal."
The deal is subject to the approval of Australia's securities regulators.

Part of complete coverage on
updated 2:47 AM EDT, Mon April 22, 2013

Twitter resumes -- or "twesumes" -- have been touted as the best way for social media-savvy types to snag a dream job.
updated 4:00 AM EDT, Wed April 17, 2013

We live in a three-speed economic world, according to the International Monetary Fund.
updated 12:27 PM EDT, Wed April 17, 2013

Women have long dominated the heated discussion around gender equality. But men need to too, says Facebook's Sheryl Sandberg.
updated 6:53 AM EDT, Fri April 19, 2013

Security threats from mobile malware are on the rise and nearly 95% of targets operate on the Android operating system, according to a new report from NQ Mobile.
updated 4:06 PM EDT, Mon April 15, 2013

Microsoft is working on a touch-enabled smartwatch, The Wall Street Journal says, reporting that the company asked Asian suppliers to ship components for the device.
updated 2:47 AM EDT, Fri April 19, 2013

Give your anxious, negative colleagues a chance, and they just might surprise you.
updated 6:46 AM EDT, Wed April 17, 2013

In Europe, high-speed rail has come to stand for ease and efficiency where journeys of four hours or less trump airplanes and the hassle of airport security.
updated 2:12 PM EDT, Fri April 19, 2013

Infographic: Singapore may be tiny but it is also one of East Asia's most powerful trading hubs.
updated 8:27 PM EDT, Sun April 21, 2013

In Hong Kong urban lore, an apartment where a violent death took place can often be bought for as much as 10-30 per cent off the market price.
updated 12:05 PM EDT, Tue April 16, 2013

With gold prices officially in a bear market, investors must ask themselves if this is the time to buy?