Ready for iPhone 5? Apple announces event next week
STORY HIGHLIGHTS
Apple is inviting the media to an event in San Francisco on Wednesday, September 12
The event is widely expected to be the launch of the next iPhone
Among its rumored new features are a slightly larger screen and a smaller dock connector
(CNN) -- It's looking like Apple's next version of its iconic smartphone will be called the iPhone 5.
On Tuesday, the secretive company sent e-mails to members of the media, inviting them to an "invitation-only event" in San Francisco on Wednesday, September 12.
The event is widely expected to be the launch of the next iPhone, but in typically cryptic Apple fashion, the invitation reveals little about what will be announced. The tagline says only, "It's almost here."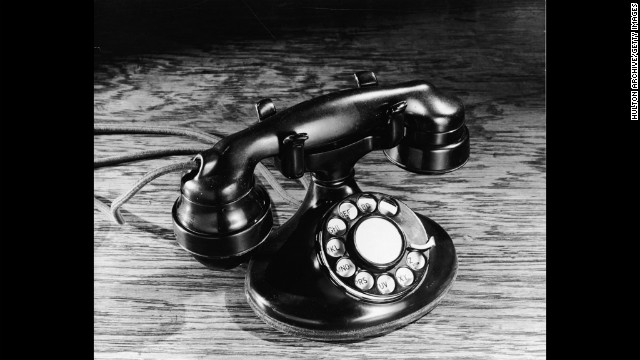 The telephone has come a long way from the 1930s, when rotary dial models such as the one pictured here were popular, to the iPhones and BlackBerrys we carry today. Click through to see a visual history of the telephone.
Alexander Graham Bell invented the liquid transmitter circa 1876.
This phone box in Southwark Bridge, London, features a wall-mounted phone with separate mouthpiece and receiver from 1924.
The rotary phone in this 1930s Reading, Pennsylvania, police box could be usd to summon police, ambulance or fire services at a moment's notice.
Rotary dial telephones with separate mouthpieces and receivers are commonly reffered to as "candlestick" phones. This model from the mid-1930s features the rotary dial in the shaft of the telephone, rather than the base-dial models with which most people are familiar.
This 1950s rotary phone features an attached mouthpiece and receiver.
Men of the English Oxfordshire and Buckinghamshire Light Infantry call their loved ones after being told to prepare for duty in the Suez Canal Zone in 1956. Payphones were common up until the cell phones became popular and affordable.
Some of the first push-button phones are pictured here in 1971.
Franck Piccard of France talks on his mobile phone after the Mens Super G Slalom event at the 1988 Winter Olympic Games in Calgary, Alberta.
This model of mobile phone was marketed by Racal-Vodac Limited of Newbury, Berkshire, England, in 1997, to serve dual roles as a mobile unit installed in a car or as a portable unit. The unit was sold with a battery charger and extension antenna for use in areas with poor reception.
Cell phone manufacturers made great strides between 1997 and 2004. The Palm Treo 600 smartphone, pictured here in 2004, integrated telephone with e-mail and Internet browsing capabilities.
Motorola's MPx wireless device, released in the second half of 2004, took the smartphone to a new level with Wi-Fi capabilites and a fully functional keyboard.
The first generation Apple iPhone, released on June 29, 2007, had people lining up for days before and after its release. It was an advancement in the world of smartphones, incorporating a touchscreen, apps, telephone, e-mail and a host of other features.
The iPhone 4S, released on October 14, 2011, expanded on the iPhone's innovations with the addition of groundbreaking retina diplay technology and SIRI.
The BlackBerry Bold 9930, shown here, continues a long line of BlackBerry devices so popular they have commonly been dubbed "crackberries." They are also popular smartphones for business applications because of their fully functional keyboards and advanced e-mail capabilities.
The original Motorola Droid was the thinnest of its kind at its 2011 release. Motorola's Droid Razr Maxx, on display at the 2012 International Consumer Electronics Show in Las Vegas, has a longer battery life than previous models.
A visitor uses a Samsung Galaxy S III smartphone during a press day at the Samsung stand at the IFA 2012 consumer electronics trade fair on August 30, 2012 in Berlin. Last year Samsung's Galaxy S III overtook Apple's iPhone 4S to become the world's best-selling smartphone for the third quarter, according to research by Strategy Analytics.
The iPhone 5 looks similar to previous models but has a larger screen and is lighter and thinner than the iPhone 4S. The phone also comes with a faster processor called the Apple A6, which connects to mobile carriers with a 4G LTE connection, making for speedier Internet browsing.
BlackBerry CEO Thorsten Heins displays the two new Blackberry 10 smartphones at the BlackBerry 10 launch event on Wednesday, January 30 in New York. The Z10, left, features an all-touch keyboard. The Q10 features a classic BlackBerry tactile keyboard.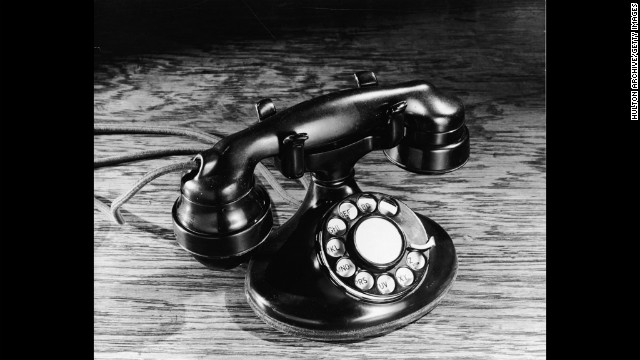 Photos: A visual history of the telephone
Of course, that never stops Apple obsessives from parsing the invite for clues. This time, the shadow of the number 12 reveals a not-so-subtle "5," reinforcing speculation that the new device will be called iPhone 5 instead of iPhone 4G or something else.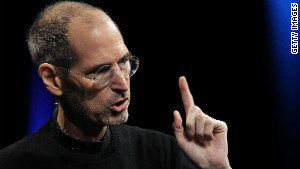 2007: First iPhone announcement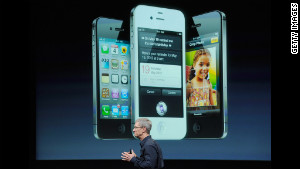 2010: iPhone gets face-lift
The official announcement of the September 12 date confirms what several media outlets first reported five weeks ago, citing anonymous sources at Apple.
A fall iPhone release has been considered a foregone conclusion by most observers for months. Among the device's rumored new features are a slightly larger screen, a faster processor, a smaller dock connector and possibly NFC technology that would make it easier for shoppers to make payments through their phones.
iMore, the first blog to pinpoint the September 12 launch date, has also said pre-orders will begin that day and that the phone will be released nine days later, on September 21.
Many pundits also expect Apple to launch a smaller version of its popular iPad tablet at a separate event, likely in October.
Next week's Apple event will begin at 10 a.m. PT. CNN Tech will be liveblogging the announcement.