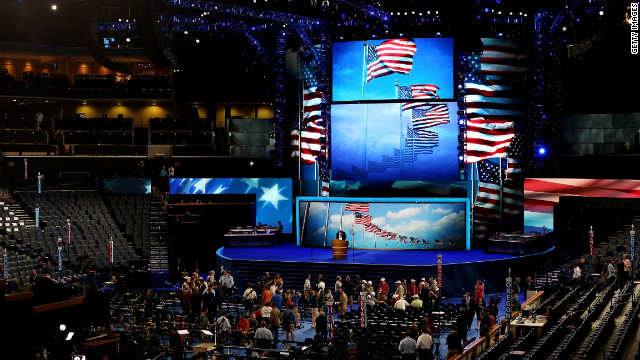 Workers prep for the Democratic National Convention in Charlotte, North Carolina's Time Warner Cable Arena on Monday, September 3. The venue, usually home to the Queen City's NBA team, the Charlotte Bobcats, can seat 20,200 during NBA games.
The Bank of America Corporate Center building, which houses the bank's corporate headquarters, rises above the Charlotte skyline. Charlotte is the second largest financial center by assets in the United States, behind New York.
Protesters march through the business district on Sunday, September 2, before the start of the DNC. Among the protest groups are Code Pink and the Occupy movement.
Police keep watch as protesters march through Uptown, the Charlotte business district, on Sunday. Charlotte has 1,685 officers on the force.
Bicycle riders are stopped by police guarding the perimeter of the Time Warner Cable Arena on Monday.
An Occupy protester bathes during a rain shower in Marshall Park in Charlotte on Saturday, September 1. Protesters intend to camp in the city park for the duration of the Democratic National Convention. Up to 70 protest groups are expected in Charlotte.
A truck with signs protesting same-sex marriage cruises the streets of Charlotte on Monday. The delegates will vote on whether to include same-sex marriage in their platform for the first time at this year's DNC.
Charlotte Gardner, 86, poses for a picture with Aneheim James, a protester from California, after she marched with the Democratic Women of Mecklenburg County in the Charlotte Labor Day Parade on Monday.
Bill Spoon's BBQ employees remove pork from a smoker at the nearly 50-year-old restaurant known for its Eastern North Carolina Style BBQ. The restaurant was recently recovnized as one of the 10 best BBQ restaurants in the United States. The state is expecting $150 million to $200 million economic impact from the DNC.
When the DNC pushes Charlotte's population of almost 750,000 by 35,000, many will use LYNX to get around the city. LYNX is a 9.6-mile light rail line serviced by the Charlotte Area Transit System.
A sand sculpture of President Barack Obama sits on the streets of uptown Charlotte on Monday. The sculpture was created by artists Mark Mason, Steve Schomaker and Larry Hudson.
Michah Robinson poses with his sister Simone and cousin Lanise Myers in a souvenir photo booth at the CarolinaFest street festival on Monday.
Diners wait to get in at Cabo Fish Taco in Charlotte's NoDa district. Businesses in Charlotte are anticipating a boost in sales when the city hosts the DNC.
Children cross the street in front of a row of dump trucks used as a barricade near the Bank of America headquarters in downtown Charlotte on Sunday.
The DNC and Charlotte
The DNC and Charlotte
The DNC and Charlotte
The DNC and Charlotte
The DNC and Charlotte
The DNC and Charlotte
The DNC and Charlotte
The DNC and Charlotte
The DNC and Charlotte
The DNC and Charlotte
The DNC and Charlotte
The DNC and Charlotte
The DNC and Charlotte
The DNC and Charlotte