Desmond Tutu says Blair, Bush should be 'made to answer' for Iraq
updated 8:24 PM EDT, Sun September 9, 2012
STORY HIGHLIGHTS
The Nobel laureate publishes a scathing editorial in The Observer newspaper
He accuses Tony Blair and George W. Bush of fabricating a motive to invade Iraq
Blair responds, saying they never lied about the intelligence
Tutu pulled out of a conference in Johannesburg to protest Blair's attendance last week
(CNN) -- South African Archbishop Desmond Tutu said Sunday that Tony Blair and George W. Bush should be "made to answer" at the International Criminal Court for their actions around the Iraq war.
Writing in an op-ed published by The Observer newspaper, the Nobel laureate accused the former leaders of the United Kingdom and the United States of fabricating a motive to invade Iraq, namely that it possessed weapons of mass destruction, and said that they had acted like "playground bullies."
"The immorality of the United States and Great Britain's decision to invade Iraq in 2003, premised on the lie that Iraq possessed weapons of mass destruction, has destabilised and polarised the world to a greater extent than any other conflict in history," wrote Tutu. "In a consistent world, those responsible for this suffering and loss of life should be treading the same path as some of their African and Asian peers who have been made to answer for their actions in the Hague."
Read Desmond Tutu's full op-ed piece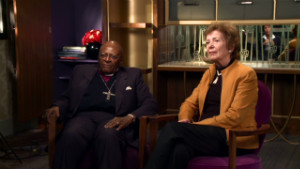 'The Elders' seek action in Sudan
Tutu detailed some of the costs of the war. More than 110,000 Iraqis have died in the conflict, while millions have been displaced, he said. Close to 4,500 U.S. soldiers have been killed and more than 32,000 wounded, Tutu added.
"But even greater costs have been exacted beyond the killing fields, in the hardened hearts and minds of members of the human family across the world," he wrote. "If it is acceptable for leaders to take drastic action on the basis of a lie, without an acknowledgement or an apology when they are found out, what should we teach our children?"
Last week, Tutu pulled out of a conference in Johannesburg to protest Blair's attendance.
Read more about Tutu's withdrawal from conference
The former prime minister responded to the editorial in a statement on his website.
"I have a great respect for Archbishop Tutu's fight against apartheid -- where we were on the same side of the argument -- but to repeat the old canard that we lied about the intelligence is completely wrong as every single independent analysis of the evidence has shown," said Blair.
He said Iraq has a stronger economy now and a lower child mortality rate, but added: "Surely in a healthy democracy people can agree to disagree."
Groups have called for a citizen's arrest of Blair since he left office, with one website going as far as offering a reward to people who attempt to detain him. In 2010, protesters called for Blair to face war crimes charges as he gave evidence to the Iraq inquiry in London.
Blair has said concern over Iraq's ambitions to develop weapons of mass destruction had been the main factor behind Britain's decision to back the war. No significant caches of chemical or biological weapons have been found in Iraq since the invasion.
Tutu, a champion for human rights, was awarded the Nobel Peace Prize in 1984, and later chaired South Africa's Truth and Reconciliation Commission to examine apartheid-era crimes.
Iraq announces 21 people executed in one day
Tutu: End the suffering in the Sudans

Part of complete coverage on
updated 10:26 AM EST, Wed February 6, 2013

Advocates say the exam includes unnecessarily invasive and irrelevant procedures -- like a so-called "two finger" test.
updated 7:09 PM EST, Tue February 5, 2013

Supplies of food, clothing and fuel are running short in Damascus and people are going hungry as the civil war drags on.
updated 1:01 PM EST, Wed February 6, 2013

Supporters of Richard III want a reconstruction of his head to bring a human aspect to a leader portrayed as a murderous villain.
updated 10:48 AM EST, Tue February 5, 2013

Robert Fowler spent 130 days held hostage by the same al Qaeda group that was behind the Algeria massacre. He shares his experience.
updated 12:07 AM EST, Wed February 6, 2013

As "We are the World" plays, a video shows what looks like a nuclear attack on the U.S. Jim Clancy reports on a bizarre video from North Korea.

The relationship is, once again, cold enough to make Obama's much-trumpeted "reset" in Russian-U.S. relations seem thoroughly off the rails.

Ten years on, what do you think the Iraq war has changed in you, and in your country? Send us your thoughts and experiences.
updated 7:15 AM EST, Tue February 5, 2013

Musician Daniela Mercury has sold more than 12 million albums worldwide over a career span of nearly 30 years.

Photojournalist Alison Wright travelled the world to capture its many faces in her latest book, "Face to Face: Portraits of the Human Spirit."
updated 7:06 PM EST, Tue February 5, 2013

Europol claims 380 soccer matches, including top level ones, were fixed - as the scandal widens, CNN's Dan Rivers looks at how it's done.
updated 7:37 AM EST, Wed February 6, 2013

That galaxy far, far away is apparently bigger than first thought. The "Star Wars" franchise will get two spinoff movies, Disney announced.
updated 2:18 AM EST, Fri February 8, 2013

It's an essential part of any trip, an activity we all take part in. Yet almost none of us are any good at it. Souvenir buying is too often an obligatory slog.