STORY HIGHLIGHTS
Miners will be conditionally released from jail on Monday and Thursday
Any charges relating to shooting will be made when investigations are complete
270 miners were charged with murder of 34 co-workers believed shot by police
Their lawyers demanded the president release the miners by Sunday afternoon
Johannesburg, South Africa (CNN) -- Murder charges against hundreds of South African miners will be dropped pending further investigation, the country's top prosecutor announced Sunday.
The country's acting national director of public prosecutions, Nomgcobo Jiba, said she was overturning a regional prosecutor's decision to charge the miners with murder over the deaths of 34 striking colleagues -- whom most believe were shot by police.
"The murder charge against the current 270 suspects, which was provisional anyway, will be formally withdrawn provisionally in court on their next court appearance. Other provisional charges will remain," Jiba said.
Lawyers for the miners called last week's decision to charge them with murder "bizarre in the extreme," and the country's justice minister called it shocking and confusing.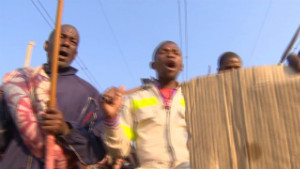 Outrage after S. African miners charged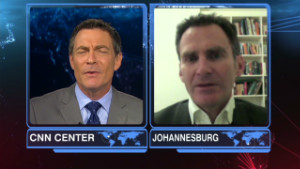 Charges against miners 'extraordinary'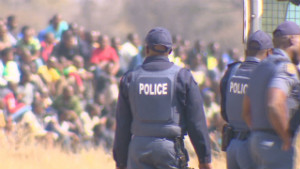 South Africa mourns mine violence victims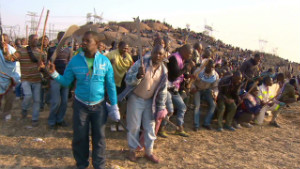 Worker dissatisfaction in South Africa
Jiba said the law in question was sound but that more evidence was required. Any charges connected to the August 16 clashes will be made only after "all investigations have been completed," she said.
There are at least three separate investigations into the incident: one by police, one by the watchdog Independent Police Investigative Directorate, and a judicial commission of inquiry set up by President Jacob Zuma.
The accused miners will be conditionally released from jail in a two-step process: Those with verified addresses will appear in court Monday and immediately be released; the rest will appear Thursday.
Earlier, President Zuma rejected a Sunday ultimatum to release the miners.
"The president cannot accede to the demand," his office said in a statement. Zuma will not interfere in the process "in deference to our constitutional democracy," it said.
He said he would not intervene in the work of the commission he established last month or the other investigations.
South Africa's justice minister also sought an explanation on why the other miners were charged with murder.
The government's decision "has induced a sense of shock, panic and confusion within the members of the community and the general South African public," Justice Minister Jeffrey Radebe said in a statement.
The justice minister said "it is inconceivable" to suspect that the miners killed their colleagues and relatives.
Read an opinion piece on why miners would not be convicted
Authorities arrested the miners after a deadly clash with police August 16.
Police spokesman Dennis Adrio said that some of those killed in the clash had gunshot wounds in their backs and that weapons were recovered at the scene.
The fatal incident occurred after negotiations between striking miners and mining company Lonmin broke down and police decided to fence in the machete-armed miners with barbed wire, police said.
The protesting miners moved toward police and were driven back with tear gas and rubber bullets. Police said they resorted to live ammunition when protesters attacked, leaving 34 people dead and 78 others wounded.
Thousands of mineworkers went on strike for days last month to demand higher wages in the Lonmin mine in Marikana, South Africa. Earlier, two police officers had been hacked to death.
Tensions have been high in part because of the presence of competing trade unions: the dominant Association of Mineworkers and Construction Union and the splinter National Union of Mineworkers.
The mine, about two hours northwest of Johannesburg, is operated by Lonmin, the world's third-largest platinum producer. The bulk of its 28,000 employees work at the mine, and around 23% belong to the Association of Mineworkers and Construction Union.
Funerals were held Saturday for many of the dead mineworkers.
CNN's Sarah Jones and Faith Karimi contributed to this report.