Thousands evacuated as wildfire threatens Spanish coast
updated 12:47 PM EDT, Fri August 31, 2012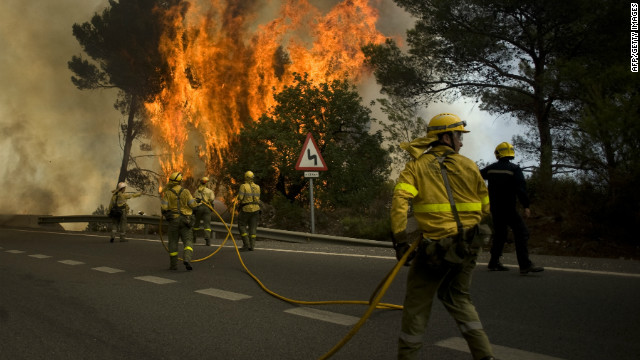 Firefighters try to extinguish wildfires in Ojen, near the town of Malaga, on August 31, 2012. More than 250 firefighters on the ground, backed by eight planes and nine helicopters in the air, battled the blaze after hot, dry winds sent it racing through tinder-dry forest in southern Spain.
A fire brigade helicopter prepares to pour water to extinguish a wildfire in the village of Ojen on August 31, 2012. Some 4,000 people have been evacuated from the area with an additional 2,000 evacuated from the eastern part of Marbella.
A firefighter walks on the site of a wildfire in Ojen on August 31, 2012.
A fire brigade plane pours water to extinguish a wildfire in Ojen on August 31, 2012.
Members of a wildfire brigade try to extinguish a fire in Bedar, a town in the Almeria region of Spain on August 26, 2012. Wildfire has since spread further down the Spanish coast towards Marbella.
Firefighters try to extinguish a wildfire in Robledo de Chavela, 60kms west of Madrid, on August 28, 2012. Some 2,000 people who were evacuated due to raging wildfires in the west of Madrid were allowed to return to their homes three days later.
Wildfire grips Spain
Wildfire grips Spain
Wildfire grips Spain
Wildfire grips Spain
spanish wildfires 06
Wildfire grips Spain
STORY HIGHLIGHTS
Thousands of people are evacuated in the Marbella area of the Costa del Sol
The forest fire broke out Thursday to the north of the resort town
A charred body has been found and two people have been injured, authorities say
Are you affected by the wildfire? Send your photos and stories here.
(CNN) -- Thousands of people were evacuated from the coast of southern Spain on Friday as a wildfire menaced the wealthy resort town of Marbella, local authorities said.
About 4,000 people were evacuated from the village of Ojen and an additional 2,000 people from the eastern part of Marbella, said Maria Jose Figueira, a spokeswoman for Marbella's government.
The fire has been brought under control in Marbella but continues to rage out of control north of Marbella near Ojen and Coin, Figueira said.
At least one person is feared dead after a charred body, thought to be that of an elderly man, was found in Ojen, she told CNN. An injured German couple has been admitted to the Carlos Haya Hospital in Malaga, she added.
The wildfire started Thursday in Coin, to the north of Marbella, Figueira said.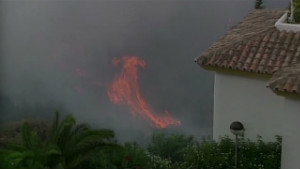 Thousands flee wildfire on Spanish coast
It was at its most intense at noon Friday near the villages of Ojen, Coin and Monda, Spain's Efe news agency reported.
A racetrack in Marbella and a sports center in the Monda area have been set up as shelters for those forced to leave their homes, the news agency said.
However, those previously ordered to leave their homes in Marbella can now return, Figueira said.
The Costa del Sol, in Spain's Andalucia region, is popular with visitors for its Mediterranean beaches and sunshine, and is home to large numbers of expatriates, particularly from Britain.
The UK Foreign Office said it was working with Spanish authorities.
"We estimate that several hundred British nationals have been evacuated, including some 300 who have been relocated to evacuation centers in the La Cala de Mijas and Calahonda areas," a Foreign Office spokeswoman said.
Marbella, studded with luxurious villas, is known as a destination for the rich and famous.
Monda and Ojen lie in the foothills of the Sierra de las Nieves, a mountainous area designated a UNESCO Biosphere Reserve in 1995, according to the Costa del Sol Tourist Board.
Greek island fights fires, drop in tourism
Wildfires challenge firefighters in northern California
CNN's Laura Smith-Spark contributed to this report.