Big thrills at theme parks
Join the conversation
CNN iReport
updated 2:22 PM EDT, Mon September 3, 2012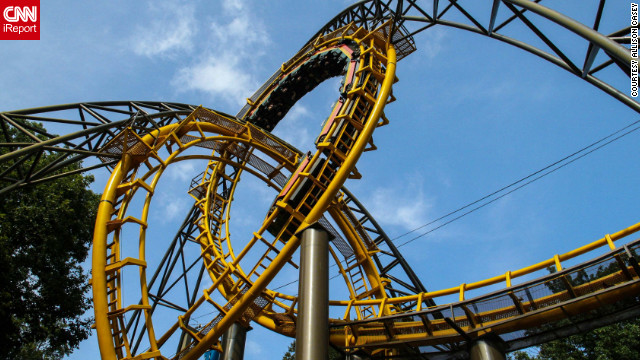 The Loch Ness Monster is one of
Allison Casey's favorite rides
at Busch Gardens in Williamsburg, Virginia. "It's not gimmicky or the kind that will scare the pants off of you, it's just super fun."
shot this photo
of the Corkscrew at Cedar Point in Sandusky, Ohio. "I loved that even though the coaster has some age on it (it opened in 1976) it still has a very smooth ride and can give you the thrill that all coaster fanatics love, not to mention the beautiful photographic views you can get from this coaster!" she writes.
Michele Hancock
Julius Levy rode Shambhala
in Salou, Spain. It's PortAventura's newest roller coaster and the tallest coaster in Europe.
braved the Vertigo
at Michigan's Upper Peninsula State Fair.
Jason Asselin's sons
photographing rides at night
at the Nottingham Goose Fair in England. "I love taking pictures and playing with the lights at amusement parks."
Roberta Cucchiaro had fun
"The swing takes (you) beyond the mountain cliff into the abyss," writes Sandhya Verma of the
Giant Canyon Ride
in Glenwood Springs, Colorado. Verma was too scared to go on the ride herself, but her sister and her husband rode twice, once with their eyes closed and the second time with them open.
took this shot on Big Thunder Mountain Railroad
at Walt Disney World in Orlando, Florida. "It's really amazing at night because the caves are eerily dark, and then you come out of the caves and up over a hill and you can see Cinderella Castle in all of its colorful nighttime glory."
Melissa Sue Sorrells Galley
took this photo at Coney Island
in Brooklyn, New York. "Roller coasters are generally my favorite amusement park rides, and the Cyclone is lots of fun to ride."
Rene Carson
Busch Gardens
Cedar Point
PortAventura
Michigan fair
Nottingham Goose Fair
Glenwood Caverns Adventure Park
Walt Disney World
Coney Island
(CNN) -- Take advantage of the long weekend with a jolt to your senses. We asked iReporters to share photos of their favorite theme park thrills.