Here's to these porcelain gods
updated 4:29 PM EDT, Fri August 31, 2012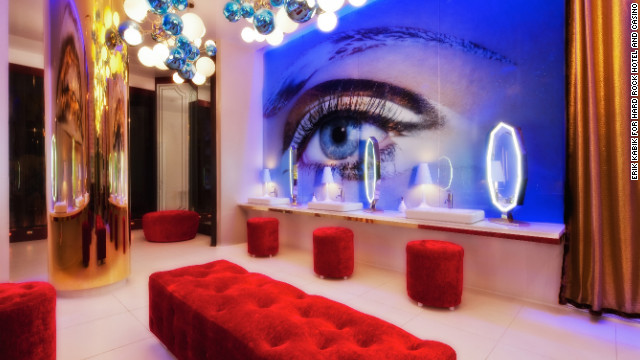 The Hard Rock Hotel and Casino's Vanity Nightclub features eye-catching vanity stations as part of its 2,000 square-foot luxury ladies' room. Gold-plated faucets and a $40,000 chandelier add some shine to the porcelain palace.
Buc-ee's convenience store in New Braunfels, Texas, offers a less glitzy experience, but customers laud the store for cleanliness and its 83 stalls keep any unlikely lines moving.
Wooden barrels house sinks in the unisex washroom at Mie N Yu in Georgetown. The rustic restroom is an extension of the restaurant's exotic blend of influences. In the dining room, themed spaces, from a Turkish tent to a Venetian lounge, cocoon diners.
From floor to ceiling, glass mosaic tiles give the lobby restroom at the Radisson Blu in Chicago a dizzying reflective punch.
At this former grocery store turned stylish bistro in Gilbert, Arizona, each of the five unisex restroom stalls features a distinctive design and a coordinating playlist. Punk rock is played in this little ode to a roadhouse.
The facilities at Virginia Tech's stadium received a major update in 2010, complete with digital mirrors displaying school and sponsor messages to a captive audience.
The restrooms supporting this 18,000-seat venue recently received an update mirroring the 1920s style of the Hollywood Bowl's shell and stage. Green floors the color of the native Toyon tree help define the space.
Bohemian flair carries over to the restroom at Gitane, which means "gypsy woman" in French.
A hand-painted door welcomes ladies to the restroom at Da Marino, which evokes the Italian Renaissance within its narrow walls.
Glossy white doors contrast dramatically with black walls in the Walker Art Center's sleek restrooms.
Vanity Nightclub, Las Vegas
Buc-ee's, New Braunfels, Texas
Mie N Yu Restaurant, Washington
Radisson Blu Aqua Hotel, Chicago
Liberty Market, Gilbert, Arizona
Lane Stadium/Worsham Field, Blacksburg, Virginia
Hollywood Bowl, Hollywood, California
Gitane Restaurant, San Francisco
Da Marino Ristorante Italiano, New York
Walker Art Center, Minneapolis, Minnesota
STORY HIGHLIGHTS
When you gotta go, these are the toilets you're looking for across the country
The Field Museum in Chicago was named winner last year
A clean bathroom can influence a customer's opinion of a business
(CNN) -- Will the Hollywood Bowl take the throne? Or will the fans of the Walker Art Center in Minneapolis turn out to worship their porcelain gods? Or perhaps the Vanity Nightclub in Las Vegas will win for its fancified facilities.
When you gotta go, these are the restrooms you're looking for.
These locales are among the public restroom facilities nominated for the 11th Annual Cintas' America's Best Restroom awards. Other nominees include Gitane Restaurant in San Francisco; Mie N Yu Restaurant in Washington; Radisson Blu Aqua Hotel in Chicago; Da Marino Ristorante Italiano in New York; Buc-ee's in New Braunfels, Texas; and Lane Stadium/Worsham Field at Virginia Tech in Blacksburg, Virginia.
10 of America's best historic restaurants
The nominees were flushed out by a team of survey editors, who narrowed public submissions down to the top 10 based on cleanliness, visuals, innovation, function and design. The contest is open to any non-residential restroom accessible to the general public.
Cintas sells hygiene products and services to businesses that cater to the public including restaurants, airports and hotels.
"If a company takes care of its restrooms, that's great for Cintas but it's also a benefit to the organization because consumers judge the places they frequent based on such factors as the cleanliness of their restrooms," writes Sabrina Zimring, Survey Editor of Cintas' America's Best Restroom Contest, in an e-mail.
While Buc-ee's and Radisson are Cintas customers, the company says that doesn't have any impact on the results: Members of the general public vote for the finalists online and determine the winner by popular vote.
Take a tour of the finalists through our gallery above or go to the contest site for a photographic tour to choose your King of the Throne.
The Field Museum in Chicago, which was last year's top loo, may be hard to top.
The museum boasts ground floor men's and women's bathrooms that are connected by a family restroom, accessible to both male and female visitors. There are changing tables in bathrooms for both men and women and smaller toilets and sinks for younger visitors. And there are even museum displays for people wanting to linger in the bathrooms.
"People come in for our dinosaurs, mummies and gems, and last year, they were coming here for our bathrooms," says Field Museum spokeswoman Emily Waldren, who reports that a plaque describing the award has been discreetly placed outside the ground floor bathroom. "I hear people walk by and say, 'These are the best restrooms in America.' "
Vote for your favorite U.S. facility through October 26 and make nominations for next year's contest.
There's also a Canadian contest for residents to vote for the best "toilette" in all of Canada for the third year running. The Toronto restaurant e11even took the top toilet award last year, while the Cactus Club Cafe in Vancouver won in 2010.
Whose facilities would you nominate as top toilet?

Part of complete coverage on
CNN recommends
updated 8:51 AM EDT, Mon April 22, 2013

Get out and see what draws wilderness lovers to the United States.
updated 11:27 AM EST, Mon February 4, 2013

Check out daily travel photos from CNN.com readers and share your best shots
updated 7:44 AM EDT, Sun April 7, 2013

In the 1950s and '60s, the ocean liner SS United States was the choice of movie stars, famous musicians and kings.
updated 8:22 AM EDT, Fri April 26, 2013

The worn-down, travel-weary businessperson is looking for proximity, convenience and comfort in an airport hotel. There's little time to waste.
updated 9:36 AM EDT, Mon April 29, 2013

You heard of the two guys who recently opted in to a two-year, $1.5 million holiday? These are some of the sights they'll be privy to.
updated 7:47 AM EST, Wed February 6, 2013

He's an 82-year-old "redneck hillbilly" who's been scratching an itch to go fast his whole life. Now he's got his own Gulfstream G650.
updated 8:45 AM EDT, Fri October 19, 2012

Gross is everywhere. It's in the food we eat, it's in nature, and of course, we ourselves might be the greatest source of grossness.
updated 8:13 AM EST, Fri March 1, 2013

We asked readers to share photos of their favorite beaches. Relax and enjoy.
updated 9:01 PM EDT, Fri July 27, 2012

When five teenagers sat down and posed for a picture at Copco Lake in 1982, they didn't plan on making it a tradition. But that's what it became.