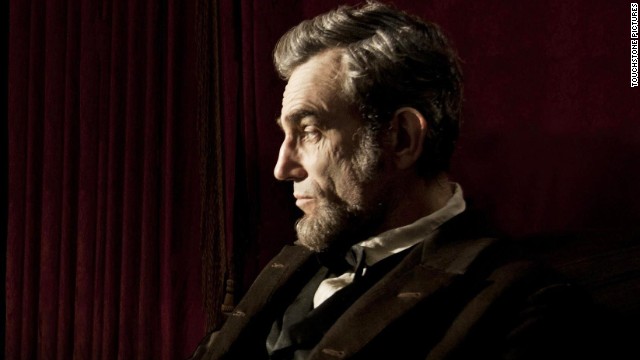 Daniel Day-Lewis won the best actor Academy Award for playing the 16th U.S. president in "Lincoln," which also took home the production design Oscar. The Steven Spielberg-directed drama also stars British actor Jared Harris as Ulysses S. Grant.
Bill Murray plays Franklin D. Roosevelt in "Hyde Park on Hudson." The dramedy focuses on FDR's relationship with Margaret Suckley, better known as Daisy (Laura Linney). British actress Olivia Williams plays Eleanor Roosevelt in the film, set in 1939.
Robin Williams was photographed on the New Orleans set of "The Butler" last year. The movie tells the story of a longtime White House butler. Williams, who sports a bald cap for his role as Dwight Eisenhower, is
one of many actors
who'll portray a president in the film. This isn't the 61-year-old's first time playing commander-in-chief. He played Theodore Roosevelt in the "Night at the Museum" franchise.
Greg Kinnear was nominated for an Emmy for his role as John F. Kennedy in "The Kennedys." Katie Holmes plays Jackie Kennedy. The 2011 miniseries was met with mixed reviews. The Washington Post's Hank Stuever wrote that it "sketches its characters with the precision of a fat Sharpie marker."
Slant Magazine's Chris Cabin
wrote, "This middling look at the stormy relationship between Prime Minister Tony Blair and President Bill Clinton features both expert mimicry from Dennis Quaid and Hope Davis and Peter Morgan's most unfocused, overly ambitious script to date."
Dennis Quaid plays Bill Clinton, opposite Michael Sheen's Tony Blair, in the 2010 TV movie "The Special Relationship."
Frank Langella was nominated for an Academy Award for his performance as Richard Nixon in 2008's "Frost/Nixon." The Ron Howard drama revisits Nixon's interviews with British talk show host David Frost, who is played by Michael Sheen.
Paul Giamatti plays the title character in 2008's "John Adams." The Emmy- and Golden Globe-winning miniseries also features David Morse as George Washington and Stephen Dillane as Thomas Jefferson.
Tom Selleck ditched his mustache for 2004's "Ike: Countdown to D-Day." In the Robert Harmon-directed TV movie, about the months leading up to Operation Neptune, Selleck plays Gen. Dwight D. Eisenhower before becoming the 34th president of the United States. "A&E's comprehensive production is anything but dull,"
Variety's Laura Fries
wrote of the film, which was nominated for six Emmy Awards.
Dan Hedaya plays Richard Nixon in 1999's "Dick." Two young girls (Michelle Williams and Kirsten Dunst) act as Deep Throat in this parody of the Watergate scandal.
Anthony Hopkins plays John Quincy Adams in 1997's "Amistad," directed by Steven Spielberg. Hopkins' portrayal earned him an Academy Award nomination for best actor in a supporting role. The actor also played Richard M. Nixon in 1995's "Nixon."
Daniel Day-Lewis
Bill Murray
Robin Williams
Greg Kinnear and Katie Holmes
Dennis Quaid
Josh Brolin
Frank Langella
Paul Giamatti
Tom Selleck
Dan Hedaya
Anthony Hopkins
Gary Sinise