Appeals court: Judge in Trayvon Martin case must step down
updated 5:50 AM EDT, Thu August 30, 2012
STORY HIGHLIGHTS
Defendant George Zimmerman had appealed for a new judge
The court agrees that judge put Zimmerman in reasonable fear of a fair trial
Zimmerman's lawyers say the judge disparaged their client
Zimmerman is charged with murder in the death of Trayvon Martin
(CNN) -- A Florida appeals court granted George Zimmerman's request for a new judge Wednesday, saying the original judge's remarks put Zimmerman in reasonable fear of a fair trial.
Zimmerman, 28, is charged with second-degree murder in the February 26 shooting death of teenager Trayvon Martin.
Zimmerman's attorneys wanted Seminole County Circuit Judge Kenneth Lester removed, saying language he used in a bail order disparaged their client's character and held over his head the threat of future criminal proceedings.
The Fifth District Court of Appeal agreed, and Lester must now step down.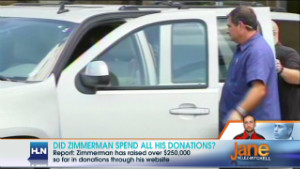 Did Zimmerman spend his donations?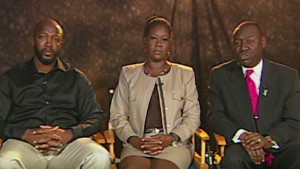 Tracy Martin on talking to Zimmerman: No
There was no immediate response to the ruling from either Lester, prosecutors or Zimmerman's attorneys.
Lester revoked Zimmerman's original $150,000 bond after learning Zimmerman and his wife, Shellie, failed to disclose more than $100,000 in donations from the public.
The judge then set a new bail of $1 million in July, and it was the language in that bail order that Zimmerman and his lawyers took issue with.
The court agreed with Zimmerman's attorneys that Lester "made gratuitous, disparaging remarks about Mr. Zimmerman's character; advocated for Mr. Zimmerman to be prosecuted for additional crimes; offered a personal opinion about the evidence for the prosecution; continued to hold over Mr. Zimmerman's head the threat of future contempt proceedings, and ultimately set a bond at $1,000,000."
The appeals court also agreed that Lester's remarks "created reasonable fear in Mr. Zimmerman that the court is biased against him, and, as a result of this prejudice cannot receive a fair and impartial trial or hearing by the trial court."
Florida prosecutors mistakenly release confidential Zimmerman case documents
In his July bail order, Lester wrote that "under any defnition, the defendant has flouted the system" and "tried to manipulate the system when he has been presented the opportunity to do so."
Lester also wrote that it was his "personal opinion" that Zimmerman intentionally gave false or misleading information in his bail application -- which is a felony -- and he suggested the possibility of future contempt proceedings.
"Holding this over Mr. Zimmerman creates a horrible chilling effect on this case, on the defense presentation, and cements Mr. Zimmerman's fear that he will not get a fair trial from the trial court," the appeals court wrote.
Zimmerman is free after posting the $1 million bond.
The former neighborhood watch captain has pleaded not guilty to the charges and said he shot the 17-year-old Martin in self-defense after Martin attacked him. Martin, who was unarmed, was walking through a gated neighborhood in Sanford, Florida, to his father's girlfriend's house when he was killed.

Part of complete coverage on
Trayvon Martin shooting
updated 10:51 AM EST, Tue February 26, 2013

February 26, 2012. That was the day two strangers -- Trayvon Martin, and George Zimmerman -- met for the first and only time.
updated 10:47 AM EST, Tue February 26, 2013

The shooting death of Trayvon Martin one year ago continues to resonate among the consciousness of many Americans.
updated 1:16 PM EST, Tue February 26, 2013

The final, violent moments in the life of their son, Trayvon Martin, no longer dominate the national news, as they once did.

One year after an explosion of press attention, the question seems obvious: Has the news media learned anything about covering race issues in the wake of the Trayvon Martin shooting?
updated 8:55 AM EDT, Thu March 22, 2012

Supporters of Trayvon Martin rallyed in New York's Union Square during a "Million Hoodie March" on Wednesday, March 21, 2012.
updated 4:00 PM EST, Tue February 26, 2013

"Murderer," one e-mail's subject line said. These venom-drenched words are just a smattering of at least 400 e-mails and letters, all sent to George Zimmerman over the past 10 months.

The shooting of Trayvon Martin prompted Florida, and other states, to take another look at the law pivotal to this case, the so-called "stand your ground" law.
updated 7:55 AM EDT, Thu July 19, 2012

George Zimmerman gave his first television interview, saying he had to act after Trayvon Martin said "you are going to die tonight" and reached for Zimmerman's gun holster.
updated 11:13 AM EDT, Fri May 18, 2012

Florida, urged prosecutors to take George Zimmerman into custody after arguing his killing of Trayvon Martin was "ultimately avoidable."
updated 8:50 AM EDT, Wed May 9, 2012

The police chief in Sanford, Florida, said communities should "take a good, hard look at who is selected" for neighborhood watch programs.
updated 11:33 AM EDT, Fri March 30, 2012

Just like most any other teenager, Trayvon Martin enjoyed listening to music, going to the movies and the roller rink with his friends, friends and family said.

The Martin case renewed scrutiny of Florida's 2005 "Stand Your Ground" law -- and others like it.
updated 10:10 PM EDT, Wed April 18, 2012

The judge in George Zimmerman case has received high ratings from defense lawyers but isn't known as a "soft touch."
updated 5:31 PM EST, Mon December 3, 2012

See photos of an injured George Zimmerman that his attorneys say it were taken the night unarmed teen Trayvon Martin was killed in Sanford, Florida.