John Mayer's love life: A timeline
updated 11:31 AM EDT, Wed October 17, 2012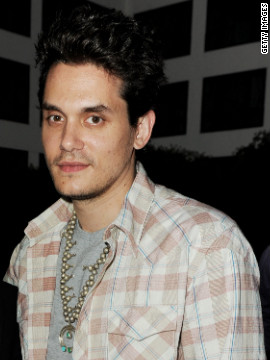 Happy birthday, John Mayer. The singer, who turned 35 on Tuesday, October 16, spent the big day with Katy Perry in New York City. Here's a look at Mayer's famous flings:
After reportedly going their separate ways, it seems Mayer and Perry are hanging out again. Though neither party has confirmed they are, in fact, an item, they have been
Rolling Stone
that Swift's track "Dear John" made him "feel terrible" ... "because I didn't deserve it. I'm pretty good at taking accountability now, and I never did anything to deserve that. It was a really lousy thing for her to do." However, Swift has never officially confirmed that the song is about Mayer.
John Mayer and Taylor Swift were romantically linked in 2009 and 2010. In June, Mayer told
Rolling Stone
in June. The breakup "was one of the worst times of my life."
Mayer dated Jennifer Aniston on and off in 2008 and 2009. "I've never really gotten over it," he told
as the two were seen strolling hand in hand
. The actress has since been romantically linked to Derek Jeter and Wilmer Valderrama.
Mayer reportedly dated Minka Kelly in 2007,
Mayer and Jessica Simpson were first linked in summer 2006. They were photographed together at Christina Aguilera's New Year's Eve party, but broke up later that year.
Entertainment Weekly
, "My body is far from a wonderland. My body is more like a pawnshop. There's a lot of interesting things put together, and if you look closely you'd probably be excited, but at first glance, not so much."
Mayer reportedly wrote "Your Body Is A Wonderland" about Jennifer Love Hewitt, whom he dated in 2002. In 2007, the actress told
John Mayer's exes
Katy Perry
Taylor Swift
Jennifer Aniston
Minka Kelly
Jessica Simpson
Jennifer Love Hewitt