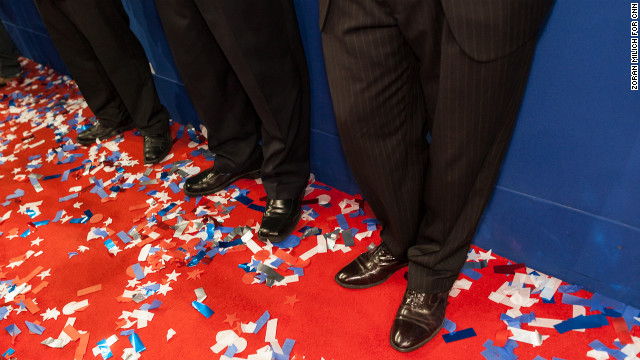 Confetti remains on the floor of the Republican National Convention after presidential nominee Mitt Romney delivered his acceptance speech on Thusday, August 30. Photographer Zoran Milich wandered around Tampa this week during the convention. Look back at his view of the action.
A reflection of the National Debt Clock is seen as Mitt Romney speaks on the last night of the convention.
Balloons and confetti drop after Romney's speech.
A Mitt Romney cutout rides in the front seat of a van advertising a "nude lounge" during the Republican National Convention on Thursday.
Texas delegate Read King kisses his son Benjamin on Thursday.
Californian Kaden Tollestrup, great-nephew of Mitt Romney, strikes a pose for his family on the floor of the convention.
DeLeon Sheffield photographs balloons set to fall from the roof during Thursday night's closing performance with her ensemble with BeBe Winans.
A worker cleans the convention hall on Thursday, the morning after Paul Ryan's speech.
The debt clock is on display in the convention hall.
A sign marking the Ohio delegation sits on empty seats on the floor of the convention hall.
Former Minnesota Gov. Tim Pawlenty's speech at the convention is televised at a pizza bar in Tampa's Ybor City district on Wednesday, August 29.
People try on hats at Riverside Park in Tampa on Wednesday, August 29.
A protester sits in his car in Ybor City. During a summer road trip, Republican presidential nominee Mitt Romney once put his family dog in a cage and perched it atop the family car.
Alfred Moreno rolls a cigar in Ybor City, a historic neighborhood in Tampa known for its nightlife.
A Romney cutout is wrapped with the American flag on the floor of the convention.
Romney cookies are sold outside the convention center where protesters are gathered.
A new sign is brought in to be set up in the convention center.
A phone labeled "Moscow" sits in the press center at the Republican National Convention.
Texas delegates sit on the floor of the Republican National Convention on Tuesday, August 28.
A Mitt Romney supporter rests her feet after a long day at the Republican National Convention.
California delegate Don Genhart shows off his American flag cowboy boots.
Lighters are confiscated during security checks at the Republican National Convention. They can be reclaimed upon exiting.
Washington state delegates Trin Wilbur and Jeff McMorris dance on the convention floor.
Jaclyn Tupek wears a Lady Liberty hat at a Ron Paul gathering a few blocks from the Tampa Bay Times Forum.
Ron Paul supporters hold hands at a rally for the only challenger to Mitt Romney who has not conceded.
Mitt Romney's motorcade arrives in Tampa as the Republican National Convention gets under way.
A painting of former President Ronald Reagan sits in a hallway at the Embassy Suites in Tampa, where many Republicans are staying during the convention.
New Jersey Gov. Chris Christie casts a shadow on a Romney/Ryan campaign sign while speaking to delegates from Michigan. Christie will deliver the convention's keynote address Tuesday night.
Tampa security forces line up to block a small group of demonstrators on Monday, August 27.
Texas delegates Jason Kute and Stephanie Traska hang on to their hats in the windy Florida city.
Riot police walk through the rainy streets of Tampa on Monday.
A shirtless protester stands in the rain in front of a police line.
One of many message-covered vehicles drives through the streets of Tampa.
Images of Romney appear on the podium Monday at the gavel opening of the RNC.
Actor and active Republican Jon Voight arrives at the Tampa Bay Times Forum on Monday.
An electrician at the Tampa Bay Times Forum fixes a light as a limo driver awaits Republican delegates.
Republicans attend the gavel opening Monday. The full proceedings of the first day were canceled because of Tropical Storm Isaac.
Republican Allen Johnson of Texas watches the gavel opening. The seven-minute session went into recess until Tuesday.
A billboard opposing Mitt Romney stands among palm trees Monday.
Former Republican presidential candidate Herman Cain, left, with support from his assistant, signs a photograph of himself for political fan Kieth Klickna.
Hand puppets of Mitt Romney, Newt Gingrich and Ron Paul are for sale in Tampa.
Christine Gill from Alaska poses for a picture at a party Sunday, August 26, at Tampa's Tropicana Field.
Convention-goers gather at Tropicana Field for a convention opening party Sunday night.
Larry Mazza of the local carpenters union cleans up wood chips at the Tampa Bay Times Forum.
Mark Anthoney sells buttons for Mitt Romney supporters on Sunday, August 26.
A T-shirt bashing President Barack Obama and the Democratic Party mimics the logo of "The Sopranos," a television series revolving around a fictional Mafia family.
The teleprompter is tested Sunday at the Tampa Bay Times Forum.
Storm clouds brew Saturday over the Lightning statue in Tampa. As Tropical Storm Isaac (now a hurricane) drew closer, officials decided to push back Monday's scheduled start of the RNC by one day. The storm took a westward path, however.
Mounted police horses from across Florida gear up for the convention.
A pro-Ron Paul Corvette cruises the streets of Tampa.
A Great Dane, Dora, is held back as she jumps for the table during a Dogs Against Romney protest on Sunday.
Young men visiting the convention center run in the rain.
A chalk message is left by protesters a few blocks from the Tampa Bay Times Forum.
House band leader G.E. Smith arrives at the convention center Saturday with a pair of guitars.
Conversion tech Kevin Losier carries a recycling bin shaped like a bottle of Coke.
As Tropical Storm Isaac loomed on Saturday, laborers awaited a decision on whether to tear down tents or continue building them.
Motorcyclists roll into Tampa on Saturday.
Brett Burge removes the vision block on a fence Saturday because of the threat of Tropical Storm Isaac.
Pro-Democratic Party advertisements move through Tampa ahead of the Republican National Convention.
The Original Hooters restaurant welcomes the RNC.
Unconventional: Postcards from Tampa
Unconventional: Postcards from Tampa
Unconventional: Postcards from Tampa
Unconventional: Postcards from Tampa
Unconventional: Postcards from Tampa
Unconventional: Postcards from Tampa
Unconventional: Postcards from Tampa
Unconventional: Postcards from Tampa
Unconventional: Postcards from Tampa
Unconventional: Postcards from Tampa
Unconventional: Postcards from Tampa
Unconventional: Postcards from Tampa
Unconventional: Postcards from Tampa
Unconventional: Postcards from Tampa
Unconventional: Postcards from Tampa
Unconventional: Postcards from Tampa
Unconventional: Postcards from Tampa
Unconventional: Postcards from Tampa
Unconventional: Postcards from Tampa
Unconventional: Postcards from Tampa
Unconventional: Postcards from Tampa
Unconventional: Postcards from Tampa
Unconventional: Postcards from Tampa
Unconventional: Postcards from Tampa
Unconventional: Postcards from Tampa
Unconventional: Postcards from Tampa
Unconventional: Postcards from Tampa
Unconventional: Postcards from Tampa
Unconventional: Postcards from Tampa
Unconventional: Postcards from Tampa
Unconventional: Postcards from Tampa
Unconventional: Postcards from Tampa
Unconventional: Postcards from Tampa
Unconventional: Postcards from Tampa
Unconventional: Postcards from Tampa
Unconventional: Postcards from Tampa
Unconventional: Postcards from Tampa
Unconventional: Postcards from Tampa
Unconventional: Postcards from Tampa
Unconventional: Postcards from Tampa
Unconventional: Postcards from Tampa
Unconventional: Postcards from Tampa
Unconventional: Postcards from Tampa
Unconventional: Postcards from Tampa
Unconventional: Postcards from Tampa
Unconventional: Postcards from Tampa
Unconventional: Postcards from Tampa
Unconventional: Postcards from Tampa
Unconventional: Postcards from Tampa
Unconventional: Postcards from Tampa
Unconventional: Postcards from Tampa
Unconventional: Postcards from Tampa
Unconventional: Postcards from Tampa
Unconventional: Postcards from Tampa
Unconventional: Postcards from Tampa
Unconventional: Postcards from Tampa
Unconventional: Postcards from Tampa
Unconventional: Postcards from Tampa
Unconventional: Postcards from Tampa
Unconventional: Postcards from Tampa