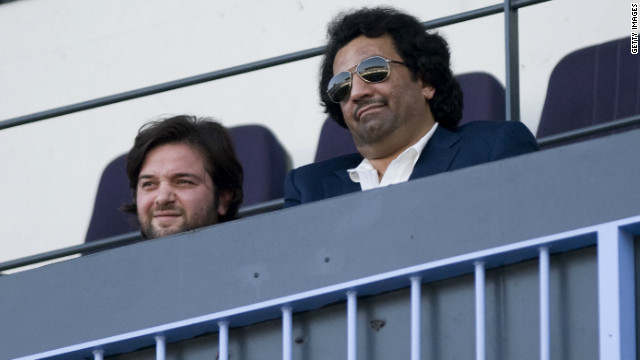 Sheikh Abdullah Al Thani (right) purchased Spanish La Liga team Malaga in June 2010 and proceeded to spend millions bringing top players to the Costa del Sol.
Under the guidance of former Real Madrid coach Manuel Pellegrini, players such as Santiago Cazorla and Dutch defender Joris Mathijsen helped Malaga finish fourth and qualify for the Champions League for the first time. However, Pellegrini was reportedly not paid for several months this year, while sporting director Fernando Hierro quit in May.
As Malaga began cutting costs, the big-name players left the club. Cazorla was transferred to English team Arsenal, while Mathijsen returned to his native Netherlands with Feyenoord.
Malaga's fans have been left in the dark where Al Thani and the club's future is concerned. Some supporters accused journalists of attempting to destabilize the team with stories of wages not being paid.
Malaga earned a 1-0 win over newly-promoted Celta Vigo on the Spanish season's opening weekend, but Pellegrini's team needed a goal from 16-year-old substitute Fabrice Olinga to secure victory.
The Sheikh's spending spree
Powered by Pellegrini
Cashing in on Cazorla
Fan fury
The kids are alright
STORY HIGHLIGHTS
Qatar's Sheikh Abdullah Bin Nasser Al-Thani bought Malaga in June 2010
Malaga finished last season fourth in La Liga -- the highest position in the club's history
The Costa del Sol team face Panathinaikos in a European Champions League qualifier
Al Thani has ceased investment in the team, following a spending spree 12 months ago
(CNN) -- Over the last decade, Europe's football clubs have become the new must-have accessory for any billionaire itching to blow a significant chunk of their wealth.
European champions Chelsea, English title winners Manchester City and French team Paris Saint-Germain have all been transformed by benefactors willing to splash out on world-class players.
Another example is Spanish team Malaga, which has gone from La Liga also-rans to European Champions League qualifiers in just two years thanks to the riches of Sheikh Abdullah Bin Nasser Al-Thani.
The Qatari spent a reported $80 million in 2012 assembling a squad containing big names like Spain's double European champion Santiago Cazorla and Dutch defender Joris Mathijsen.
Are footballers on a par with bankers?
In May, Al Thani's expensively assembled team, ably led by former Real Madrid coach Manuel Pellegrini, completed Malaga's best ever season, finishing fourth in Spain's top division and qualifying for Europe's top club competition for the first time.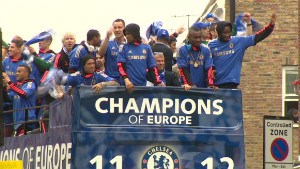 Chelsea in for title fight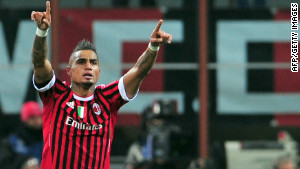 Can AC Milan rebuild this season?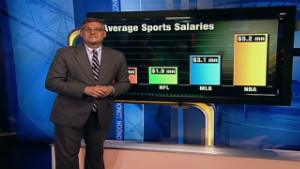 Footballers' salaries surge
But suddenly, inexplicably, while Chelsea, City and PSG's owners continued to invest, Malaga's tap was turned off.
"It is riches to rags in a very short amount of time," Spanish football journalist Tim Stannard told CNN. "No one has actually given a reason; it has been very, very quiet."
After a single season at the club, Cazorla and Mathijsen have departed to Arsenal and Feyenoord respectively.
Lionel Messi: I want to win it all with Barca
The pair, along with veteran Dutch striker Ruud van Nistelrooy and top scorer Jose Rondon of Venezuela, launched a complaint with the Spanish football authorities regarding unpaid wages.
The quartet have since withdrawn the complaint, but all four players, along with seven others, have left La Rosalera stadium.
Al Thani's interests in the Costa del Sol are not restricted purely to football. He has plans to build a "Sport City," complete with a new stadium, along with a luxury marina and hotel complex in the nearby resort of Marbella.
So why would a man of substantial means, with such an expansive vision for Malaga and the local area, suddenly get cold feet?
"I think he has lost interest and I think it stems from the fact Malaga didn't get the TV rights they wanted," George Prior, a reporter for the English version of Spanish newspaper Sur, told CNN.
"There are rumors he has lost interest because of a lack of urgency from the Spanish authorities with regards to his other projects -- the Marbella hotel, the Marbella port, the football academy he wants to set up and launch in Malaga. This has frustrated him.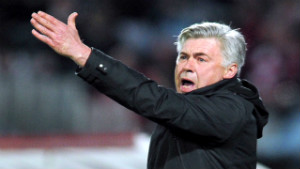 French football club spends big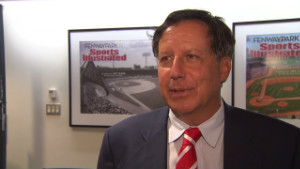 Waking a sleeping football giant
"I think he is biding his time to see what is going on with his other projects. If the sports village and the port moved forward, it might reignite his interest in the club."
Trouble has been brewing for some time. The death of long-serving official Jose Carlos Perez Fernandez in February was a blow to the club, and in May highly-regarded former Spain captain Fernando Hierro left his role as Malaga's sporting director.
"It's a personal decision which I've already informed the owners of. I think it's the right time in order not to affect future plans," the former Real Madrid star said in quotes reported by the AFP news agency.
Prior rejected the idea Al Thani could have run out of cash, suggesting his lack of investment could be an attempt to push through his ambitious building projects.
"He's one of the richest men in the Gulf," he said. "He could resolve all of the financial problems within five minutes. I think it has now become somewhat personal, which is obviously frustrating fans and frustrating the players and the manager.
"It has been mooted by the fans on social media sites. Some of the fans are saying this is him saying, 'Look what I can do' ... But there is now a worry there isn't the financial backing that was there before."
Malaga were unavailable for comment when contacted by CNN, but the official line is that the sudden cost-cutting is to ensure the club complies with Financial Fair Play regulations, a set of rules implemented by European football's governing body aimed at ensuring teams live within their means.
"Malaga Club de Futbol has begun an internal restructuring process to adapt to financial fair play standards, with the intention of guaranteeing self-sufficiency and sustainability," Malaga said in an online statement.
"This process, which does not mean any investment by the current owners has been ruled out, will involve organizational changes, to strengthen the club in the future."
For fans, Al Thani's apparent preoccupation with conforming to UEFA's new laws could not have come at a worse time.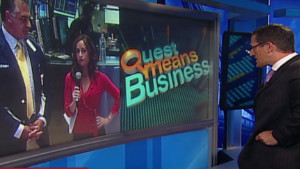 Manchester United goes public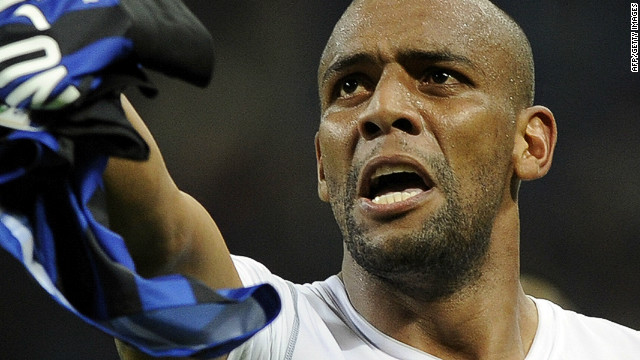 From Inter Milan to Manchester City: The reigning English Premier League champions have snapped up right-back Maicon for an undisclosed fee to help boost their bid for domestic and European honors in 2013. The Brazilian international has been at the San Siro for the past six seasons and made 235 appearances for the club.
Spurs to Hamburg: The Dutch international returns to the Bundesliga after a successful two-year spell at the north London club. Van der Vaart played for Hamburg from 2005 to 2008 before joining Spanish champions Real Madrid.
Manchester United to Fulham: With the arrival of Robin van Persie from Arsenal earlier this month, the chances of Dimitar Berbatov playing even more of a bit part at Old Trafford have only increased. Fulham have been the benefactors of Alex Ferguson's growing indifference to the player he signed for $47 million from Tottenham Hotspur in 2008. The 31-year-old Bulgarian rejected suitors in Italy, notably Juventus and Fiorentina, to stay in the English Premier League.


The $55 million paid by PSG for 19-year-old midfielder Lucas Moura broke the Brazilian transfer record for the third time this year, eclipsing the fee the French club spent on Thiago Silva and Chelsea's deal for Oscar. He will move to Paris in January, becoming the sixth Brazilian at the club.
Sao Paulo to Paris Saint-Germain


At $50.75 million, Thiago Silva is the world's most expensive defender in terms of upfront transfer fees -- though the largest including add-ons remains Rio Ferdinand's move from Leeds to Manchester United, which eventually rose to $150,000 more than the Brazilian's total). The 27-year-old spent three years in Italy with AC Milan and is an established international.
AC Milan to Paris Saint-Germain


Spain midfielder Javi Martinez completed a "complicated" move to the Bundesliga giants after activating a $50 million buyout clause in his contract that left him having to foot some of the bill.
Athletic Bilbao to Bayern Munich


Luka Modric completed his long-awaited switch from English club Tottenham Hotspur to Spanish champions Real Madrid for a reported $50 million. After attempting to force a transfer ahead of the 2011-12 season, the Croatian has finally got his move away from White Hart Lane.
Tottenham to Real Madrid
Lille to Chelsea
Eyebrows may have been raised upon seeing the size of the $49.5 million transfer fee Chelsea paid for Eden Hazard, but the 21-year-old Belgium winger is one of Europe's biggest talents, having being selected for the Ligue 1 Team of the Year three times in a row.


After a protracted saga of a transfer, Chelsea finally gave in to Internacional president Giovanni Luigi's demands and paid a Brazilian transfer record $39.25 million for 20-year-old midfielder Oscar. Only time will tell if the talented young playmaker is worth the money, but with so many creative options at Roberto di Matteo's disposal he may well have to make an immediate impact or risk spending a season on the bench.
Internacional to Chelsea


Robin van Persie, the English Premier League's top scorer last season, stunned Arsenal fans by joining rivals United for $37 million after refusing to sign a new contract.
Arsenal to Manchester United


Argentina international forward Ezequiel Lavezzi arrives at PSG with a $36.25 million price tag and a big reputation following his five years in Italy. He will link up with another former Serie A star in Zlatan Ibrahimovic.
Napoli to Paris Saint-Germain
Borussia Dortmund to Manchester United
Those who cynically write off $26.25 million signing Shinji Kagawa as nothing more than a ploy to boost United shirt sales in Asia do so at their own peril -- the 23-year-old is a top-level player with excellent credentials: two Bundesliga titles, one German Cup, an Asian Cup and more than 30 appearances for Japan.


Young England international Jack Rodwell was Roberto Mancini's first signing since winning Manchester City's first English league title in 43 years. At $24 million he is far from the most expensive player at the Etihad Stadium, but the highly-rated 21-year-old midfielder is seen as a long-term investment.
Everton to Manchester City


Until last season, Zlatan Ibrahimovic had won the league eight years in a row with five different clubs. The Sweden striker's $24 million move to PSG pushed him further ahead of Nicolas Anelka as the most expensive player of all time, with total transfers of more than $210 million.
AC Milan to Paris Saint-Germain


For the second year in a row, a key Arsenal player has been lured to Spain by Barcelona. Last August it was Cesc Fabregas, this time it's Cameroon midfielder Alex Song. The 25-year-old moved for $23.7 million on a five-year contract, with a release clause of $100 million.
Arsenal to Barcelona


Spain star Santi Cazorla was one of Malaga's marquee signings last season, but is the first of the troubled Spanish club's high-profile players to depart in the midst of financial problems. The winger's $23.5 million fee is similar what he cost when joining from Villarreal.
Malaga to Arsenal
Borussia Monchengladbach to Borussia Dortmund
Finishing fourth in both goals scored and assists last season, Marco Reus almost single-handedly pushed Borussia Monchengladbach to a fourth-place finish in Germany and Champions League football. Champions Dortmund see the 23-year-old, who cost $21 million, as the ideal replacement for Shinji Kagawa -- and if his brief appearances at Euro 2012 are anything to go by he could become much more.


After much interest from all corners of Europe, FC Twente's top-scoring target man Luuk de Jong decided to join Borussia Monchengladbach in an $18. 5 million deal. The 21-year-old, who scored 25 goals in 32 appearances last season, went to Euro 2012 but did not appear for the Netherlands.
FC Twente to Borussia Monchengladbach


With the eyes of the English Premier League's fans firmly set on the Robin Van Persie transfer saga, many have neglected the man coming in to replace him -- $18.5 million France international Olivier Giroud. For all the money PSG spent last season, it was Giroud and his 21 goals which spurred underdogs Montpellier to a first Ligue 1 title.
Montpellier to Arsenal


New Barca boss Tito Villanova acted quickly to fill the gap left since Eric Abidal's liver transplant, bringing in Spain's Euro 2012 surprise standout player Jordi Alba for a bargain $17 million to fill the left-back slot before the tournament had even finished.
Valencia to Barcelona


New Liverpool boss Brendan Rodgers paid $17 million for 21-year-old striker Fabio Borini, whose nine goals in 24 appearances at Roma earned him selection for Italy's Euro 2012 squad. He returns to Britain following an earlier loan spell with Rodgers' former club Swansea.
AS Roma to Liverpool


Lukas Podolski has left his childhood club Cologne for the second time, having struggled to make an impression at Bayern Munich following his 2006 transfer. The Germany star cost Arsenal $15.75 million after scoring 18 Bundesliga goals last season -- which was not enough for "the Billy Goats" to avoid relegation.
FC Cologne to Arsenal


A surprise star of Euro 2012, Mario Mandzukic scored three times in three games for Croatia to be the tournament's equal top scorer. Bayern paid Bundesliga rivals Wolfsburg $15.75 million for the 26-year-old striker's services.
Vfl Wolfsburg to Bayern Munich


Belgium international Jan Vertonghen is already being touted by Tottenham fans as the long-term replacement for injury-plagued former captain Ledley King in the center of defense. His protracted $11.5 million transfer could prove key to the fortunes of new Spurs boss Andre-Villas Boas.
Ajax to Tottenham Hotspur


Chelsea took its spending in the current transfer window to over $100m with the signing of Spanish full back Cesar Azpilicueta from French team Marseille.
Marseille to Chelsea


Germany midfielder Marko Marin agreed his $9.5 million move to Chelsea before last season had even finished, and the 23-year-old is expected to make a big impact for the European champions with the skills that have seen him dubbed "the German Messi."
Werder Bremen to Chelsea


Antonio Cassano has left AC Milan to join city rivals Inter, while fellow Italy striker Giampaolo Pazzini went in the other direction. Milan had to pay a reported $8.7 million extra for Pazzini, who at 28 is two years younger than his former Sampdoria teammate. Cassano, meanwhile, recovered from heart surgery to help Italy reach the final of Euro 2012.
AC Milan to Internazionale


Diego Forlan struggled to impress in his one season in Italy after seven prolific years in Spain's top flight, but the 33-year-old Uruguay striker could prove to be a free-transfer bargain in Brazil for Internacional. He was named best player at the 2010 World Cup, where he was joint top scorer, and has led the goal charts twice in Europe.
Internazionale to Internacional


Midfielder Riccardo Montolivo agreed to join Milan on a free transfer before helping Italy reach the final of Euro 2012, having spent seven years at Fiorentina.
Fiorentina to AC Milan


Turkey midfielder Nuri Sahin failed to impress in in his one season at Real Madrid after being snapped up from German champions Borussia Dortmund, and has been given the chance to kickstart his career in the English Premier League.
Real Madrid to Liverpool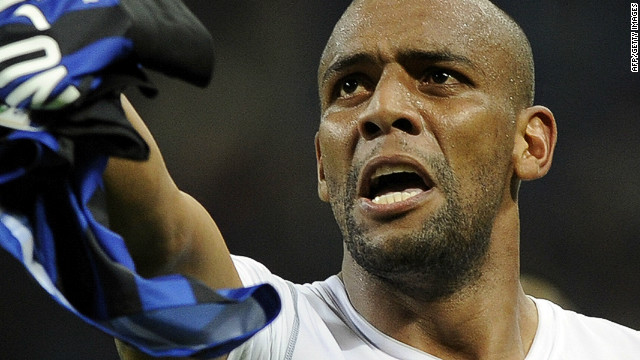 Top European football transfers
The holes which have been left in Malaga's decimated squad have already been exposed ahead of Wednesday's historic Champions League qualification first-leg match with Panathinaikos.
In Saturday's La Liga opener against newly-promoted Celta Vigo, Malaga needed a goal from 16-year-old substitute Fabrice Olinga to secure a 1-0 win.
Where last season Rondon and former Manchester United star van Nistelrooy provided firepower, now Malaga must rely on unproven young talent.
"That is how badly it has gone for them," said Stannard. "At the beginning of the transfer window there was genuine talk of signing Robin van Persie and Gonzalo Higuain. Now this kid is who they are relying on."
Rumors in the Spanish media suggested Al Thani was looking sell Malaga, with Albanian Rezart Taci thought to be heading a consortium interested in purchasing the club.
"A couple of weeks ago (Taci's) company came straight out and said there was absolutely no interest whatsoever in buying Malaga and have no idea where the story came from," explained Stannard.
"So at the moment no one else is really touching it because no one quite knows what is going on.
"There are a lot stories about Al Thani wanting to sell the club as soon as possible. But to sell it they want to reduce the amount of debt to make it a little more palatable, hence the sale of Cazorla."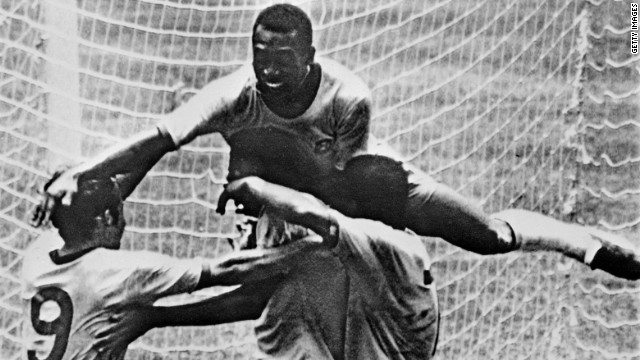 Pele (top) leaps on his teammates during Brazil's 4-1 victory over Italy in the 1970 World Cup final. The Brazil team of that tournament, which clinched a third World Cup triumph, is often heralded as one of the finest in football history.
Brazil's glorious 1970 campaign also owed much to Jairzinho, the powerful forward who scored in all six of his country's matches -- only the third man to achieve the feat at a World Cup. During the 1970 tournament, Brazil averaged a stunning 3.2 goals per game.
Captain Iker Casillas was a key part of Spain's Euro 2012-winning team. The goalkeeper was also in Spain's teams of 2008 and 2010 and was one of the reasons La Roja conceded just one goal in six games in Poland and Ukraine.
Spain's midfield pairing of Andres Iniesta (left) and Xavi (right) have epitomised the team's passing-based style. The Barcelona pair have been much-heralded throughout Spain's recent triumphs, with Iniesta being named the best player at Euro 2012.
Brazil will feel the weight of expectation when the World Cup is hosted in the country in 2014. One of the stars of the current Brazil team is forward Neymar, who has consistently been linked with a move away from Santos.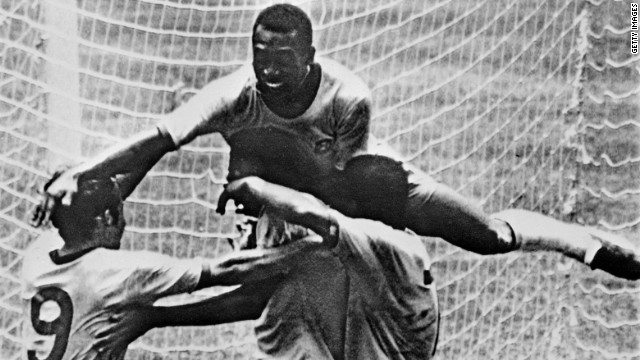 Spain 2012 vs. Brazil 1970: Who's the greatest?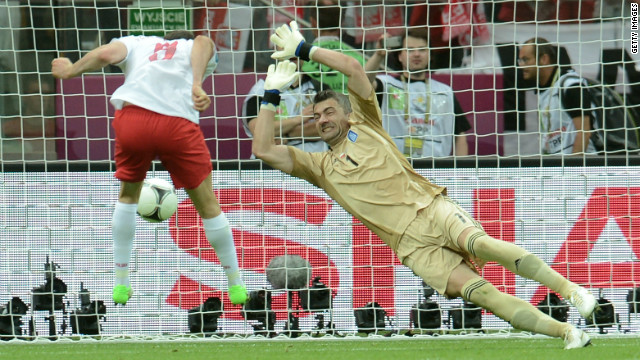 Euro 2012 sparked into life when striker Robert Lewandowski scored the first goal of the tournament against Greece. Despite a lively opening, the co-hosts had to settle for a 1-1 draw.
Ukraine were the other team to welcome Europe's finest, but the co-hosts fell behind in their opening match with Sweden. Step forward Andriy Shevchenko, the legendary striker who scored a second-half brace to delight the nation and secure a 2-1 win.
Tensions were high ahead of Poland's clash with Russia. The hosts fell behind when Alan Dzagoev headed in his third goal of the tournament, but Poland's captain Jakub Blaszczykowski fired in a stunning second-half equalizer to level the match. Despite the draw, Poland failed to make it out of the group stages.
Russia were also condemned to an early exit after 2004 champions Greece stunned Dick Advocaat's team by winning 1-0 and reaching the last eight.
Despite being heralded by some as pre-tournament favorites, the Netherlands endured a miserable campaign, losing all three of their matches in a group which included Germany, Portugal and Denmark. Coach Bert van Marwijk resigned following the country's group-stage exit.
Ukraine needed to beat England to qualify from Group D, but went behind as Wayne Rooney scored on his return from suspension. Artem Milevskiy thought he had leveled when his shot appeared to cross the goal line, but John Terry cleared and England advanced alongside France.
Cristiano Ronaldo's personal mission to beat the Czech Republic succeeded in the closing stages as he superbly headed Portugal into the semifinals of Euro 2012.
Joint-favorites Germany were far too strong for Greece in the quarterfinals, thrashing Fernando Santos' side despite resting three of their forwards for the game.
Xabi Alonso scored both of Spain's goals in the quarterfinal against France, leading the champions into a showdown with neighbors Portugal on the occasion of his 100th cap.
Andrea Pirlo was the coolest man in Kyiv as he chipped in this effort in a shootout against England. Italy advanced as Ashley Cole missed and Alessandro Diamanti fired in the decisive spot kick.
Having got the order of the takers wrong, Bruno Alves compounded his own misery by smashing his penalty against the bar as Portugal lost in the semis to Spain.
Cesc Fabregas' scuffed penalty went in off the post as Spain beat Portugal in their semifinal shootout to earn a place in the final against Italy in Kiev on Sunday.
Controversial striker Mario Balotelli was Italy's hero in the semifinals, scoring twice as the Azzurri stunned Joachim Low's Germany with a 2-1 win.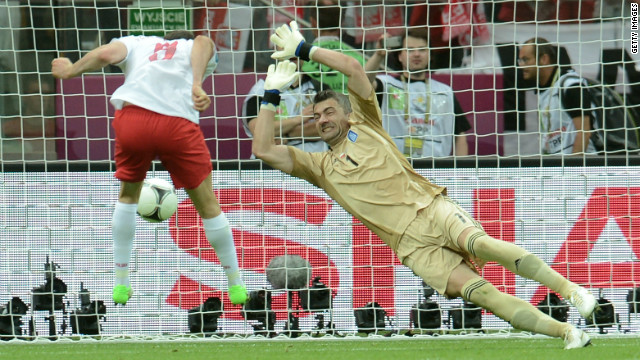 Unforgettable moments of Euro 2012
The growing uncertainty around the club has led to local journalists asking serious questions of the Malaga hierarchy.
But this has been received negatively by sections of club's support, who view the media's suspicions as an attempt by Spanish football's more established powers to destabilize the team.
"Over the summer fans were attacking local journalists -- not physically -- who were asking lots of pertinent questions which turned out to be true," said Stannard.
"National newspapers had local correspondents saying, 'Hang on a second, what's wrong with this cashflow issue? Why aren't players getting paid on time? Why aren't other clubs being paid?'
"A group of fan clubs wrote a communication saying, 'This is a campaign from Madrid, they are jealous of our success.' But it turned out to be quite correct. At the moment I think there is an awful lot of confusion."
A few short months ago, the Champions League playoff represented the start of a brave new dawn for Malaga.
Now, reaching the group stage of the world's most prestigious club competition might be the only way to return stability to a team which is endanger of slumping back from whence it came.
"I think he may very well invest again," said Prior. "If he wants something to sell on in the future, it is probably worth his while to invest in the club because he can afford it. If his other projects go ahead, that looks more likely.
"The Sheikh was an absolute hero, but in some respects he has almost gone from hero to villain in the eyes of some fans. But football fans can turn on a sixpence -- if he gets the checkbook out he could become the hero again."