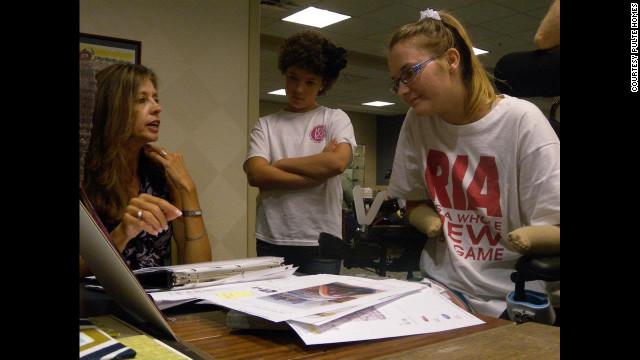 Aimee Copeland and family meet with interior designer Donna DeLuca to personalize a 1,956-square-feet home addition to their home, courtesy of Pulte Homes on July 16. Copeland, 24, went home on Wednesday, August 22, after spending two months in the hospital and then moving to rehab on July 2.
Copeland's family home had a makeover to be equipped for her special needs.
Flesh-eating bacteria patient Aimee Copeland goes outside Doctors Hospital in Augusta, Georgia, for the first time with her parents, Andy and Donna Copeland, on June 25.
After two months in the hospital, Aimee Copeland is transferred into an ambulance outside Doctors Hospital in Augusta, Georgia, on Monday to continue her recovery from a flesh-eating bacteria at a rehab facility on July 2. She stayed in a rehab center before returning home.
Medical workers prepare Copeland for release from the hospital as her mother, Donna Copeland, waits alongside. "She's been seeing those four walls inside that hospital for a long time," said Andy Copeland, her father.
Donna Copeland applies makeup to her daughter's face as they prepare for discharge Monday. Surgeons amputated most of Aimee's hands, one of her legs and her remaining foot in an effort to stay ahead of the infection.
Copeland is transported to a waiting ambulance, which took her to a rehab facility before she returned home.
Copeland bids farewell to Doctors Hospital, where she spent two months receiving treatment.
Copeland's battle began when she cut her leg on a makeshift zip line along the Little Tallapoosa River in Georgia on May 1.
Copeland waves goodbye to Doctors Hospital.
"Aimee is very excited, like a kid going off to college," her father, Andy, said Monday, "but she also realizes that rehab will be arduous. But she says she will handle it."
Aimee Copeland, left, with her family before her injuries in an undated photograph.
Aimee Copeland goes home
Aimee Copeland goes home
Aimee Copeland goes home
Aimee Copeland goes home
Aimee Copeland goes home
Aimee Copeland goes home
Aimee Copeland goes home
Aimee Copeland goes home
Aimee Copeland goes home
Aimee Copeland goes home
Aimee Copeland goes home
Aimee Copeland goes home
STORY HIGHLIGHTS
Aimee Copeland contracted the bacteria in early May when her zip line broke
She lost her hands, a leg and a foot
She spent two months in the hospital and then moved to rehab
She will live in a specially constructed wing of her parents' home
Atlanta (CNN) -- Aimee Copeland was spending her first night at home Wednesday since flesh-eating bacteria forced the amputation of her hands, leg and foot three months ago.
Copeland's first stop out of rehab was to Longhorn Steakhouse for lunch with her family, said her father, Andy. She then went to her parents' house in Snellville, Georgia, and relaxed with her sister, Paige, watching Comedy Central while their parents went shopping.
Wednesday night, she will settle into a specially outfitted wing of her parents' home that was built just for her and donated by a local homebuilder.
Father: Aimee Copeland using new prosthetics
The 24-year-old University of West Georgia graduate student was out with friends May 1 at the Little Tallapoosa River, about 50 miles west of Atlanta, when the homemade zip line she was holding snapped. She fell and got a gash in her leg that required 22 staples to close.
Three days later, still in pain, she went to an emergency room, and doctors eventually determined she had necrotizing fasciitis caused by the flesh-devouring bacteria Aeromonas hydrophila.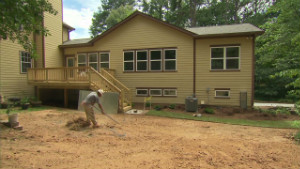 Tour Aimee Copeland's new home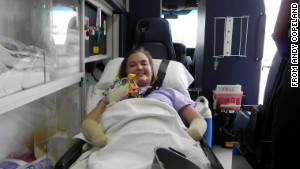 Aimee Copeland's recovery
Doctors had to carry out the amputations in order to save her life.
Copeland spent two months in an Augusta, Georgia, hospital before moving to rehab July 2.
Andy Copeland said Wednesday his daughter "loves" the 1,956-foot wing that was built for her. Pulte Homes, which constructed the addition, says the wing includes a living room, bedroom and bathroom along with a fitness room, sunroom, study room and three outdoor areas.
Andy Copeland: 'I have become a better father because of Aimee'
The wing also includes access ramps, an elevator, guide rails in the bathroom and a separate wash sink Copeland can use to clean her new prosthetics.
Copeland has been working hard on her rehabilitation, determined to live as independently as possible, her father says. The tough regimen requires 200 crunches in seven minutes, 400 leg lifts in seven minutes, and "an untold number of push-ups and something else that she calls 'planks' and 'sideplanks.' "
On his blog, Andy Copeland related his daughter's reaction when he told her he was getting a van with a wheelchair lift. Aimee wanted no part of it, he wrote. She wants to drive herself around in a Prius.
"The simple fact is that between her ears, Aimee is 100%," he wrote. "She knows that she can accomplish anything she wants and that lacking the hands or feet to accomplish such tasks is only a minor inconvenience."
Explained: Necrotizing fasciitis
A number of bacteria that are common in the environment but rarely cause serious infections can lead to necrotizing fasciitis, or flesh-eating bacteria syndrome. When the bacteria get into the bloodstream, such as through a cut, doctors typically move aggressively to excise even healthy tissue near the infection site in hopes of ensuring none of the dangerous bacteria remain.
The infection attacks and destroys healthy tissue and is fatal about 20% of the time, according to the Centers for Disease Control and Prevention.
Dr. William Schaffner, chairman of the Department of Preventive Medicine at the Vanderbilt University Medical Center, estimates that fewer than 250 such cases occur each year in the United States, though estimates are imprecise since doctors do not have to report the cases to health authorities.
Family counters struggle with faith