STORY HIGHLIGHTS
Helen Gurley Brown and Phyllis Diller, who died recently, were media groundbreakers
Both Gurley Brown and Diller came into professional success later in life
The women used their looks, in disparate ways, to gain public attention
Editor's note: Rachel Weingarten is a style expert and brand consultant. She teaches beauty history and marketing at the Fashion Institute for Technology and New York University and is the author of "Hello Gorgeous! Beauty Products in America '40s-'60s." Find her on Twitter @rachelcw
(CNN) -- Two iconic women with seemingly radically different world views died recently, leaving legacies of humor, pioneering spirit, and striking public personas.
As divergent as their styles were, former Cosmopolitan editor Helen Gurley Brown and comedian Phyllis Diller each used their appearance as a means to an end: Diller to make herself the butt of the joke, Gurley Brown to get ahead personally and professionally -- and to show generations of women how to do the same. Whether chasing beauty or mocking it, these women broke ground by reflecting and reshaping the values of their eras while paving the way for the women behind them.
Original mad women
"It's a good thing that beauty is only skin deep, or I'd be rotten to the core."
Phyllis Diller
Like Peggy Olson in the AMC TV series "Mad Men," at midcentury Diller and Gurley Brown both worked as advertising copywriters early in their careers. They each segued into more recognizable versions of themselves as they approached their 40s, carefully crafting their looks and personas into brands that would become instantly recognizable to the American public. Both women would display a penchant for plastic surgery and outlandish style, using themselves as canvases to depict the life of the modern woman.
A girly Gurley
In an era when settling into marriage and family young was the norm, Gurley Brown married at 37 and took over the helm of Cosmopolitan magazine at 43, a position she held for more than three decades. Her 1962 book "Sex and the Single Girl," was the precursor to "Sex and the City." It was also the hopeful embodiment of the "fun, fearless female" ethos later instilled in hopeful Cosmo girls everywhere.
"If you're not a sex object, you're in trouble."
Helen Gurley Brown
In reality, Gurley Brown, who died last week at 90, gave up the single life to become the devoted wife to husband David Brown until his death in 2010. (A New York Times obituary quotes her as saying, "I looked after him like a geisha girl.") But she never gave up her fun, flirty, single-girl attitude.
Throughout it all, she exhibited a carefully lacquered persona, almost painfully thin, perfectly coiffed and manicured, with the occasional nip and tuck to retain her trademark waif-like look.
Pretty ugly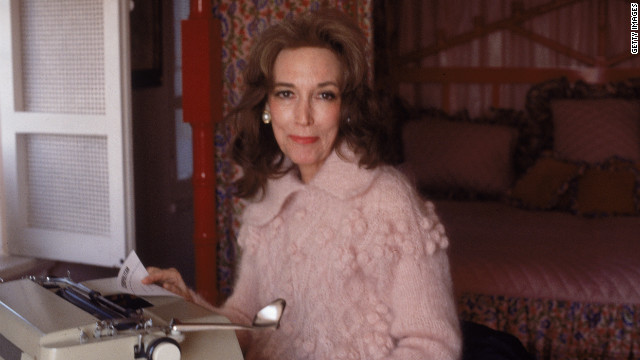 Helen Gurley Brown in her New York apartment in 1979. The former editor-in-chief of Cosmopolitan magazine and author of "Sex and the Single Girl" died on Monday, August 13. She was 90.
Gurley Brown helped turn Cosmopolitan into one of the most popular women's magazines in the world. She started in 1965 and was editor for more than three decades.
Gurley Brown in her office at Cosmopolitan in the 1960s.
Staffers present Gurley Brown with a gold record at a champagne party celebrating Cosmopolitan's millionth copy in October 1965.
Cosmopolitan's "bachelor of the month" calendar hunks carry editor Gurley Brown into the Motown Cafe in 1996. From left: Dan Herndon, Shawn Maratea, Thom O'Brien, Kirk Williams, Vinny Lamantia and David Goldman. Gurley Brown left the magazine in 1997 to become editor-in-chief of its 64 international editions.
In 2000, Gurley Brown attends a book signing to promote her book, "I''m Wild Again," at a Barnes & Noble in New York.
Gurley Brown attends the fifth annual Cosmo Fun Fearless Female Awards luncheon in 2001 at the Metropolitan Pavilion in New York.
Broadcast journalist Barbara Walters poses for a portrait with Gurley Brown and her husband, David, as they arrive for the opening night of the 2002 JVC Jazz Festival at Carnegie Hall in New York.
From left, actresses Kim Cattrall and Robin Strasser appear with Gurley Brown in 2003 at the Parkinson's Unity Walk in New York's Central Park.
Gurley Brown speaks on stage with her husband in 2004 at the Nightlife Awards Concert in New York.
Singer Lance Bass poses with Gurley Brown in 2006 at CosmoGirl's Born To Lead Awards in New York.
Gurley Brown attends the 27th annual Evening of Readings pre-gala event at Michael's Restaurant in New York on March 14, 2011.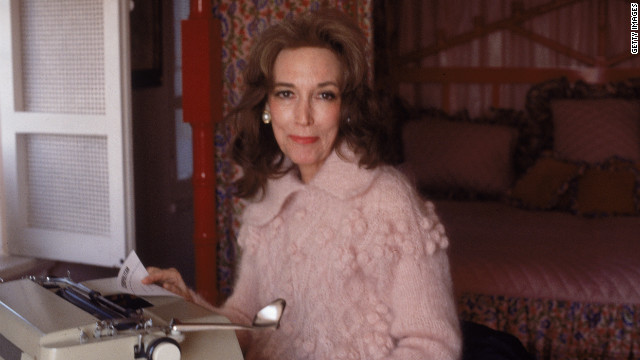 Photos: Helen Gurley Brown through the years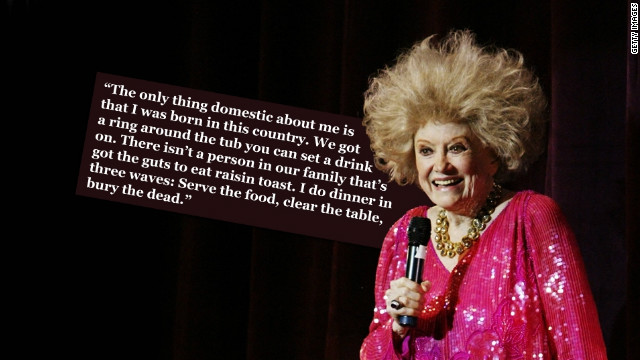 Phyllis Diller, who died this week, made an artform out of wisecracking. She was prolific, self-deprecating and slyly radical: Her jokes tended to focus on her failings as a housewife, her lack of sex appeal, and the shortcomings of an imaginary husband and overweight mother-in-law.
Phyllis Diller on housework: "The only time I ever enjoyed ironing was the day I accidentally got gin in the steam iron."
On sex: "I admit, I have a tremendous sex drive. My boyfriend lives forty miles away."
On her looks: "I was so ugly. I don't know how to tell ya: I wore a choke chain until I was 12. My own ouija board told me to go to hell. A peeping tom threw up on my window sill."
On New Yorkers: "Any time three New Yorkers get into a cab without an argument, a bank has just been robbed."
On kids: "We spend the first twelve months of our children's lives teaching them to walk and talk and the next twelve telling them to sit down and shut up."
On old age: "You know you're old if they have discontinued your blood type. Someone compliments you on your alligator shoes, and you're barefoot."
On old age: "Old age is when the liver spots show through your gloves."
On providing for your kids: "I want my children to have all the things I couldn't afford. Then I want to move in with them."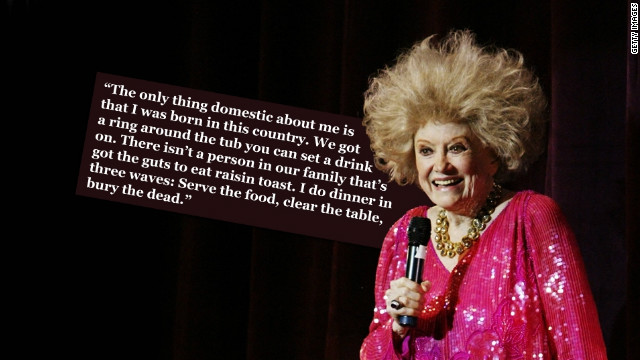 Queen of the one-liners: Late comic Phyllis Diller's funniest gags
At the age of 37, Phyllis Diller was a harried homemaker and mother of five, who followed her husband's advice to try her hand at humor writing and performing. Unlike the perfectly polished TV counterparts of her era, such as Harriet Nelson or June Cleaver, Diller presented a more realistic version of marriage and motherhood that had more in common with "The Munsters" than "I Love Lucy."
And people loved it. Diller, who passed away Monday at 95, chose not to represent a prettified version of her life, but rather the outrageous extremes of family. Fictionalized versions of family members in her act included husband Fang, mother-in-law Moby Dick and sister-in-law Captain Bligh.
Diller's exaggerated makeup and wigs and outlandish costumes deliberately disguised her plain, if not beautiful face and womanly curves. In a 2006 interview in TV Guide, Diller talks about posing for Playboy magazine. As the legend goes, the editors hoped her appearance would be played for laughs but were disappointed to discover that instead of being bony and unattractive, she was simply shaped like a woman.
Making up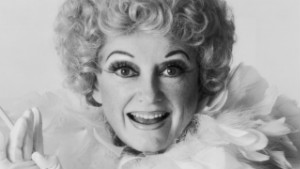 Comedienne Phyllis Diller: I'm a natural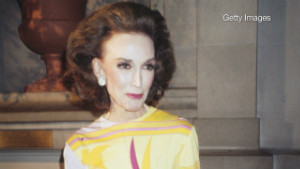 Brown: It's 'OK' to have a sex life
In a previous incarnation, I worked as a celebrity makeup artist and, among other things, worked with various Cosmo cover girls. They all seemed impossibly tall, aloof and preternaturally beautiful. I remember blushing to the roots of my hair at my first shoot after being singled out by Gurley Brown, who complimented my beautiful skin.
Helen Gurley Brown's complicated feminist legacy
In 2006, I was called out of cosmetic retirement to do the makeup for the cover of a now-defunct literary magazine celebrating female writers and editors. I was delighted to see Gurley Brown, clad in her signature fire engine red suit and fishnets.
At 84, she was frailer than I remembered, but still sizzling. I reminded her of our previous interactions and she looked at me and said, "That's well and good, and you still look pretty, but what have you done since then?" I was struck by the fact that a woman who had built an empire atop the cult of female perfection didn't think that looking pretty was enough.
Pretty powerful pioneers
Both Helen Gurley Brown and Phyllis Diller created idealized versions of themselves to sell their products. Both were groundbreaking thinkers, businesswomen and performers. In one way or another, both used their faces and bodies as their calling cards.
Gurley Brown paved the way for women like Jane Pratt to create careers and publications that celebrated the multi-faceted modern woman. She also made room for magazines including Bust and Bitch or websites like Jezebel that thumb their nose at everything she'd worked for and stood for.
Diller opened the door for comedians like Carol Burnett to ridicule the classic feminine ideal (see Burnett's riotous Scarlett O'Hara bit), and for Roseanne Barr to lead a sitcom as the anti-mom in looks, shape and demeanor.
More than that, she led the way for traditionally feminine-looking, yet frequently foul-mouthed comedians including Sarah Silverman and Chelsea Handler to be outrageous while remaining attractive.
Gurley Brown and Diller were tough and successful and lived life by their own rules. They were two sides of a coin that paid the dues for women in today's media landscape.
Share your favorite memories of Helen Gurley Brown and Phyllis Diller in the comments section below.