STORY HIGHLIGHTS
Her son, Perry, "found her with a smile on her face," her manager says
Diller's career as a stand-up comic skyrocketed in the 1960s
She was a pop culture icon for her jokes about her looks, cooking and fictional husband, "Fang"
"She was a true pioneer," her talent agent says
Los Angeles (CNN) -- Comedian Phyllis Diller, known for her self-deprecating humor, died "peacefully in her sleep" at her Los Angeles home Monday morning, her manager told CNN. Diller was 95.
Her son, Perry, "found her with a smile on her face," manager Milt Suchin said.
Diller's career as a stand-up comic, which she started at age 37, skyrocketed in the 1960s, partly because of her many appearances with Bob Hope on his television specials, USO tours and three movies.
Gilbert Gottfried: Above all else, Diller was hysterical
She became a pop culture icon for her disparaging jokes about her looks, her cooking and her fictitious husband "Fang." She wore a blonde fright wig, held a long cigarette holder as a prop and laughed with a loud cackle.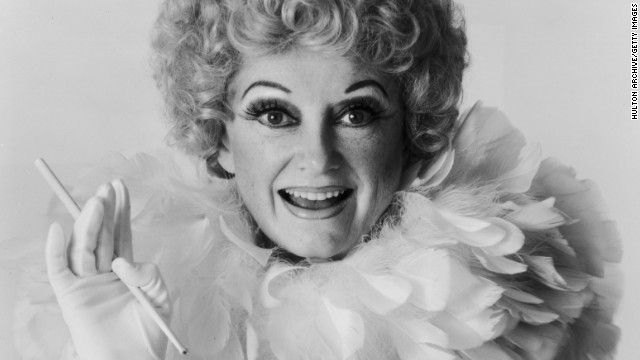 Phyllis Diller poses for a portrait in 1981 for her book "The Joys of Aging & How to Avoid Them." The pioneering comedian died at her home in Los Angeles on Monday, August 20. She was 95.
From left, actor James Stewart, Diller, Los Angeles Mayor Sam Yorty and host Johnny Carson peform on "The Tonight Show" in 1964.
Pictured in the 1960s, Diller started her career as a stand-up comedian at 37.
Bob Hope co-stars with Diller on an episode of "The Kraft Music Hall" in 1967. Her career skyrocketed in the 1960s, partly because of her many appearances with Hope on his television specials.
Diller pretends to comb her hair with an electric toothbrush. Known for her self-deprecating humor, she became a pop culture icon.
In 1968, Diller leans against her suitcases at Heathrow Airport in London. She was in the city to tape a television show and arrived at the airport with 35 suitcases.
Diller poses for a picture in 1979 before the start of the television show "Bonkers!"
In 1998, Diller attends a Playboy event in Century City, California, where Hugh Hefner was presented a Lifetime Achievement Award by the Friars Club of California.
Diller receives a "Lucy" in 2000 at Women in Film's 7th annual Lucy Awards for Innovation in Television in Beverly Hills, California.
In 2004, Diller smiles backstage before performing at a weSparkle Night Benefit in Bel Air, California. The vaudeville variety show raises funds for children's programs at the weSPARK Cancer Support Center. Diller officially retired from stand-up comedy in 2002.
Prince Frederic von Anhalt talks with Diller during the 25th wedding anniversary celebration for von Anhalt and Zsa Zsa Gabor in Los Angeles on August 14, 2011.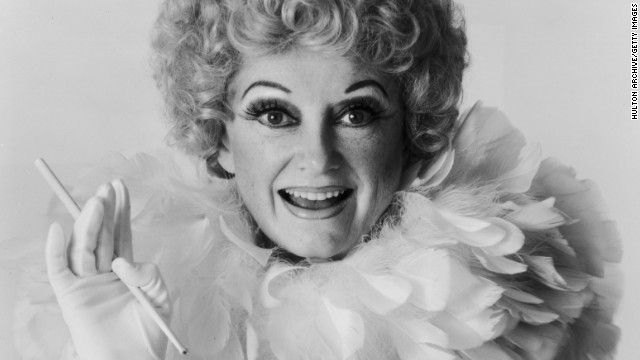 Photos: Phyllis Diller through the years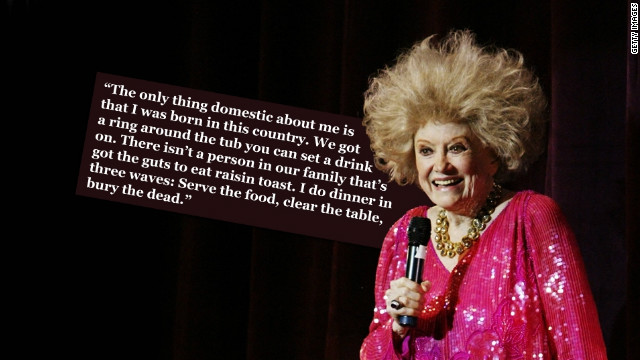 Phyllis Diller, who died this week, made an artform out of wisecracking. She was prolific, self-deprecating and slyly radical: Her jokes tended to focus on her failings as a housewife, her lack of sex appeal, and the shortcomings of an imaginary husband and overweight mother-in-law.
Phyllis Diller on housework: "The only time I ever enjoyed ironing was the day I accidentally got gin in the steam iron."
On sex: "I admit, I have a tremendous sex drive. My boyfriend lives forty miles away."
On her looks: "I was so ugly. I don't know how to tell ya: I wore a choke chain until I was 12. My own ouija board told me to go to hell. A peeping tom threw up on my window sill."
On New Yorkers: "Any time three New Yorkers get into a cab without an argument, a bank has just been robbed."
On kids: "We spend the first twelve months of our children's lives teaching them to walk and talk and the next twelve telling them to sit down and shut up."
On old age: "You know you're old if they have discontinued your blood type. Someone compliments you on your alligator shoes, and you're barefoot."
On old age: "Old age is when the liver spots show through your gloves."
On providing for your kids: "I want my children to have all the things I couldn't afford. Then I want to move in with them."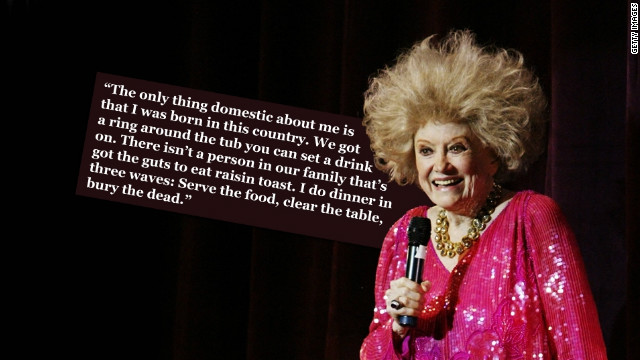 Queen of the one-liners: Late comic Phyllis Diller's funniest gags
One line attributed to her demonstrates how Diller got laughs: "Burt Reynolds once asked me out. I was in his room."
"She was a true pioneer," said talent agent Fred Wostbrock. "She was the first lady of stand-up comedy. She paved the way for everybody. She paved the way for Joan Rivers, Chelsea Handler, Roseanne Barr, Ellen Degeneres, and all the women stand-up comics. She was the first and the best."
EW.com: 'She was a true pioneer'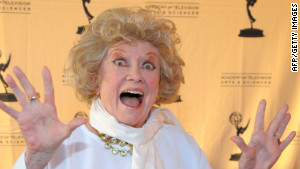 Joan Rivers: 'I adored' Phyllis Diller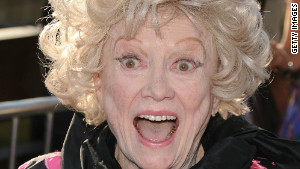 2011: Phyllis Diller teases Anderson
Joan Rivers posted a tribute to Diller on Twitter.
"The only tragedy is that Phyllis Diller was the last from an era that insisted a woman had to look funny in order to be funny," Rivers tweeted. "If she had started today, Phyllis could have stood there in Dior and Harry Winston and become the major star that she was. I adored her!"
Roseanne Barr tweeted that Diller was "a revolutionary woman who inspired me."
Zooey Deschanel, Amy Poehler and more remember Diller
"last time I saw Ms. Diller she'd a stroke & when her assistant told her she could no longer drink gin, I immediately took her out 4 martinis," Barr tweeted.
Ellen DeGeneres tweeted "We lost a comedy legend today. Phyllis Diller was the queen of the one-liners. She was a pioneer."
Whoopi Goldberg called Diller "a true original."
Francesca Hilton, a stand up comic and daughter of Zsa Zsa Gabor, said Diller was her mother's best friend.
"She had the best laugh in the world," Hilton said.
Diller was born Phyllis Ada Driver in Lima, Ohio, on July 17, 1917, the daughter of an insurance salesman.
She had six children with her first husband, Sherwood Diller, who she married in 1939. She married Warde Donovan in October 1965, a month after divorcing Diller. The second marriage lasted 10 years.
She was trained as a classical pianist, but never pursued music as a career. She worked as a copywriter for a northern California newspaper, the San Leandro News-Leader, in the early 1950s.
She took the stage at San Francisco's Purple Onion Club on March 7, 1955, for her first stand-up comedy performance. She appeared as a contestant on Groucho Marx's show "You Bet Your Life" in 1957.
Her long personal and professional friendship with Hope began when the two met at a District of Columbia, nightclub in 1959.
Beauty and life lessons from Phyllis Diller
Diller's late-night national television debut came on "The Jack Parr Show" in 1959. Two years later, the first of her five comedy albums, "Phyllis Diller Laughs," was released.
NBC gave Diller her own variety show, "The Beautiful Phyllis Diller Show," in 1968.
Diller had a run on Broadway in 1970, starring as Dolly Levi in "Hello Dolly!"
She officially retired from stand-up comedy in 2002.
Diller's "creative passion" was painting, Beverly Hills art gallery owner David Streets said.
Her paintings were "very much a reflection of her soul, bright, funny, happy, whimsical full of color and life," Streets said.
Obituaries 2012: The lives they've lived
CNN's Jane Caffrey contributed to this report.