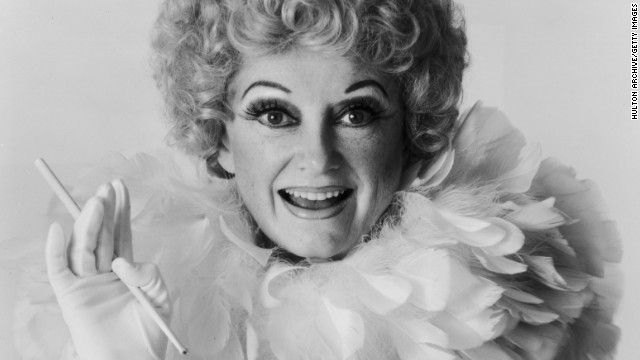 Phyllis Diller poses for a portrait in 1981 for her book "The Joys of Aging & How to Avoid Them." The pioneering comedian died at her home in Los Angeles on Monday, August 20. She was 95.
From left, actor James Stewart, Diller, Los Angeles Mayor Sam Yorty and host Johnny Carson peform on "The Tonight Show" in 1964.
Pictured in the 1960s, Diller started her career as a stand-up comedian at 37.
Bob Hope co-stars with Diller on an episode of "The Kraft Music Hall" in 1967. Her career skyrocketed in the 1960s, partly because of her many appearances with Hope on his television specials.
Diller pretends to comb her hair with an electric toothbrush. Known for her self-deprecating humor, she became a pop culture icon.
In 1968, Diller leans against her suitcases at Heathrow Airport in London. She was in the city to tape a television show and arrived at the airport with 35 suitcases.
Diller poses for a picture in 1979 before the start of the television show "Bonkers!"
In 1998, Diller attends a Playboy event in Century City, California, where Hugh Hefner was presented a Lifetime Achievement Award by the Friars Club of California.
Diller receives a "Lucy" in 2000 at Women in Film's 7th annual Lucy Awards for Innovation in Television in Beverly Hills, California.
In 2004, Diller smiles backstage before performing at a weSparkle Night Benefit in Bel Air, California. The vaudeville variety show raises funds for children's programs at the weSPARK Cancer Support Center. Diller officially retired from stand-up comedy in 2002.
Prince Frederic von Anhalt talks with Diller during the 25th wedding anniversary celebration for von Anhalt and Zsa Zsa Gabor in Los Angeles on August 14, 2011.
Diller through the years
Diller through the years
Diller through the years
Diller through the years
Diller through the years
Diller through the years
Diller through the years
Diller through the years
Diller through the years
Diller through the years
Diller through the years
STORY HIGHLIGHTS
Gilbert Gottfried: Phyllis Diller did stand-up when women weren't supposed to be funny
Diller was not just a funny comic, he says; she was a fine actress in movies and on stage
Gofffried: She did USO tours through Vietnam with Bob Hope, holding her own
In her old age, she was totally alert, funny, outspoken and a true pro to the end, he says
Editor's note: Gilbert Gottfried is a comedian and actor. Follow him on Twitter @realgilbert.
(CNN) -- Way before people such as Roseanne Barr, Kathy Griffin and Rosie O'Donnell broke ground for women in comedy, there was Phyllis Diller. She got started in the late '50s, a time when female stand-up comics were a rarity.
At this time, the concept of a woman's place was truly that it was in the home; women weren't supposed to be funny. And as much as they say nowadays that comedy and show business is a boys' club, it doesn't compare with the way it used to be.
Phyllis found her way in. Today, some women may condemn other women for doing self-deprecating comedy, but Phyllis did it and she took it to an art form and it wasn't threatening, it wasn't angry and, just in a nutshell, when all else failed, it was just plain funny.
Diller dies 'with a smile on her face'
People have many theories about comedy, but being just plain funny is the one most important thing.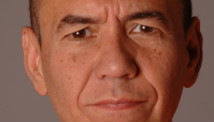 Gilbert Gottfried
You could not call Phyllis just a funny stand-up comic. She was a gifted performer -- an actress equally adept at comedy and drama. After her first big appearances on "The Jack Paar Show" brought her national fame, she had a successful career in movies, as a stage actress, at comedy clubs, on TV and on comedy albums.
When I was a child, TV was packed with variety shows, and she seemed to always be on the air. She was the ultimate downtrodden, frustrated housewife. She portrayed it to a freakish degree. I remember her coming on to the screen with what looked like a fright wig. Her hair looked like she had just stuck her finger in an electric socket.
Her dresses would be inappropriately short, and she would be holding her ever-ready, impossibly long cigarette holder. She appeared to be someone who would be a hero in the gay community, which she was. But Phyllis was a hero for everyone. Her jokes were always self-effacing and hysterically funny.
Here's one: "You know you're getting old when your blood type's been discontinued."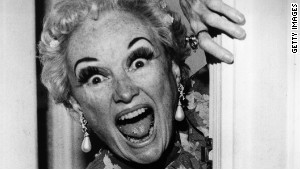 Comedienne Phyllis Diller: I'm a natural
Here's another: "I love to go to the doctor. Where else would a man look at me and say, 'Take off your clothes?' "
She used to talk about having a husband named "Fang." No one ever saw this "Fang" fellow, but to the TV public, he was mythical. We didn't know him, but we all knew him. He was stupid, frustrating and incompetent. We all had a very clear picture of him in our minds. She was much smarter than he was.
Because Phyllis was clearly smart. She did USO tours through South Vietnam with Bob Hope, and it is a testament to her skill that she could hold her own against a comedian like Hope.
But that's what a trouper does. She was born in 1917 and had an incredibly long career, recently doing voice-over work on shows such as "Family Guy." I had the honor and privilege of appearing three times with Phyllis. We were both guest judges on "Last Comic Standing," and we appeared together on "Hollywood Squares." We also were both in the documentary "The Aristocrats," the film about the dirtiest joke ever told, proving Phyllis was no prude.
In the documentary, after they show me performing the joke, they cut to a reaction of Phyllis fainting. I felt extremely honored.
When I worked with her in recent years, I'll say she looked roughly 1,000 years old, but walked without a cane, was more than totally alert, funny, outspoken and a true pro. She autographed her book for me and gave it to me as a present. I was so touched that I didn't even consider selling it on eBay.
Recently there were reports of Phyllis' declining health. I think she stopped working at that point, or worked less, at least. I don't know if her failing health killed her, or just not being able to perform like she used to.
In any case, whenever you watch comedians, male or female, they owe a great debt to Phyllis Diller.
The opinions expressed in this commentary are solely those of Gilbert Gottfried.