F1 car 'sings' national anthem
updated 12:00 AM EDT, Sat August 18, 2012
STORY HIGHLIGHTS
Red Bull took to the streets of New York state for a promotional video
Formula One will take place in New Jersey next year with the inaugural Grand Prix of America
The last American F1 race was in 2007, with Lewis Hamilton taking the checkered flag
Austin, Texas will make its F1 debut later this year, with United States Grand Prix
(CNN) -- Formula One isn't due to touch down in New Jersey until the inaugural Grand Prix of America next year, but it didn't stop the Red Bull team from heading over early to unleash a car on some well-known landmarks.
The double constructors' champions let former Red Bull driver David Coulthard take the title-winning RB7 for a rip-roaring tear through the Lincoln Tunnel at speeds of up to 190 miles per hour, before heading over to Liberty State Park, with the famous statue looking on across the Hudson River.
In a bid to further endear the team to potential new fans stateside, Coulthard revved the engine to perform a Red Bull rendition of "The Star Spangled Banner."
It was Red Bull's second visit this year, after double world champion Sebastian Vettel tested out the New Jersey race circuit.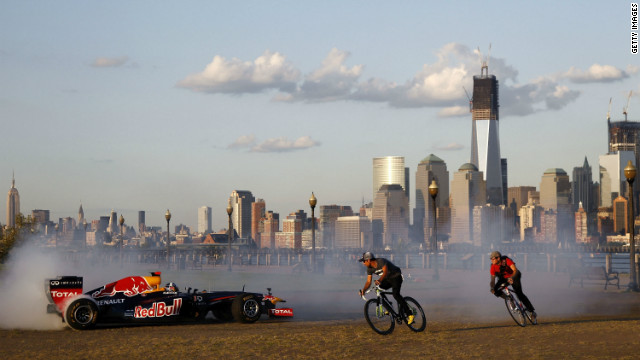 New Jersey was originally scheduled to stage Formula One's inaugural Grand Prix of America in June 2013, and Red Bull took its RB7 car over to the state of New York one year early to test drive the streets.
Former F1 driver David Coulthard was behind the wheel for the 2012 visit, causing a stir as he sped through Liberty State Park.
Last-minutes checks were made before the RB7 sped through the Lincoln Tunnel, which connects Weehawken, New Jersey and Manhattan.
While the Hudson River flowed above, Coulthard tore through the tunnel below at speeds of up to 190 miles per hour.
Coulthard burns rubber, while the Statue of Liberty can be seen poking through the thick cloud of smoke.
The grand prix, which will not be held in 2014 either due to funding problems, was supposed to run through the New Jersey township of Weehawken.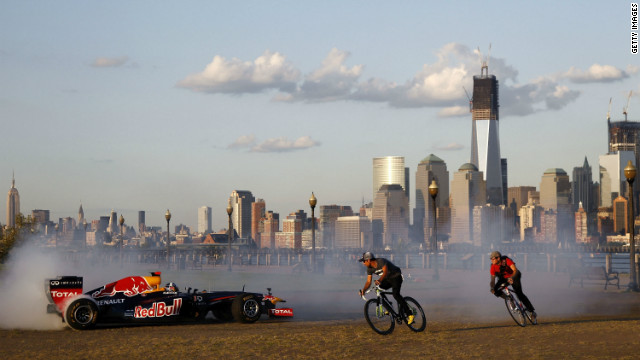 Red Bull Racing takes on New York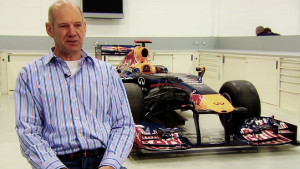 Designing a Formula One car
The U.S. is already on the this year's F1 calendar. Austin, Texas is to make its debut as a grand prix host in November, as the elite division of motorsport returns to the country for the first time since 2007.
The championship is in the middle of an annual midseason break, with Belgium the next stop on the sport's world tour on September 2.
Ferrari's Fernando Alonso heads the drivers' standings with 164 points, ahead of the Red Bull duo of Mark Webber in second and Vettel in third place.
McLaren's Lewis Hamilton, the last driver to win an F1 race in the U.S., is fourth ahead of 2007 world champion Kimi Raikkonen.
Red Bull, bidding for a third consecutive team crown, top the constructors' championship. The Austrian-owned marque are 53 points ahead of Ferrari in second with McLaren one point further back in third.