STORY HIGHLIGHTS
Robin van Persie says he is "honored" to have signed for Manchester United
The striker signed a four-year deal with United after finalizing his move from Arsenal
United manager Alex Ferguson hails Van Persie as "a world-class striker"
Midfielder Alex Song could follow Van Persie out of Arsenal after being linked with Barcelona
(CNN) -- Robin van Persie officially arrived at Manchester United from Arsenal on Friday, declaring he was "honored" to be spearheading the Old Trafford club's hunt for a 20th English league title.
The Dutch striker is in line to make his United debut in Monday's Premier League fixture against Everton after signing a four-year deal until 2016.
He has never won a league title with Arsenal -- where his only trophy was a domestic cup seven years ago -- or at his previous club Feyenoord.
"I am looking forward to following in the footsteps of so many great strikers, bringing my experience and playing my part to help the team compete for the biggest trophies in the game. I can't wait to get started," the 29-year-old said in an official statement.
Van Persie, who finished last season as the English first division's top goalscorer with 30 goals, moved to Arsenal from the Netherlands in 2004. He went on to score 96 goals in 194 appearances, being named club captain last season.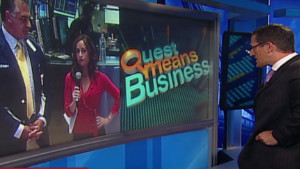 Manchester United goes public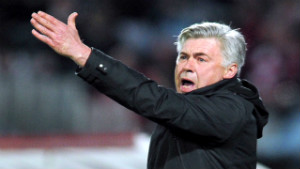 French football club spends big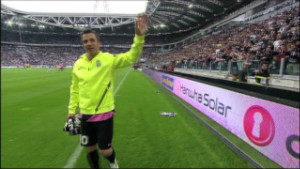 Del Piero's Juventus love affair
Which clubs will win Europe's top leagues?
He had been linked with United's crosstown rivals, Premier League champions Manchester City, as well as Italian league winners Juventus.
"In these situations, when you have to make a hard decision in your life, I always listen to that little boy inside me. What does he want? That boy was screaming for Manchester United," Van Persie told reporters on Friday.
"Everyone knows me by now. I love football. I am quite principled in that perspective. It is always difficult to find the perfect match but I do feel this is the perfect match for me.
"Manchester United breathes football. If you look at all the players from Manchester United, the stadium and manager, my choice was made very soon."
Manchester City's Barcelona acquisition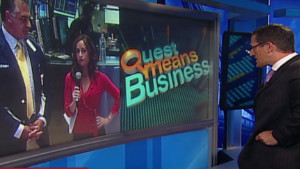 Manchester United goes public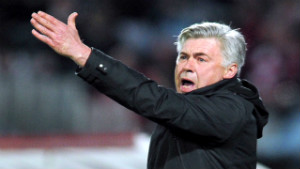 French football club spends big
United manager Alex Ferguson hopes Van Persie can combine with England forward Wayne Rooney, who finished second behind his new teammate in the goalscoring stakes last term with 27 goals.
"Robin is a world-class striker with a proven record in England and in European football," said Ferguson.
"His talents need no introduction to our fans -- he has scored a number of goals against us in some classic battles with his former club. His movement, finishing and all-round ability are outstanding.
"If you go back six months ago, I couldn't see us getting him. I thought Arsenal are not going to let him go. When I read he had refused a new contract, that is when we acted. It has been a long haul."
Following the recruitment of Van Persie, Ferguson drew parallels with United's current strike force and the group of goalscorers he had at his disposal when the club won a treble in 1999, being crowned European champions and English league and FA Cup winners.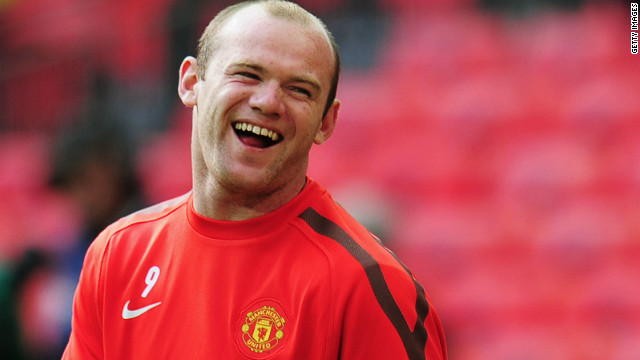 Manchester United and England striker Wayne Rooney has 4.6 million followers on Twitter. The Premier League's new code of conduct on the use of social media sites is to underline to players the responsibility they have to such a big audience.
Rio Ferdinand is a way behind teammate Rooney but still has three million followers who tune in for his views on everything from fashion to music, with a bit of football thrown in too of course.
Chelsea's Ashley Cole is a recent convert to Twitter but has already caused controversy, taunting fans from former club Arsenal over how many trophies he's won since swapping North London for West.
Even some Premier League managers have taken to Twitter. Former Liverpool boss Kenny Dalglish is on board and took to his page to thank the club's fans after he was sacked in May.
Neither Rooney nor Ferdinand can rival the popularity of Real Madrid's Cristiano Ronaldo though. The Portugal star currently has 11.8 million followers, and rising.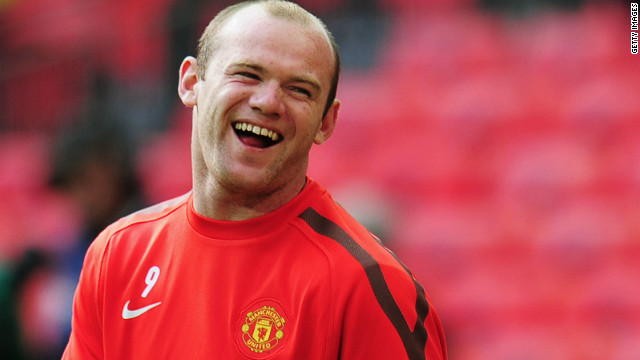 Premier League issue Twitter code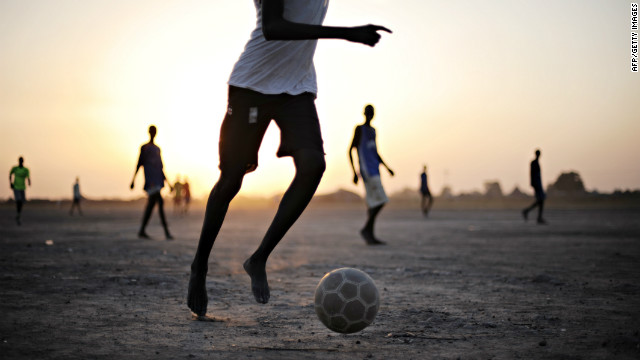 An academic study in 2009 estimated as many as 20,000 African boys are living on the streets of Europe after failing to secure contracts with European clubs following their trials.
In the last six months the total income from 4,973 transfers around the globe was $576 million. Stars like Arsenal striker Robin van Persie dominate the transfer headlines but the bulk of football transfers go under the media's radar.
Clubs are constantly on the search for the next "Lionel Messi." The Argentine joined Barcelona from Newell's Old Boys in 2000 at the age of 13.
Every professional player is required to possess a "sport passport" under FIFA regulations. But if a player is registered for the first time in Europe, confusion can arise because a federation there might not necessarily record the player's former clubs in South America or Africa.
Sports agent Paulo Texeira has switched his attention from representing footballers to fighting training compensation claims for South American and African clubs. In his spare time he is a keen surfer.
Teixeira claims Italian club AC Milan owes Brazilian club Botafogo FC of Ribeirao Preto compensation involving its training of the player Sergio Ceregatti.
Milan and Belgian club Anderlecht have complained to FIFA about what they claim is Teixeira's "defamation and calumny."
Training compensation is not just a matter for the European mega-clubs. Lowly Welsh team Aberyswyth Town had to wait over two years for a five-figure compensation payout from English side Shrewsbury Town after Tom Bradshaw became a professional.
In the Olivier Bernard case, the European Court ruled against Newcastle United in 2010 after a claim by the player's former French club Lyon, but cautioned that training-cost compensation is only acceptable if it reflects the accurate amount lost by the breach of contract.
Argentine laywer Ariel Reck made a successful compensation claim regarding Franco di Santo. After transferring from Chilean club Audax Italiano to Chelsea in 2008, training fees were still owed to two Argentine teams.
In a move to ensure the future rights of African clubs and players alike, Texeira has formed a partnership with the Samuel Eto'o Foundation to ensure care of the players enrolled at the Cameroon star's numerous football academies.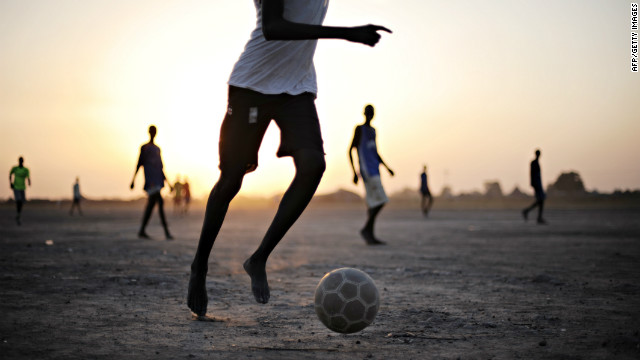 Football's invisible children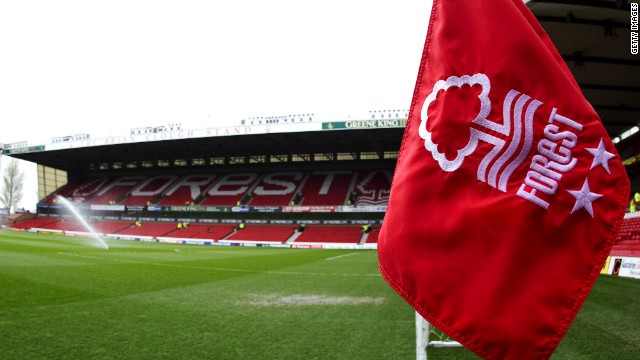 Nottingham Forest has become the latest English club to be bought by overseas investors following a takeover by Kuwait's Al-Hasawi family.
The club's golden era began in 1978 when Forest won the English first division under the guidance of iconic manager Brian Clough, right, and his assistant Peter Taylor.
A year later, Forest stunned the football world by winning the European Cup, eliminating two-time defending champions Liverpool before beating Sweden's Malmo in the final.
Forest matched Liverpool's feat by winning Europe's top club tournament again in 1980, beating Hamburg 1-0 in the final in Madrid.
However, apart from a domestic cup in 1990, that was the last major trophy that Forest won under Clough, whose reign ended after relegation from the new Premier League in 1993.
Forest's "Robin Hood" mascot on parade during a third-division match in 2007. The club narrowly avoided a return to that tier last season amid continuing struggles on and off the pitch.
Owner Nigel Doughty quit as chairman after his disastrous appointment of former England manager Steve McClaren last season, then put the club up for sale. He passed away in February 2012 aged 54 before the Al-Hasawi family agreed the takeover.
Forest fans will hope the new owners have the same impact that Abu Dhabi billionaire Sheikh Mansour bin Zayed Al Nahyan has had at Manchester City, having won the Premier League title within four years of taking over.
Middle East money has been flowing into European football, with Qatar's Sheikh Tamim Bin Hamad Al Thani plowing millions into French club Paris Saint-Germain.
In 2010, Qatar won the race to host the 2022 World Cup, the first Middle Eastern country to do so. As well as France, it has also invested in the Spanish league.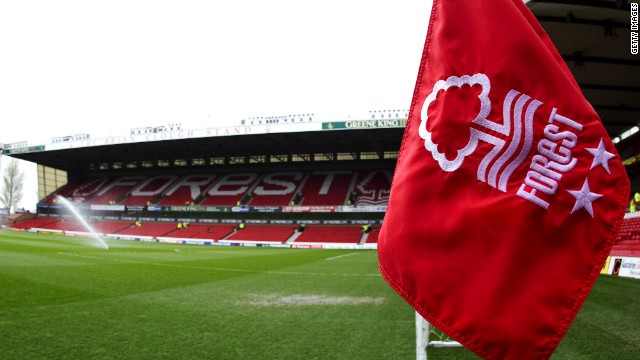 Nottingham Forest's rich history
"In 1999 I had Dwight Yorke, Andy Cole, Teddy Sheringham and Ole Gunnar Solskjaer, the four best strikers in Europe," Ferguson told reporters.
"We are going towards that now. They (Rooney and Van Persie) are two fantastic players and it will be great to have both of them. It gives us more strength and more combinations up front.
"It is a fantastic collection of players and hopefully I pick the right combinations. It is great to have a player of Robin van Persie's qualities to come into the squad. I am very pleased."
His arrival will almost certainly mean the departure of Bulgaria striker Dimitar Berbatov, who was the Premier League's joint top scorer in 2010-11 but spent most of last season on the bench as Danny Welbeck and Javier Hernandez partnered Rooney.
Arsenal manager Arsene Wenger will look to new signings Lukas Podolski of Germany and France's Olivier Giroud to fire the Gunners to a first trophy since beating United in the 2005 FA Cup final.
"We have regret because we have lost a great player," Wenger told a press conference ahead of Arsenal's season opener against Sunderland.
"He had only one year left on his contract and he wanted to go. We had anticipated this situation might happen therefore we have bought Podolski and Giroud. We were prepared."
Van Persie may not be the last player to leave the Emirates Stadium this transfer window, with reports suggesting midfielder Alex Song is on the verge of a move to Barcelona.
When asked about Song's possible departure and a potential Arsenal move for Real Madrid's Nuri Sahin, Wenger responded: "Both can happen."
Meanwhile, U.S. international Clint Dempsey is expected to leave Premier League club Fulham, having been linked with Liverpool.
The 29-year-old attacking midfielder, who scored 23 goals in all competitions last season, has been fined for refusing to play in Saturday's opening game against Norwich, according to the UK Press Association.